By Abdulkarim Ssengendo
John Barya Abigaba- is a resident of Bigodi cell-Bigodi town council in Kamwenge district. He grew up in a peasant family which was dealing in trade and farming. He developed the passion of doing agriculture and one of the things he loved to cultivate was coffee because of its value. In 2002 he started full scale cultivation of coffee, a crop that was even loved by his father and parents. Abigaba has majored in growing two types of coffee, the original Robusta and elite Robusta. At his 10 acres coffee garden, Abigaba has coffee trees that are as old as 1956, an indication that the desire of growing coffee is as old as his great grandparents.
"Initially people were dealing in the traditional crop of Robusta but its production wasn't good. Government gave us seedlings of elite coffee which I have integrated in Robusta which has an early maturity, in 2-3 years you can get products already to give you money," He stated. Asked what one needs to start a coffee project; Abigaba said "Coffee project is a good one but not easy on the other side- one needs passion first and love for the project, you need land, labour, money and technical knowledge and above all you need to have a right plan," Abigaba said.
Regarding proper management of coffee; Abigaba noted that coffee is so tender and needs a lot of care for one product. "You must weed it, you need labour, you must make sure no insects attack your gardens, you need to be prone and you must keep focused on it." He added. He encourages farmers to engage in coffee growing, a crop worth investing in. "I have been into coffee production for some time and it has a lot of benefits, I have a lot of investments, got out this coffee garden you see, have paid fees for my children and takes care of his family, pay workers, made other additional projects like buying land, automobile cars," he added.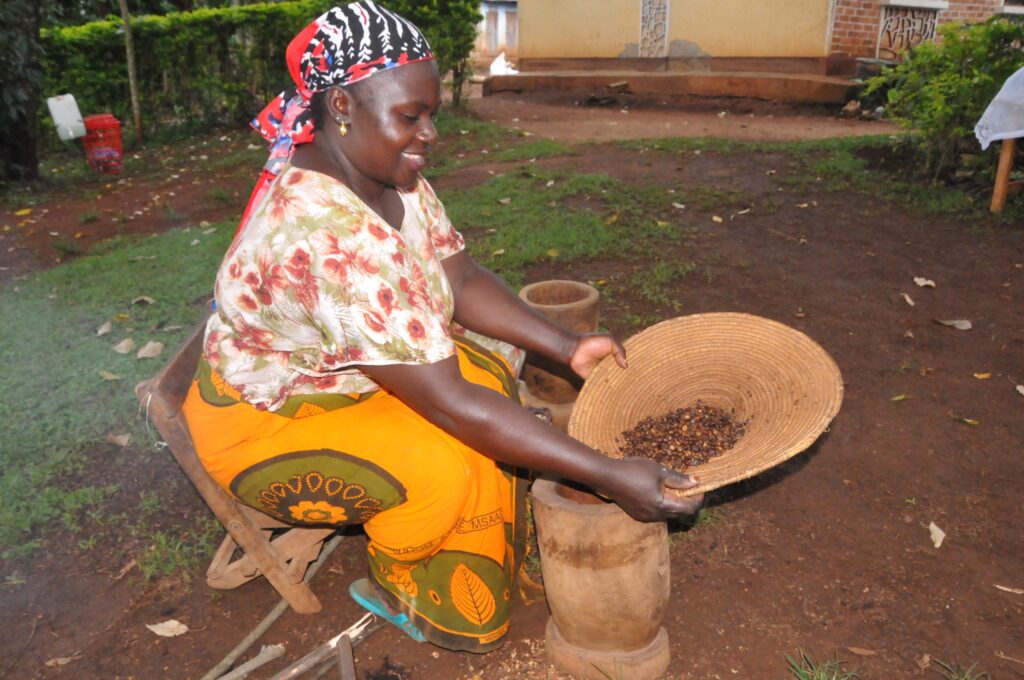 Market
Regarding market availability- Abigaba said they still need the government to guide them to get ready markets. He said they have adhered to President's advice for value addition but they need more help in terms of marketing, post-harvest materials, fertilizers and to improve what they have to enhance production.
Value addition
Abigaba's vision is agribusiness. He is currently doing it at a home-based level but his plant is to expand into a big project. He said many coffee farmers want support to acquire machinery for value addition. He challenged farmers to add value if they want to reap a lot in coffee. He reported tremendous benefits from the time he chose to add value in what he produces. Using his locally made materials, Abigaba produces his own coffee, and sells a kilo at sh60,000 which is much higher from sh6000 he was getting in a kilo of coffee beans.  "From the time I decided to add value in my coffee the improvement is quite tremendous, I used to sell a kilo at the price of sh 6,000 but when I roast it, crush it and pack it a kilo goes to sh 60,000. We no longer want to have bags of coffee going to the markets. We want to take packed products." A happy Abigaba stated. Abigaba however said they still face many challenges ranging from lack of resources like land, need better seedlings and people who are trained to help them.
He advised farmers to be modern and start cooperatives as this will help them have one big voice to lobby for support. "Technology has taken over, we need smart money, the issue of carrying bags to the markets should end. Farmers need to do a lot of improvement on their farms and value addition and should have cooperatives as this will help them even get better services from the government," he stated.