When I walked into Maria Nakanwagi's home, the first thing I noticed were plants of different kinds growing in front of her house.
However, little did I know that there was more in her backyard.
She utilised even the smallest space she had on the sides of her home to have small gardens where she planted vegetables.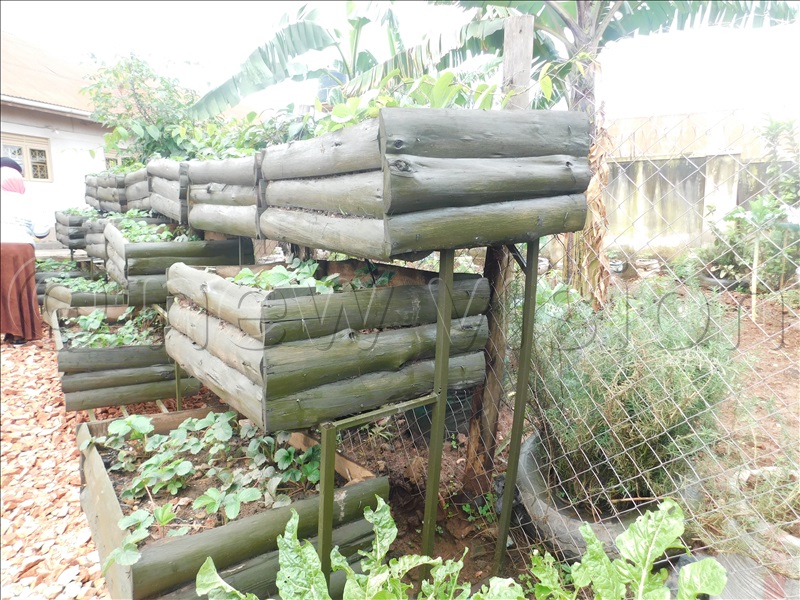 When I asked her how and why she does all that, she simply said food grown at home is tastier and healthier than food bought from the market and the supermarkets. 
Her journey
Nakanwagi says, when she got married, she did not want to just be a wife, but a relevant one, who was proactive and resourceful to her husband and a good mother to her children.
To achieve her dreams, she devised means of supplementing her salary so as to reduce her expenditure on food and groceries while at the same time teaching her children skills that would make them good citizens.
"I remembered how I was raised. One of the things my parents emphasised was hard work and making good use of space around. When I got space in my backyard, I came up with plans of utilising it aptly to achieve my dreams. I grew all kinds of crops in my backyard to ensure that my food basket at home was always full," she says. 
Today, even with a salaried income, she supplements her earnings with the money she earns from her backyard garden and always has enough food for her family.
How she started
She looked for people who were doing different things in their backyard gardens and asked them to teach her.
After attaining the skills, she sourced for good seeds and she was good to start.
Makes small gardens using wood
Having had pieces of wood that had been used and discarded much earlier, she used them to make small gardens. 
She placed the wood in her backyard, got soil and mixed it with manure and later planted beans in these small timber-made gardens.
She also got jerry cans, polythene bags and saucepans that were not being used and turned them into gardens.  
Today, her backyard is full of mushrooms, beans and other herbs like rosemary and aloe vera.
Teamwork
When she started her backyard farming, other people simply looked on and wondered what she was up to.
When she shared the idea with them, many fell in love with backyard gardening and joined Nakanwagi. They shared ideas, skills, challenges and experiences.
Today, they strive to teach whoever approaches them in search of backyard gardening skills. The women share knowledge on how to grow mushrooms, and vegetables of all kinds and how to make small gardens, in your backyard.
Achievements
Nakanwagi notes that backyard gardening has greatly improved her financial status and also lowered her expenditure on food.
Before setting up her backyard garden, she used to spend sh200,000 weekly on food and other home needs, but today, she spends much less.
She has also made friends with the women she trains, creating a support system through the entire process that does different things, including looking for a market for their products and also devising means of adding value to them. 
This is a great achievement for Nakanwagi because she has empowered grassroots women with gardening skills.
"Today, they have backyard gardens and when they harvest their products, they sell them and get money to pay school fees for their children," she explains.
She advises women in different communities not to sit back, but to help each other so that they can change their financial status.
"Show love to one another and add value to other women, through sharing knowledge and skills. This will improve your financial status," she says.