By Ritah Mukasa
If you are stuck with an old wheelbarrow, wondering what to do with it, consider repurposing it. Repurposing or recycling helps to declutter spaces.
It also helps homeowners to put clutter to better use.
Joshua Twinomurinzi, a landscaper with Divine landscapes says, a wheelbarrow can enhance the beauty of the outdoors.
For example, turning an old wheelbarrow into a planter evokes a country home feel. You just need to give it a makeover before turning it into a rustic, charming, and unique piece of decor.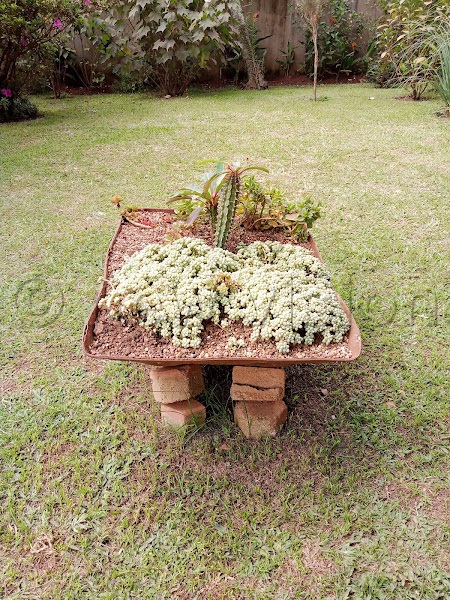 Mariah Kiwagama, another landscaper says a wheelbarrow can make a portable garden for flowers, herbs, and fruits, especially those that do not have deep roots, such as strawberries and radishes.
How to make a wheelbarrow planter
Twinomurinzi says you need a plastic liner, which helps to protect the metal, a drill, scissors, garden gloves (optional), well-mixed soil, plants and mulch.
Start by flipping over the wheelbarrow with the wheels facing up. After, drill drainage holes in the bottom. You can space the holes depending on the size of the wheelbarrow.
He recommends four to six inches apart in a grid pattern.
Twinomurinzi adds that if the wheelbarrow has big holes from rust, you might not need to add more. However, if they are large, try to fill them up with a piece of iron sheet or iron bars to keep the soil from falling out.
Thereafter, add the black plastic liner, pulling it through the holes. Where need be, cut the edges of the liner around the holes to unblock them.
Also, secure the liner on the walls of the wheelbarrow. When that is done, put on your gloves and fill the wheelbarrow with well-mixed planting soil. It should have manure and charcoal dust to keep it from caking.
Fill the wheelbarrow to about three to four inches to the top and move it to a leveled corner that receives enough sunlight, depending on what you plan to plant there.
What to grow
Kiwagama says a wheelbarrow can be used to grow various plants like herbs, vegetables, fruits and ornamentals such as succulents, begonias, and bromeliads among others.
"Herbs include annuals or perennials. You can opt for annual herbs that are grown through a single season or those you will harvest over a few years," she says.
Kiwagama adds that herbs are easy to grow, as they do not need a lot of care. Besides, they come in different types for one to choose from.
For example, you can opt for culinary herbs used in juices, teas and in cooking. These include; basil, mints, bay leaf, dill, lemongrass, marjoram, rosemary, oregano, chives and parsley.
Feel free to group them according to use. For example, lemon balm and spearmint are good for tea. Then, rosemary, sage, parsley, oregano, basil and chives are used in cooking. Choose to grow them differently.
On the other hand, you can also grow fruits and vegetables such as cabbage, onions, garlic, lettuce, kale and strawberries among others.
However, if you decide to use the wheelbarrow to grow succulents or cacti, Kiwagama advises to mind the drainage. It should be good because those species do not need much water. In fact, too much water kills them.
Also, group them depending on their growth rate such that the wheelbarrow looks balanced. Succulents are generally slow growers but some grow faster than others do.
Besides, they also come in different colours and blooms. Consider those factors while grouping the plants. In addition, after planting, mulch your garden and water regularly.
Remember, plants with shallow roots need frequent watering more so, during the dry season.
Kiwagama suggests using any mulching media such as grass, wood chips or old leaves.
However, watch out for termites since grass and leaves attract them. Remember, your garden should not be static. Keep moving it to different corners.