By Ritah Mukasa
Jerome Kandanda 45 is a father of 10 children. His firstborn is 13 years old and the last one is four months.
Kandada lives with his wife and all their children plus four dependents.
They are residents of New Hope village inside Nakivale refugee settlement where they settled in 2019 on 40X70ft piece of land.
The family left Bukavu province, Congo DRC due to war. They walked for miles to come to Uganda. From the reception center, they first stayed in Funululu Pentecostal church for a year before being settled in New Hope village.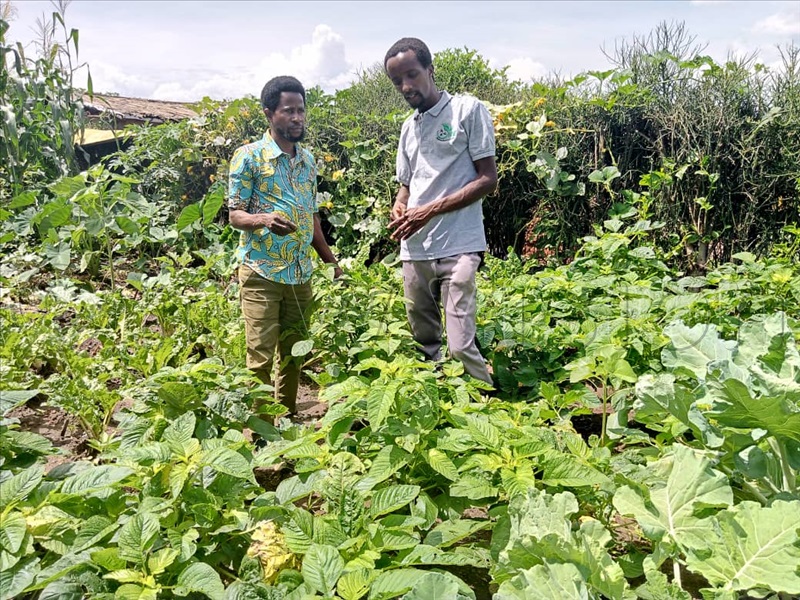 However, the last two years were hell for the family because they starved most days.
The couple had no jobs and besides, they did not have land to cultivate food and during that time, Kandada was diagnosed with a cancerous tumor in the stomach.
He was barred from doing menial work.
Fortunately, early this year, the family was introduced to vegetable growing by their neighbour Winnifred Nyirandatira who is a commercial urban farmer.
Nyirandatira feeds and educates her five children using vegetable proceeds. Youth Initiative for Community Empowerment (YICE) Uganda agronomists support Nyirandatira.
"My neighbour linked up with YICE agronomists and they trained me about vegetable growing. They also helped me set up the garden in my small space and since then we work together," he explains.
Kadanda grows cabbage, Sukuma wiki, spinach, dodo, eggplants, beetroot and ntula among others.
His wife and children work in the garden.
"We no longer starve because even if we fail to get food, we just eat vegetables," he says.
Kadanda also sells the surplus in the market and weekly, he makes sh7, 000, which he uses to buy medicine and home necessities such as soap, salt and paraffin.
Angel Mutoni, YICE trainer says vegetable farming guarantees families food security, good health and income. Over 300 families are benefitting and they enrol more every day.
They use regenerative farming techniques that save the environment such as organic manure and pesticides.