Ugandan farmers could be sending a veiled warning to middlemen who for long have been accused of exploiting agricultural producers by purchasing their products at give-away prices and supplying consumers at high prices thereby taking home abnormal profits.
In the latest development, the Operation Wealth Creation led by Gen Salim Saleh and the tourism ministry sponsored 50 farmers to go to Khartoum in Sudan and attend the Sudan-Uganda tourism and trade Expo.
The team arrived in Khartoum last week under the leadership of Saleh's Executive Assistant Proscovia Nannozi and officials from Trending Marketing Operations Agency, Uganda Manufacturers Association, foreign affairs ministry as well as the Sudanese business community under the theme, 'Fostering Economic Prosperity Through Regional Trade'.
The farmers were drawn from various regions and groups such as Bugisu Cooperative Union, Kibinge Coffee Farmers Cooperative Society, Masaka Cooperative Union, Ankole Coffee Producers Cooperative Union and Mid-North Cooperative Union.
Nannozi said the delegation has one common goal of establishing a sustainable market as they also try to eliminate middlemen from the supply chain.
"Many agricultural products are perishable and there is need for direct linkage between the producers and consumers," she said.
"We need the consumers to experience the freshness of our products instead of waiting for the middlemen to deliver. That is why we have brought the real farmers to understand the situation better," she added.
Richard Muganzi, from Masaka Cooperative Union said some middlemen were not being sincere and they, therefore, decided to come and experience the situation themselves.
"We are here specifically here to eliminate middlemen. Very many of them have dominated the market in Uganda because they assume we are ignorant," he said.
"We hope we shall meet consumers here in Sudan and share with them our thoughts," he added.
Uganda has in the past months been engaged in trade summits and expos with various countries such as UAE, India, Kenya, South Sudan, Somalia, DRC, the UK and US all aimed at expanding market for the country's products.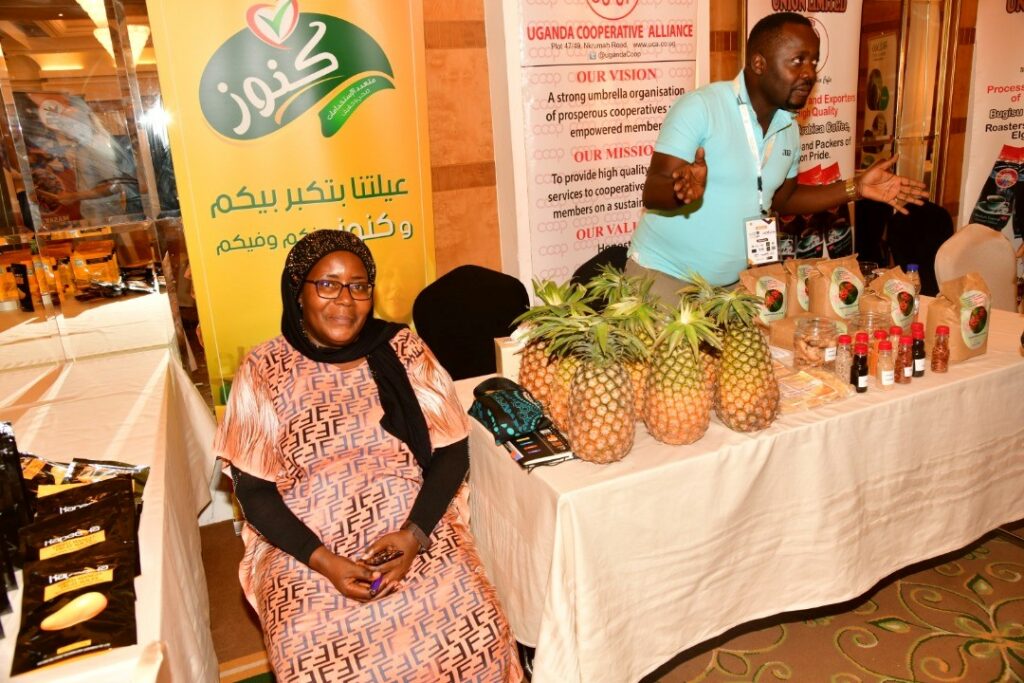 Ugandan farmers showcase some of their products in Khartoum. Story and photos by John Tugume