By Umar Nsubuga
Harvesting of the Irish potato is done between 80-140 days from planting depending on the variety.
Moses Kiptala, a commercial Irish potato farmer in Kween district says Irish Potatoes are generally mature when the plant starts to turn yellow.
Immature potatoes will often bruise easily. Kiptala advises farmers to avoid harvesting potatoes when the soil is wet to avoid fungal diseases.
To harvest Irish potatoes, he says cut off stems two weeks before harvesting to harden the tubers. Dig them out with a forked hoe.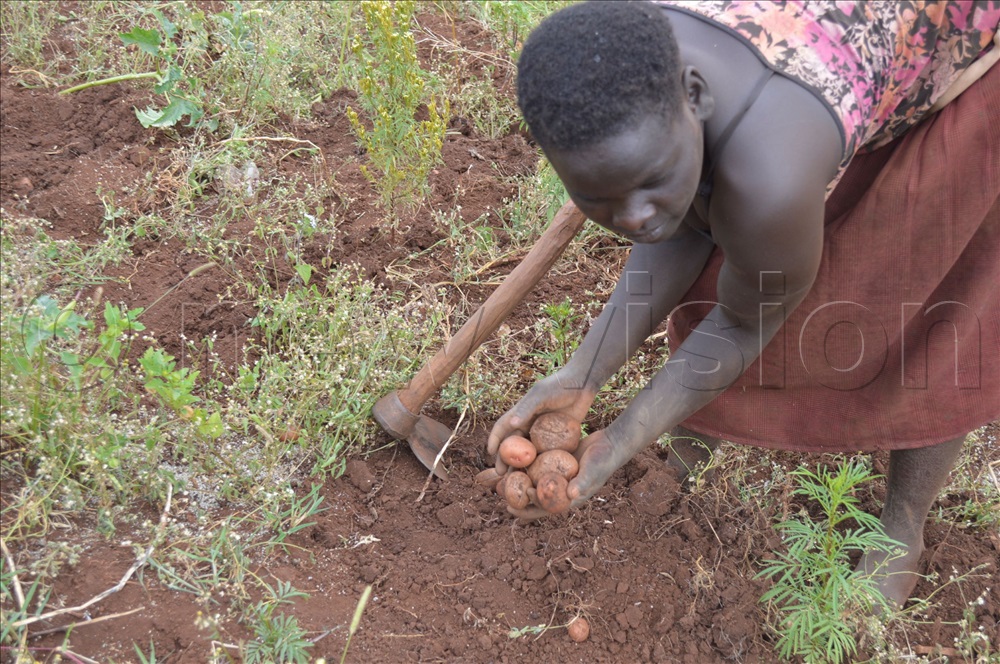 "Make heaps at different distances for easy collection and avoiding unnecessary losses. Sort the tubers so that the smaller ones can be retained for replanting," he explains.
Post-harvest handling
Use baskets, boxes and basins for transportation of Irish potato tubers. Kiptala says remove the harvested tubers carefully from the bags or sacks and sort to remove damaged ones.
Store in an appropriate facility, with the following features: well-ventilated wooden store; roofed (waterproof); raised platform (crib); provide enough aeration and light; door for security from pests. Use rat guards on stands.
Generally, the store should be cool and dark so that they don't bud.
Storage home use;
Constantly (periodically) check the tubers and remove the damaged, rotten /spoilt ones.
Tubers for seeds: Disinfect with lantana camara, neem, ash, marigold, tephrosia and eucalyptus tree leaves to repel pests and store on top of dry grass. Prepare for the next planting.
For sale, Select the damaged ones from the good ones before taking them to the market for sell.