By Abdulkarim Ssengendo
The Bishop of South Ankole Diocese, Rt. Rev. Nathan Ahimbisibwe, has urged all Ugandans to embark on growing coffee.
Ahimbisibwe is convinced that growing coffee will foster improved livelihoods of Ugandans.
In March 2019, the diocese of South Ankole reached a decision to embark on coffee growing in all parishes of the diocese.
In September 2019 they planted the first seedlings and in 2020 more acres were added. Currently the diocese has 23 acres of coffee on Kyamate hill, the diocesan headquarters.
More than 200 acres are planted across all 281 churches, 61 parishes and 10 archdeaconries that make up the diocese. He said in just three years, the diocese has already earned a lot in coffee, a project he said is a potential income generating venture which all Ugandans should adopt.
"This is our Church House," he said. (a reference to the commercial tower built by the Province of Church of Uganda in Kampala). "For us we are villagers, in the village you cannot have a Church House like that of Kampala," Ahimbisibwe added.
Out of 23 acres planted at the diocese, Ahimbisibwe said 20 acres are under irrigation. Government gave them a micro-irrigation system which uses solar and this has helped them during the dry season.
He said on an acre they can earn between Shs7-14m in a season. "It is our prayer that people get involved in coffee growing," Ahimbisibwe added.
He said the diocese is now working on seedlings and how to supply them to all churches to increase production.
"Recently we invited all heads of Laities from sub-parishes to archdeaconries in the diocese in a meeting where we agreed to strengthen our efforts to coffee growing as a self-self-project," he said.
At the diocese they also decided to intercrop coffee with bananas as an additional income venture. He said in the meeting they agreed churches should also grow Hass avocado, another big earning project.
"Last season we got sh12 m from bananas we intercropped in coffee. There was a season when we did intercrop with beans and we got sh9.5 m from beans alone," he added.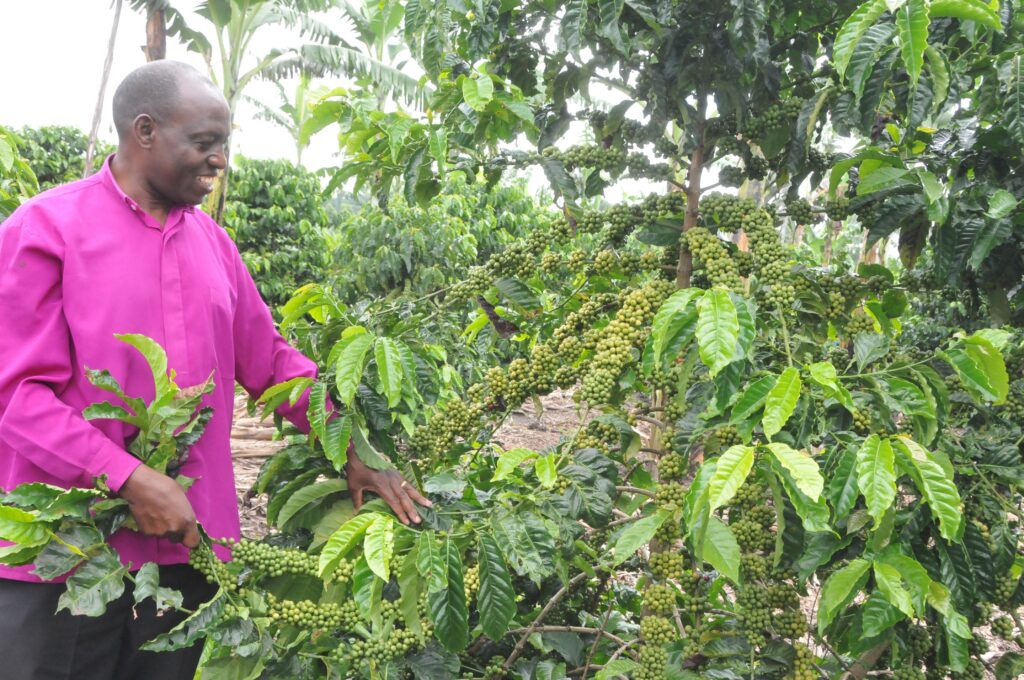 He said intercropping is good but farmers must do it carefully such that it doesn't compete with the main crop.
He said one sucker of banana should be 20 feet and then in the middle coffee. From one coffee to another it should be 10 feet. Both will go together but you must look after them properly.
He said their target is to see each church having an income generating project which can make them survive without relying on church collections as this will help the dioceses to grow very fast.
Ahimbisibwe said the project has employed many local people and others trained to grow their own coffee.
"President has sent many teams including bishops of the church of Uganda, other teams from different organizations have come to learn from us. South Ankole diocese is becoming a benchmarking area in the areas of projects especially coffee," he added.
Ahimbisibwe said as a diocese their dream is to do value addition.
"We will be grateful if we can see South Ankole diocese pack our coffee and export it," he added.