By David Okema
Nairobi, Kenya
Stakeholders in agricultural sectors in sub-Saharan Africa and the world have been urged to be guided by the 10 elements of agroecology in their daily practices.
United Nations Food and Agricultural Organisation official in charge of Plant Production and Protection Division (NSP), Dr Emma Siliprandi made the call
at the ongoing first East Africa Agroecology Conference taking place in Nairobi, Kenyan.
"Let us be guided by the 10 elements and 13 principles of agroecology to understand if we are going in the right direction or not. For instance, biodiversity: Are we advancing or destroying it? What about resilience? What about social and cultural values? So, this is why we have these elements and principles to guide us on what we are doing," Siliprandi said.
The conference, which started on March 21, 2023 and runs up to Friday, March 25, has brought together participants from across Africa, the Netherlands, India and other parts of the world.
He added that the 10 principles of agroecology help to guide the direction the world should take to drive the agricultural sector and more so to focus on the social, economic and environmental aspects.
Agroecology refers to a sustainable farming that works with nature. It focuses majorly on relationships between plants, animals, people and their environment – and the balance between these relationships and the practices embraces application of ecological concepts and principals in farming.
The 10 elements of agroecology that were approved in December 2019 are diversity, co-creation of knowledge, synergies, efficiency, recycling, resilience, human and social values, culture and food traditions, responsible governance, and circular and solidarity economy.
At the conference participants began to raise raging divided opinions on the efficacy of regenerative agriculture (agroecology) if it is to solve Africa's recurring challenges of food insecurity, malnutrition and adverse climatic events.
It is the responsibility of researchers to create values that can change the attitude and mindset and upscale extension services to the farmers to change the food system.
Civil societies indicated that they want evidence-based research and data presentation on the successes of agroecology for some of them to advocate for it to be mainstreamed in the policy framework if African countries are to achieve the UN Sustainable Goal (SDGs) 2030 of zero hunger.
Can agroecology work in Uganda?
"We are asking pertinent questions about how to feed the world. We are just seven years until the UN SDG. And the question is: Can Agroecology feed the world? Can it solve the problem of food insecurity, malnutrition and hunger that are pertinent in sub-Saharan Africa?" Claire Atukunda, the programme manager of Food Rights Alliance, a civil society based in Uganda, said.
Atukunda added that it is tricky in the case of Uganda where there are several policies pertaining to agriculture and these policies tend to contradict themselves.
She said since agroecology is the holistic approach to food insecurity and sustainable food system, it will not easily be incorporated into the practices in Uganda context because the Government is prioritising industrial agriculture and they do not advance agroecology.
"As partners, researchers and advocates of Agroecology, do we have evidence with context to present to policy makers that it is realistic and can feed the world and improve the livelihood of the farmers because agriculture is the backbone of Africa," Atukunda said.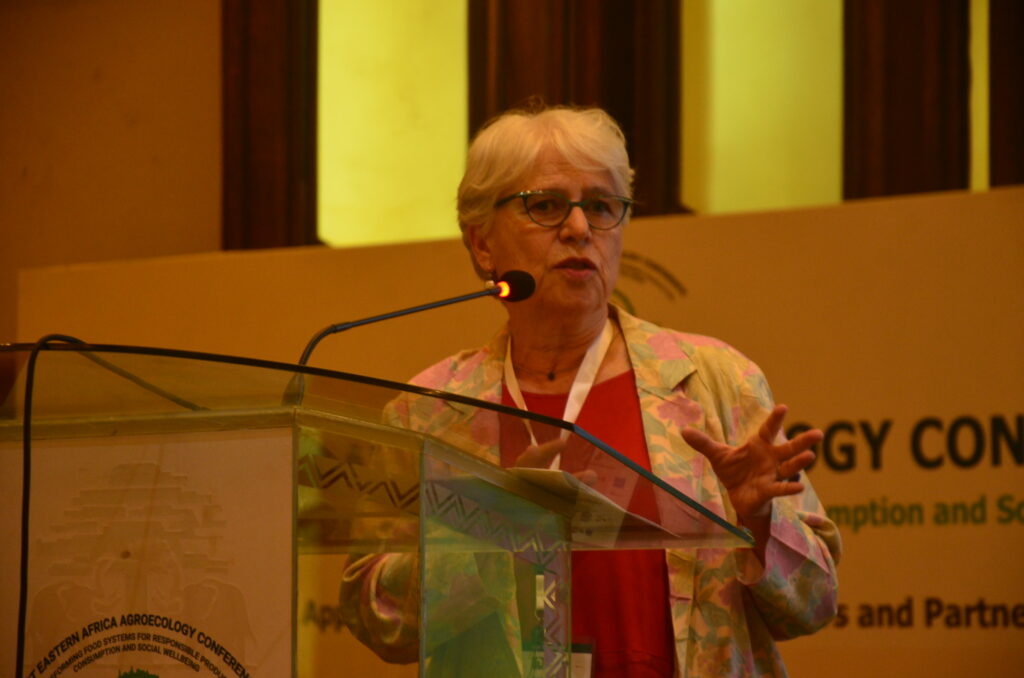 In Kenya, Valentine Cherotich, the project manager Voluntary Services Overseas (VSO) in Kenya, said it will take time to push agroecology into the national policy framework. However, they are doing a pilot project in Putanga County, in Northern Kenya with the local smallholder farming community and building of actors to push it in the national policies.
Much as many people are disagreeing, Uganda's agriculture state minister Fred Bwino Kyakulaga hopes that agroecology offers an integrated holistic approach to achieving a sustainable food system that addresses problems related to food production in sub-Saharan Africa.
He said Uganda is on the right track to promote agroecology. "Fortunately, Uganda has a comparative advantage to promote agroecology because each agricultural production is by default organic," he said.
According to Bwino, the conference offers an opportunity to share best practices, research and proven knowledge that can help various stakeholders to formulate policies on implantable values at global, regional and national level.
Agroecology comes by hard work, not policies
Looking at Africa in the context of organic trade where Export of organic agricultural products exceeds domestic consumption, Bert-Jan Ottens, owner and Advisor of ProFound-Advisers in Development, Netherlands, argues that the continent need to work hard in transforming their food system instead of wasting time and resources in research, advocacy and policy formulation on things that are vividly doable.
"If you really want to invest in agroecology, you must invest in water and soil systems. It doesn't come automatically. And to change the food system, you don't solve them by research, by policy, but by hard work," Bert-Jan Ottens said.
According to Dr David Amudavi, the executive director of Biovision Trust for Africa, the conference is to find agreeable position to see that all food systems transformation in Eastern Africa are in line with agroecological principles and practices, strengthen network of organisations and initiatives of actors, advance strategies and joint initiatives at institutional level or private sectors and government in term of knowledge generation and dissemination, policy reform, market systems as well as supporting implementation of agroecology-oriented policies by key stakeholders at the regional level.
This story written with support from Eastern and Southern Africa Small Holder Farmers' Forum.