By Moses Nampala
He hardly has any formal qualification in the discipline of livestock, save for the off-hand informal tips he got from, now, his deceased Somali cargo truck driver father and livestock farmer, years back, when he was a little boy.
But, inspite of the odds, very few if not none across the country today, matches Haruna Idle Santur, in the art of rearing desert livestock, on a considerably big scale.
After making his mark, as the sole commercial camel livestock farmer in the country, today, boasting of a flourishing herd of 600 desert animals, in the remote harsh, sun-baked plains of Kakies, Kakies sub-county, Amudat district, Karamoja sub-region, at the moment, providing both dairy and meat products to, mostly the upper-class community in Kampala, Santur has shifted gears, trying his hands on yet another species of desert livestock (gala goats).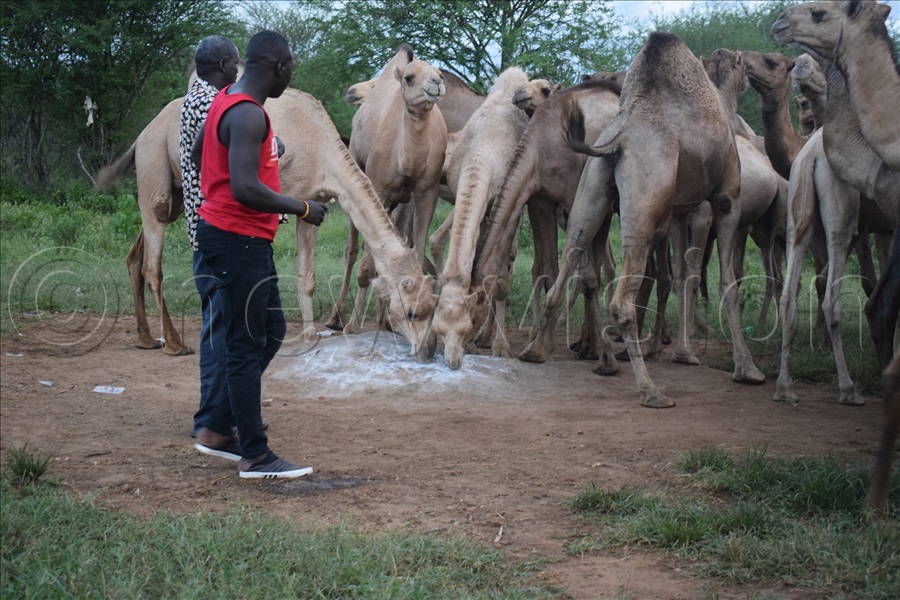 He had just procured a batch of 150 female gala goats from the air horn of Africa, for breeding at his farm, last year (2021), when government scouts who for a long time have keenly admired his flair in indigenous livestock enterprises approached him on the same.
"I since obliged to work with the government through the office of the Prime Minister that has since assigned me to procure a batch of 4000 gala goats a task I have just successfully executed," observes the Uganda-Somali national with a beaming grin.
In a bid to improve the household income of the warrior community, the government through the office of the Prime Minister has embarked on the chore of disbursing the female gala goats santur has delivered for them embarking the chore of disbursing them to each household, in Amudat district.
Each household in the predominantly pastoral community, (Amudat district) is receiving five female desert goats for breeding.
Government is still in negotiations with Santur to supply the same to the rest of the districts constituting this semi-desert sub-region (Karamoja sub-region).
From the face of it, the name "gala" to most Ugandans sounds alien/strange.
"However, with all intent and purposes "gala goats" are neither exotic nor high breed species, but purely indigenous goat species that ages have been reared by natives in the considerably dire, dry, plains of the horn of Africa, that straddling among others arid plains of western Kenya, Somali, Eritrea, Djibouti and Ethiopia," explains Santur.
Look out for Santur`s full story in Harvest Money soon