By Umar Nsubuga
Solomon Senoga, a famous cassava farmer and a resident of Nakabululu village in Luwero district, says there is a significant market for high-quality cassava flour in the bakery and animal feed industry.
"Cassava has the potential to be transformed from a purely subsistence food crop to an industrial and commercial crop. For example, high-quality cassava flour can be used solely (100%) to make cakes and doughnuts and can replace up to 20% of wheat in the bread-making industry, with commendable results," he says.
He explains that high-quality cassava flour is also a potential raw material in the animal feed industry and for industrial uses such as glucose syrups, paperboards and plywood.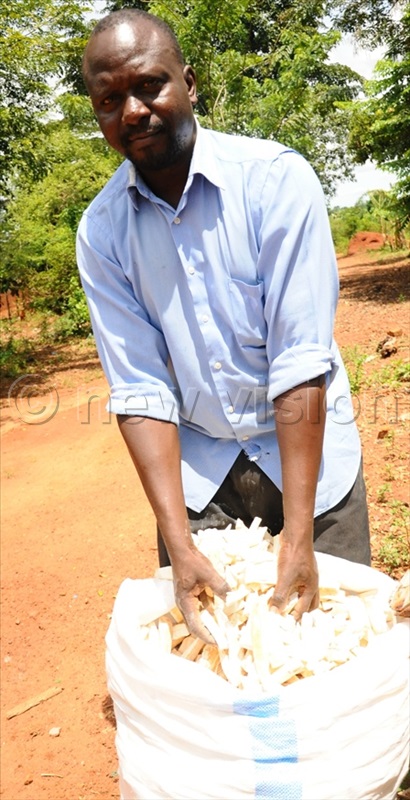 "It is now time for the various stakeholders to play their roles effectively so that we take advantage as farmers of this significant market," he says.
Advice
According to Senoga, putting the knowledge into practical skills can help farmers improve their livelihood.
He also says it is important to ensure the planting material is clean and free from pest and disease infestation and the source of the material must be reliable.
As a farmer, if you are to benefit, you need to acquire an electric cassava-slicing machine. Senoga says cassava tubers are washed, dried and placed into the machine, which shreds them.
"My constant contact with the Namulonge-based researchers exposed me to a new technique of selling cassava cuttings without uprooting the tubers, which I have been doing for the last six years," he says.
Advice to parents
Senoga urges parents to nurture their children to grow with a farming mind. Your children will grow up knowing that they can make money, this cannot make your children suffer looking for jobs after school.
Plans
Senoga wants to set up the biggest demonstration farm in Nakabuululu to revive Luwero and Nakaseke's glory in cassava growing.
Help from government
Senoga urges the government to establish training centres for farmers to improve their farming methods.