By Herbert Musoke
As the demand for rice continues to grow in Uganda and the world, farmers and all stakeholders have been advised to embrace the new technologies and innovations that will increase the profitability of the sector.
Statistics report from the Ministry of Agriculture, Animal Industry and Fisheries, show that by 2020 Uganda was producing about 238,000 tonnes of rice with consumption estimated at 346,309 tonnes, with the gap filled with imports.
The report also indicates that rice is now the third most important crop in the world feeding about 3.5 billion people replacing maize and wheat thus presenting opportunities for the country to leap big from its growing.
This according to Steven Byantware the commissioner crop protection in the agriculture ministry, prompted the government include rice among the priority crops to end hunger and poverty among Ugandans.
He said this, during the launch of the Reduce-Reuse-Recycle Rice Initiative for Climate Smart Agriculture Phase Two Project (R4iCSA-II) to be implemented in Uganda and Kenya by Kilimo Trust, aimed at promoting the use of the crop's by-products as he represented the minister of State for Fisheries Hellen Adoa, saying that with improved technologies and innovations Uganda can feed its self, the east African community and the world.
"Cabinet passed a resolution where the government will partner with its departments that have huge un-utilised chunks of lands to plant crops like maize, rice and beans, among others that will be used to fight hunger and this has already started as institutions like prisons, veterans, National Enterprise Corporation (NEC)-Kyankwanzi, among others, will be harvesting this season," he said.
He lauds Nation Agriculture Research Organization (NARO) through its rice breeding unit that has come up with varieties that can be growing in all ecological zones that support the government's move to stop farmers from growing rice in the swamps that pose a threat of destruction to the environment. Swamps are water catchment areas needed in the environment.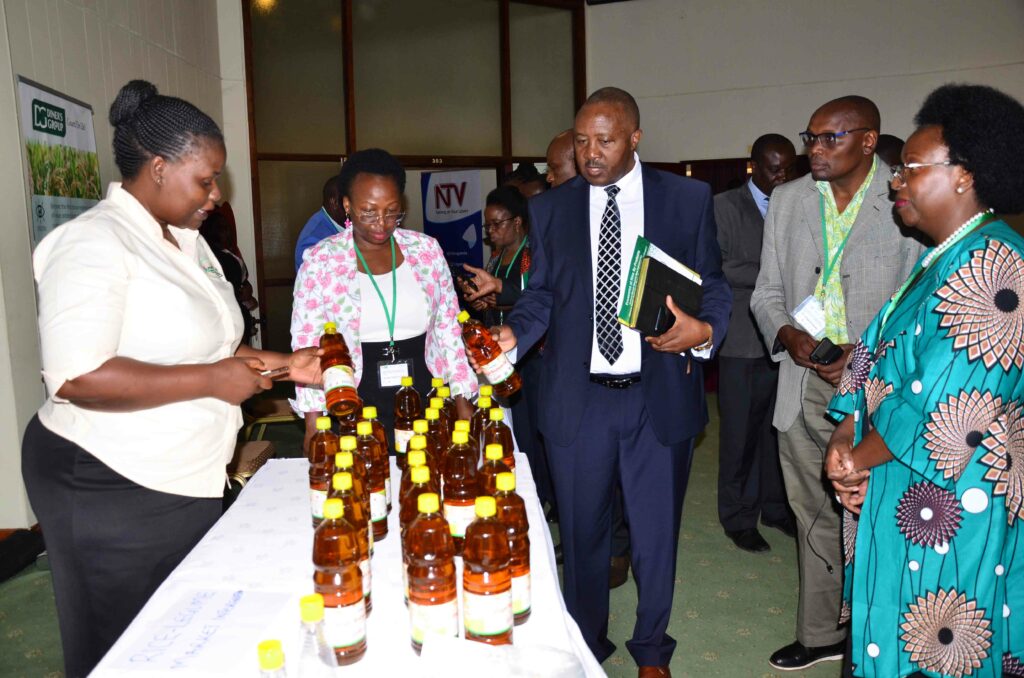 The economics of rice by-products
Reduce-Reuse-Recycle Rice Initiative for Climate Smart Agriculture Phase Two Project (R4iCSA-II), project has developed innovations like; rice husk stoves, supper burners that carbonize the straws, bio-effective microbes, vermicompost, vermi-juice, Urea deep placement, biochar gasification, biochar fortification and black soldier fly frass among others.
Anthony Makona the coordinator for the R4iCSA-II, says the other objective is to generate empirical evidence of the development and tested business models in the utilisation of products and by-products of rice farming systems to drive scaling up the model.
He adds that the project also will promote adaptability and economic benefits of growing rice in a rotational system with legumes like cow peas, chickpeas, beans, soya beans, pigeon peas to improve soil nutrients and fertility for sustainable production where so far, 573.08 hectares are already under the system.
He explains that, the five-year project that started last year, is being implemented in Uganda and Kenya, aiming at impacting 10,000 rice farming households where 5,200 farmers will be from Uganda and 4,800 will be from Kenya where 40% will be youths.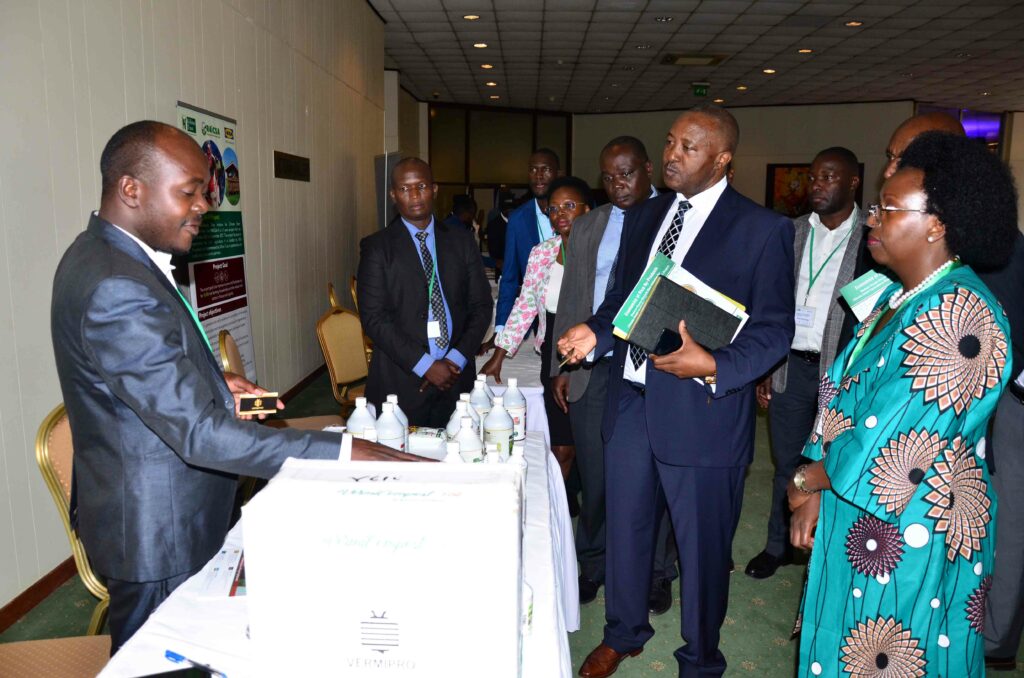 Achievements
Dr Birungi Korutaro the CEO, Kilimo Trust, Uganda explains that, they are working with all stakeholders in the rice industry to come with innovations and technologies to produce products from rice waste.
She says that through partnership with moulders like Eco-stoves in Uganda and Alex technologies, they have innovated stoves that use rice husks as fuel with is aimed at reducing the cutting of trees for fuel and the green-gas emissions to the atmosphere.
"In Kenya we interacted with women and other business persons who were using these stoves who disclosed that they were saving up to 70% of the expenses on fuel. This is a positive direction for the business and more innovations are yet to come," she explained.
She adds that working with innovators, we have already come up with products that like the biochar where over 711 tonnes worth $284,400 (Ushs1, 052, 280, 000), have been carbonised from rice husks, 37,607.2 tonnes of organic fertilisers worth $1, 505, 712 (Ushs5, 571, 134, 400), derived from rice straws using vermicompost and 552 litres of liquid organic fertiliser (vermi-juice) worth $553 (ugshs2, 046, 100).
Promoting rice growing
Byantware explains that the project has come at a time when there is a dire need to increase rice production in both Uganda and Kenya given the losses which have for years been filled by importation from over-seas yet both countries have the capacity to be self-sustainable and also feed the region.
He explains that Uganda has a deficit of about 160,000 tonnes and the East African Community states finalised the EAC rice promotion scheme aimed at increasing production in the EAC from the current six million tonnes to 13 million tonnes.
"This creates a market opportunity for farmers to feed not only the region but also the world as Rice is now the third most important crop in the world feeding about 3.5 billion people replacing maize and wheat," he explains.