By Agnes Nantambi
Private Sector Foundation Uganda (PSFU) has implored its members to consider investing much into the animal feeds industry in order to reduce on imported feeds to enhance balance of trade.
According to Damalie Sali the chief Programs and Projects officer PSFU, there is a need for local players in the private sector to start producing feeds locally to reduce on the expenditure.
"We have all the ingredients, it's just that we export most of our maize unprocessed, we are exporting the waste product of flower which we actually use in the feeds. This is a big gap and an opportunity for big market player to come up and set up a feeds factory because the ingredients can be sourced locally," she said
She attributed the low investment in the animals' feeds industry to slow growth of the industry.
"It's over the last ten years that poultry and fish farming have become important in our economy, but before it wasn't. Naturally if there wasn't anyone in the business, there wouldn't be anybody thinking of investing in it because there was no market.
But for over the last 10 years, if you look at poultry and fish farming, its being developed and that's how people have gotten into it.
I think that investment is going to follow that demand now that we have players complaining about lack of feeds," she said.
This she said creates a gap in the market such that any enterprising private sector players will see it as an opportunity to invest in the feeds, since we have the ingredients locally available.
Ssali called on the private sector with the capacity to invest in sourcing for ingredients locally to manufacture animal feeds saying there is ready market.
She believes that this will contribute towards balancing trade since more dollars will be retained other than spending it to buy feeds.
Ssalli made the remarks while giving a key note address during the 25  year celebrations of Swiss contact, an independent non-profit development Organisation whose development work focuses on private sector led sustainable economic development with improved quality of life for all in developing and emerging countries.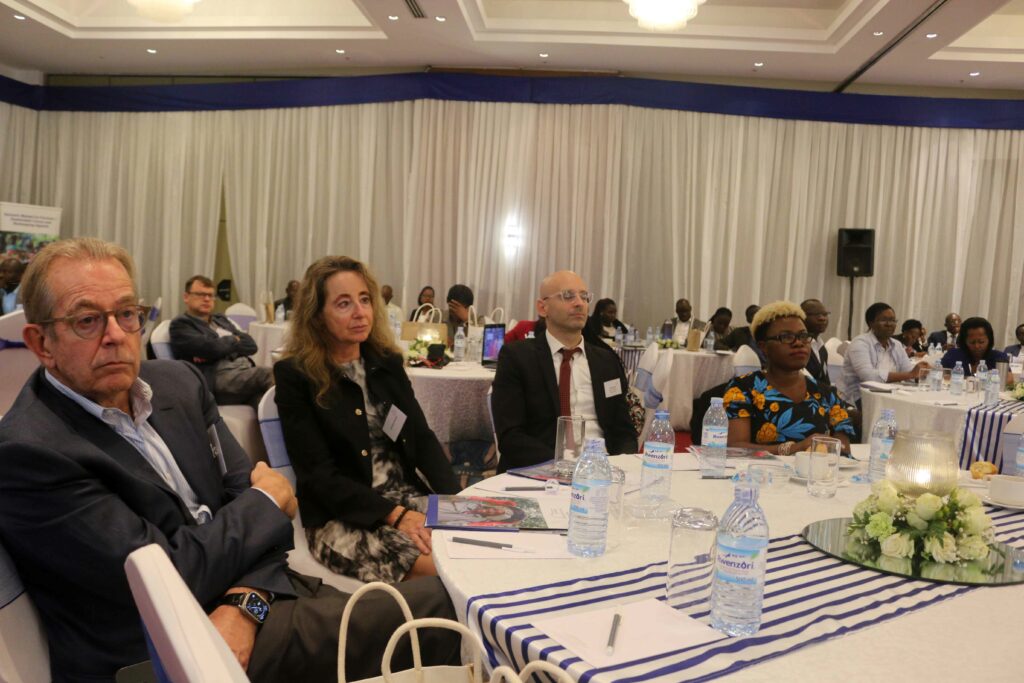 Swiss contact aims at strengthening the skills of individuals to foster the competitiveness of businesses.
She applauded Swiss contact towards their support in private sector enterprises especially in skilling, training and financing in terms of starter kits.
"As they celebrate 25 years, their achievements are quite significant as they have supported young people to become entrepreneurs.
I like their model because they are not helping young people to learn how to get grants but they are helping them with skills to create their own jobs. And in case of excesses, they are at liberty to export the skills and earn more money," she said.
David Oliabo a youth fish farmer also one of the beneficiaries of Swiss contact applauded the Organisation towards their support to the youths which he said has groomed him into a consultant in cage fish farming.
"As of now am earning more money from cage fish farming and from doing consultancy services which has changed my life," he said.
He however decried the high cost of feeds which every year the price keeps shooting up, amidst enough materials in Uganda to make own feeds.
"I ask the government to come up and train people how to make the feeds and also provide machines to solve the problem," he said
The feeds he said are chasing majority of them out of business since a lot has to be invested in the cost of production yet the returns are constant which is actually affecting incomes
Swiss contact country director Parlos Traulis said they have operated for over 25 years in Uganda while creating jobs and opportunities, increasing incomes for youths, women, refugees and small holder farmers.
He said the Organisation has been able to mobile about 14m Swiss franks from private sector investors and other entrepreneurs to be able to create jobs, opportunities and increasing incomes for the target groups.
"We intend to continue working in Uganda and intend to continue programs with refugees, host communities and small holder farmers, youth and women," he said.
He implored the small holder farmers to embrace agronomic practices for increased productivity and also create markets for their products up to the international market.