Leaders in Isingiro and Bunyangabu districts have been urged to use their platforms to mobilise banana farmers to engage in value addition as a better way to help them eradicate household poverty.
The call was made by Kephas Nowakunda, the team leader of Food Biosciences and Agribusiness Programme at National Agriculture Research Organisation (NARO) in Kawanda, Wakiso district.
Nowakunda said banana production in the country contributes around $600m to the economy, and that banana farmers wouldn't be crying of poverty if they engaged in commercial production and value addition.
"Our farmers are still producing for a stomach which is not good, leaders at all levels must use their platforms to encourage them to produce for income," he added.
Nowakunda made the comments while addressing farmers who are under Sustainable Transition to Entrepreneur Production through up-scaling, a programme implemented by NARO.
He also urged district production officers to use the little resources they have and help in addressing challenges faced by banana farmers in their areas.
According to Mathias Tushabomwe, a farmer in Rugaaga sub-county in Isingiro district, banana farmers are facing a number of challenges which include losses resulting from poor harvests, a problem he believes is negatively impacting the performance of the banana value chain in the country.
Tushabomwe is also the treasurer of Uganda Banana Producers Cooperative Union.
Other challenges faced by banana farmers, Tushabomwe said, include declining soil fertility associated with poor soil management, continuous depletion of the nutrient through harvesting, selling the bananas with limited value addition and poor co-ordination of farmers.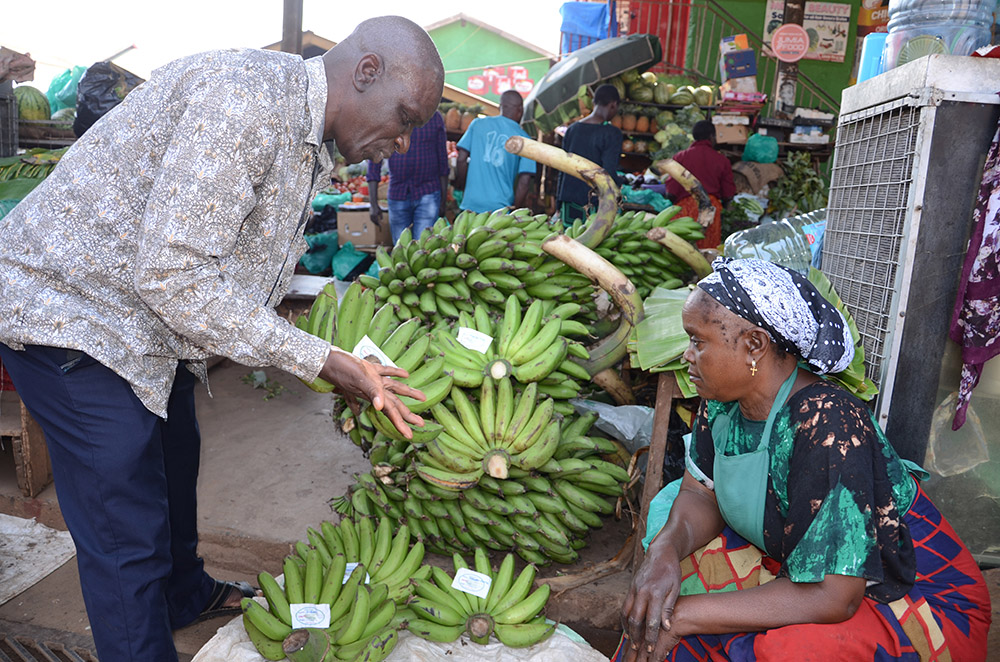 Farmers are concerned that banana production will continue to take a downward curve in all banana producing districts because such challenges have failed to be addressed.
They want the government to introduce programmes to specifically support banana farmers.
Government intervenes to restore hope among farmers
Following the outcry of farmers in Isingiro and Bunyangabu, the Government, through NARO and partners like Environmental Alert, Solidaridad Uganda, Zalf-German and Wageningen University with support from European Commission and the Ministry of Science, Technology and Innovation began a Sustainable Transition to Entrepreneur Production through up scaling (STEPUP) project.
The project valued at 82000 Euros (about shs310 million) kicked off in 2018 and is currently being implemented among the selected farmers in the three sub counties.
According to Nowakunda, the programme will help to address some of these challenges faced by farmers.
However, he said, the challenges are faced across the banana chain in the country and that Euros 82,000 is just a drop in the ocean to help farmers in all districts.
Nowakunda appealed to the Government to provide more funding to enable them to invest in technologies that enable them to engage in commercial production.
Annet Natukunda Kitengye, a banana farmer in Rugaaga sub-county, said they have started producing flour from bananas but said they are limited by resources and technologies to produce for market.
"Here in Rugaaga, we have started producing banana flour, but we are just producing for eating, our wish would be producing for export but we don't have the capacity to do that," Natukunda said.