It is the norm for plant enthusiasts to invest in unique planters, both local and imported to decorate their homes.
However, Brenda Mbabazi Kibuuka Musoke's story is different.
She recycles almost everything at home to create amazing planters that give an alluring touch to her garden.
From packaging tins, cups, toys, cookware to old chairs and a motorcycle, Mbabazi boasts of a well-embellished home.
Mbabazi grows and propagates indoor and outdoor ornamental flowers, culinary herbs, fruits and spices.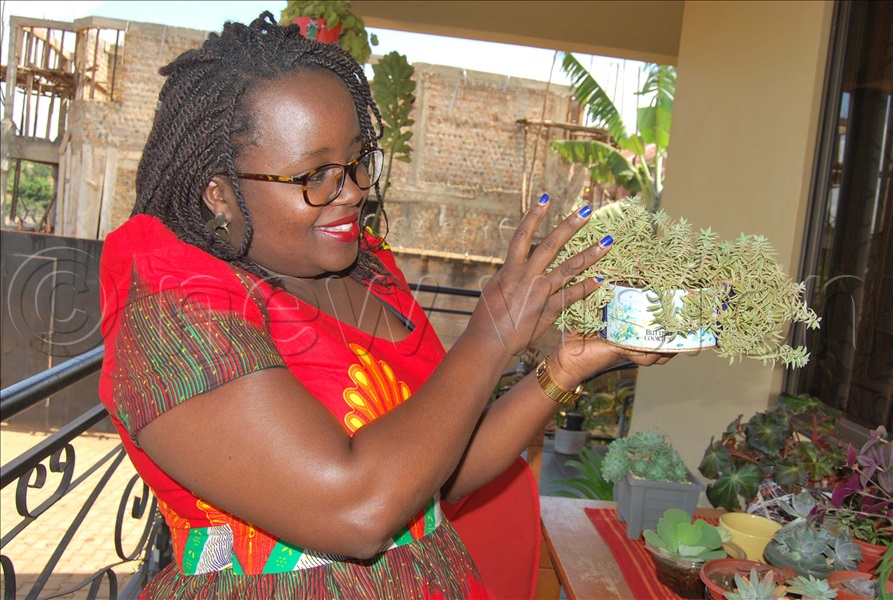 "I don't throw away old stuff I can use to hold plants. I create imaginative recycled planters for my garden," she explains.
Mbabazi is a stay-at-home mother of four who abandoned her marketing career to concentrate on backyard gardening.
"I am a hands-on mother, working from home. I sell plants and, once in a while, I landscape peoples' compounds," she says.
She adds that visitors who admired her work prompted her to go commercial. To date, they visit her home to buy different kinds of plants, while others pay her to landscape their compounds.
Her plants cost sh5,000 upwards.
Her home is a food basket
Mbabazi's home sits on 40X80 ft. plot, located along Miranda close, a few kilometers from Buwaate trading centre, a Kampala suburb.
The three-bedroomed house occupies approximately 60% of this land, leaving Mbabazi with a compound space of 40%, which she maximizes to supplement the family's income.
Apart from growing flowers for sale, Mbabazi's home is a food basket.
She grows matooke, in a miniature garden along the concrete brick perimeter wall that shields her home.
"In another small piece of land outside my home, I grow vegetables like cabbages and Sukuma wiki," she adds.
Mbabazi also does not buy eggplants, beans, onions, groundnuts, green pepper and herbs like rosemary, mints, aloe Vera, basil, thyme and lemon grass.
Advice
Mbabazi advises every homeowner to have planters at home in order to enjoy their endless benefits.
"They are stress relievers and income-generating. The culinary herbs help to prevent, cure or manage several diseases," she affirms.
Recycling is one of the very best ways you can improve your garden, no matter what size or shape it is. When you take some of the things that you'd throw away anyway and craft them into imaginative recycled planters for your garden, you're helping the environment and sprucing up your home in the best way possible! In one afternoon, you can improve your garden without spending a dime.