By Joshua Kato
Kisomoro village was once part of Kabarole district. It is now in Bunyangabu district, after it was carved out of Kabarole, but one aspect stands — beauty.
The rolling mountain ranges of Rwenzori provide a beautiful, cool atmosphere that attracts tourists.
In one of the villages, Florence Kayaayo brews wine; not the fancied wine fields of Burgundy in France, but in her small ways, her wine flows.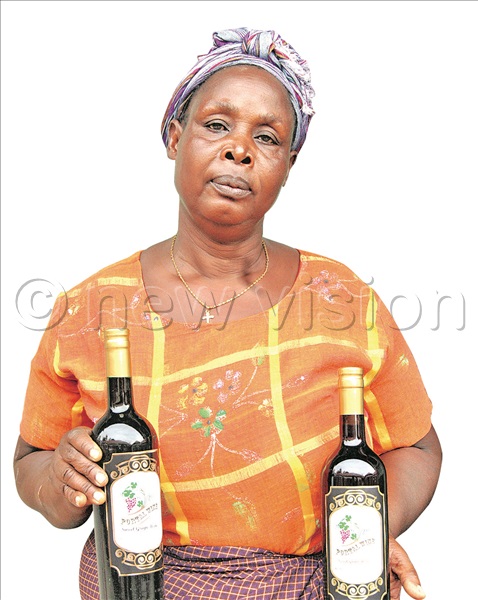 Kayaayo does smallscale farming in an extraordinary way. Her home drips, not only with wine from home-grown grapes, but also other products. Her farm name, Flokey Winery, is a household name among residents of Kabarole.
In 2016, her innovative way of farming earned her a seat among the best farmers as she was named one of the winners for that year. In 2017, she travelled to the Netherlands for a farming tour.
Kayaayo was selected under the 'special category' which that year focused on female farmers. She won because she was using small space to produce a product that was consumed nationally. By the time she won in 2016, she had 2.5 acres of grapes.
 Today, she has three acres of grapes.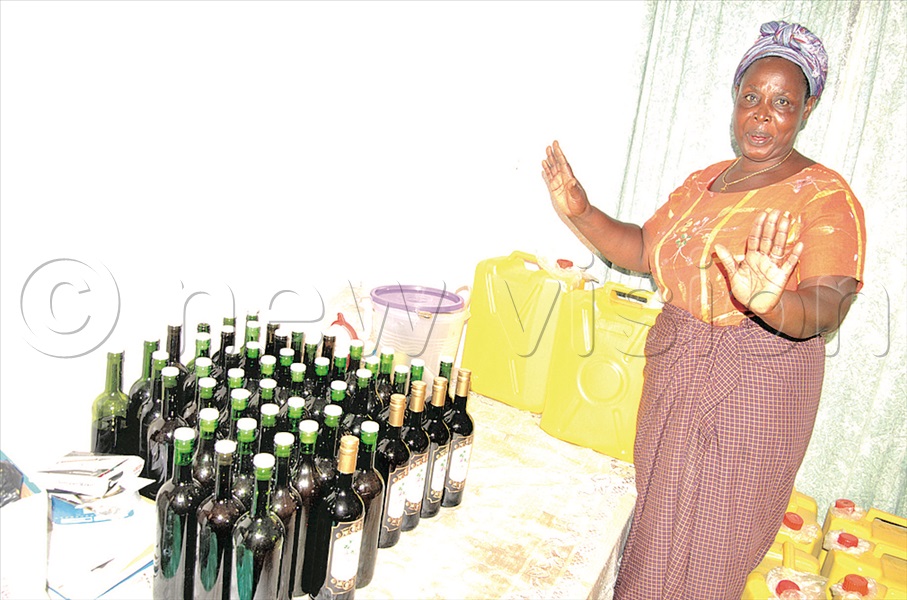 When I won in the best farmers competition and visited the Netherlands, we were advised to specialise and not engage in so many enterprises. This is why I chose to concentrate only on grapes and wine. Of course, I still grow food crops for food security," she says.
She also admired the Dutch emphasis on quality of produce.
Background
Kayaayo was born in Bugiri district, eastern Uganda. She holds a certificate in home nursing and midwifery from Busiu Domestic Science School in Mbale.
After her studies, she acquired a job she had not trained for at Busitema National Agricultural College as a records clerk, where her husband Emmanuel Kayaayo Rusoke worked as a principal in 1980.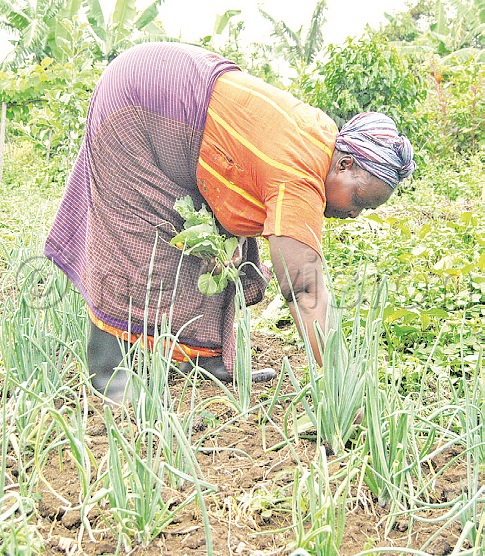 She resigned in 1993 to begin a new life in her marital home village in Kisomoro sub-county, Bunyangabu district and did not want to follow her husband to the National Agricultural Research Organisation, Entebbe, where he was transferred to.
Kayaayo says she was criticised by her relatives and friends for abandoning a permanent job to misery termed as farming, although she had a different view about it.
She started with one acre of land she had bought with her husband, which had a small banana plantation that became a source of food for the family.
In 2000, her mother in-law offered her a basin of garlic, which she grew on a 50×100 plot and harvested one sack of 100kg, which she stored for more months waiting for prices to go up, but was shocked to find them wasted and could not be sold anywhere.
She wanted to grow garlic on a large scale but seeds were not easy to get.
She was, however, lucky that the National Agricultural Advisory Services (NAADS) identified her as a promising farmer and was elected to lead farmers in Bunyangabu and Kabarole districts.
Growing grapes
In 2003, Kayaayo started growing grapes. She started with 12 seedlings, which she picked from a rubbish pit at the home of Robert Muhirwa, the Bishop of Fort Portal Diocese, as she was sweeping in the compound.
After one year, she considered cutting the grapes down when they delayed to flower. After a few months, she started noticing small flowers, which grew into green round seeds and later changed colour to black.
"I started researching on the Internet for more knowledge on grape growing and management as I continued to inquire from NAADS trainers how the plants are handled after harvesting them to process wine," Kayaayo adds.
A few months later, she harvested seven bunches of grapes, which were blended to make wine. Kayaayo says she added yeast and little water, although not measured, as it was her first attempt. She kept the wine for six months in a jerrycan.
She says she took the wine to Kabarole district offices based in Kitumba, in a mindset seminar, from where she was given the good news on how it had matured. She was also told it lacked some ingredients.
The result encouraged her to continue improving her effort and in the next season, Kayaayo earned sh4.5m from the 12 plants of grapes.
"I encouraged her to increase her plants and improve her wine-making skills. I realised that this was no longer a hobby, but also a job that could earn her money," Rusoke, her husband, says.
Improving value addition
Kayaayo improved her volumes from about 500 litres in 2016 to 1,500 litres today per year. In 2019, she received an offer of a processing unit from NAADS. Her task was to construct a shelter for the equipment.
"I have completed constructing the processing unit and the equipment has also been delivered," she says.
The structure cost sh15m, while the equipment from NAADS is valued at over sh80m. The processing unit is now ready for commissioning.
"This is a modern system because it starts by cleaning the grapes, breaking them up, mixing, pasteurising and filling the bottles with wine and sealing them," Kayaayo says.
She says given the capacity of the new processing unit, her farm will not only have to expand, but she is also encouraging neighbours to grow grapes. They are, however, slow at embracing this opportunity because they think growing grapes is complicated.
"This will create jobs for people here," she says.
UNBS certified
"We attended a training on branding and certification in the Netherlands. When I came back, I improved my branding, but also started the process to acquire the Uganda National Bureau of Standards (UNBS) mark and I now have it," Kayaayo says.
She says the UNBS mark has improved the value of her products on the market. She adds: "It is not just about getting the UNBS mark, but also maintaining the standards and quality of the products".
"I have not stopped researching about wines and grapes. This is intended to help me keep abreast with the new trends in wine processing," Kayaayo says.
Market
"Many years ago, I used to sell my products through word of mouth. Today, however, I have created a large client base that some customers call me from as far as Kampala," Kayaayo says.
She is a regular exhibitor at farming exhibitions, including the Harvest Money Expo.
"That is one of the ways through which I market my products. In every exhibition that I visit, I do not only sell, but also share contacts," Kayaayo says.
In cities near her place, including Fort Portal, Flokey wine is visible on the shelves.
Kayaayo attended a packaging training in the Netherlands and has made her branding attractive.
"We were told that the first aspect in product marketing which attracts a customer, is branding and packaging. I redesigned my labels and made them more attractive," she says.
Community impact
Kayaayo is involved in training fellow farmers in grape growing and wine processing. At her farm, she has hosted various student interns who come to learn about the processes.
"I have also trained women both individuals and in groups," she says.
Kayaayo does not employ many people to manage the enterprise, given the fact that it is small. However, with the larger processing unit, she expects to employ at least 10 workers to run it.
Achievements
Farming gave me a job that I have done at home for many years," Kayaayo says. She explains that while many people practice farming as a last resort; it is a priority to her.
She says beyond the material gains, including having money in her pockets and feeling proud whenever she sees her products in supermarkets, her trip to the Netherlands is her biggest achievement.
"I thought it was a good dream which would stop when I woke up. When we went to Entebbe and boarded the plane, it became a reality. Farming was taking me places," she says.
Growing garlic
In 2002 when the National Agriculture Advisory Services was introduced in Uganda, Kisomoro as a sub-county and Kabarole as a district were selected in the first phase to receive seedlings, but because Kayaayo had started growing garlic and was one of the crops supported, she was given 100kg.
She harvested 700kg that season. She sold a kilo at sh3,000 and earned over sh2.1m in profits later.
Kayaayo was elected chairperson to represent farmers in the district to the Uganda National Farmers Federation.
She adds that this empowered her to expand the land to three hectares for growing garlic. According to data from the Uganda Bureau of Statistics, the average farm usage per household in Uganda is 2.5 acres.
In 2018, however, Kayaayo stopped growing garlic commercially and concentrated her efforts on improving her winery enterprise