By Umar Nsubuga
If you are a banana farmer who intends to cash in on them, you must have identified how many bunches to harvest then.
The prospective bunches are in their early stages of growth now. A stroll through the shamba will help you count how many will mature most especially a commercial farmer.
But there is one challenge for banana farmers. One of the challenges is the windy weather.
You can apply as many as two or even three poles on the plant. Photos by Umar Nsubuga
Unpredicted weather sometimes leaves many farmers in losses, this means, banana plants fall because of the winds. It is, therefore, important that you protect the bananas with poles to reinforce them against wind pressure.
Isaac Malinga, a banana farmer says farmers need to apply the pole support; 'you need to put into consideration the common direction of the wind'.
He says if the wind comes from the east, then place the supportive pole to the west of the plant. You can apply as many as two or even three poles on the plant, depending on the size of the bunch.
Remember, the heavier the bunch, the more likely it is to fall under pressure of the wind.
Matooke growing
Washington Mugerwa, an urban farmer says before you embark on matooke growing you must seek an expert's guide.
He explains that if one keeps away from experts, one keeps bound to make mistakes that will cost him or her money and discourage one form of farming.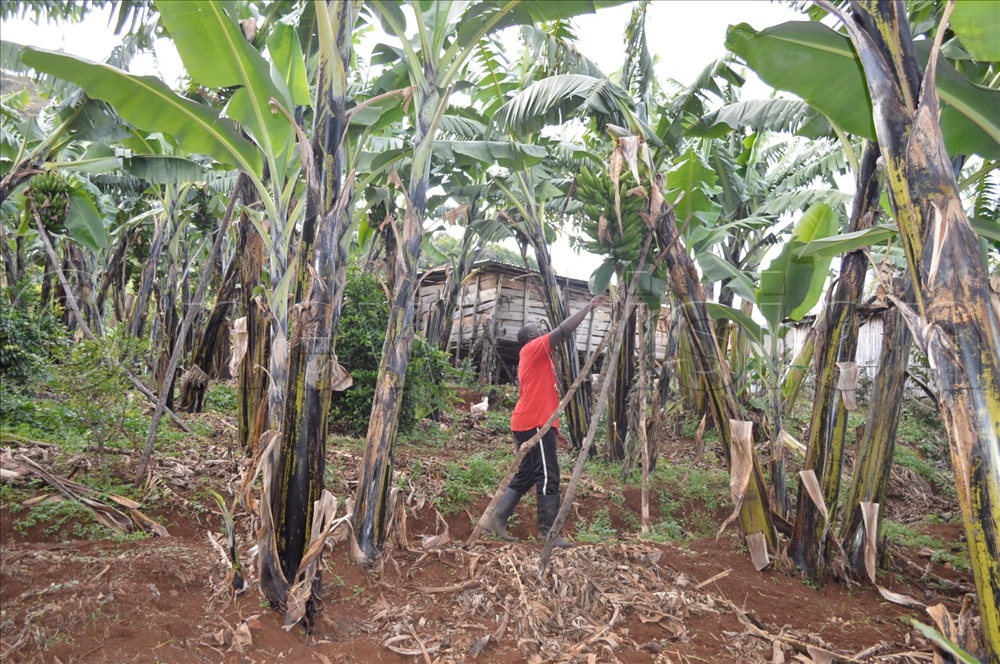 Mugerwa says experts will help you to move from one level to another.
"To be successful in matooke farming, one needs to be committed and able to produce quality products that will fetch high profits.
He advises farmers to dig holes at least 60 cm (2ft) in diameter and 60 cm (2ft) deep. Half-fill the top soil mixed with rotted manure before putting it into the planting hole.
It is advisable to plant at the beginning or during the main rainy season for proper establishment and subsequent production.
The ideal plant spacing for medium-sized bunches in the four rainfall zones in Uganda differs. The dry zones that receive less than 1,000mm per annum should have a spacing of three metres by three metres.
The slightly wet zones (receiving 1,000 to 1,200mm per annum of rain) should have a spacing of three metres by two metres.
The third zone that receives 1,200 to 1,400mm per annum spacing should be two and a half metres by two metres. The fourth zone which receives 1,400mm and above should have a spacing of two metres by two metres