Tomatoes are very vulnerable to pests and diseases, which can make a farmer easily incur losses if the crop is not well-managed.
A farmer must, therefore, be able to timely identify the pest before it extensively affects the crop and manages it effectively.
Tomatoes are affected by many pests and diseases, but tuta absoluta stands out among the most destructive insect pests to both tomato plants and fruits.
Juma Kasule, an agronomist from Juma Agric Business in Nansana, Wakiso district, says tuta absoluta is a very challenging pest to control and the effectiveness of chemical control is limited due to the insect's nature of the damage as well as its rapid capability of developing insecticide resistant strains.
The pest affects the seedlings while in the nursery and after transplanting. The larva is the most destructive stage of tuta absoluta.
This hides the underside of the tomato leaves, bud stems and the calyx of unripe fruits.
It burrows in and sucks sap from the leaf leaving behind a silvery tunnel on the leaves. Adult pests are nocturnal and only participate at night, making it difficult to detect them early enough to prevent severe damage
These also make tunnels on the fruits making them rot and unmarketable.
"We always recommend farmers to spray in the evening to ensure the effectiveness of the chemical application," Kasule advises.
Visible signs
Look out for abnormal signs on your crop. This should be done regularly to detect the symptoms early enough.
Check out for deformation or curling leaves, silvery tunnels on the leaves, malformation or collapse of stems, presence of excrement of the larvae on the plant, and wilting of the plants.
The severe attack could be manifested by fruits developing an abnormal shape.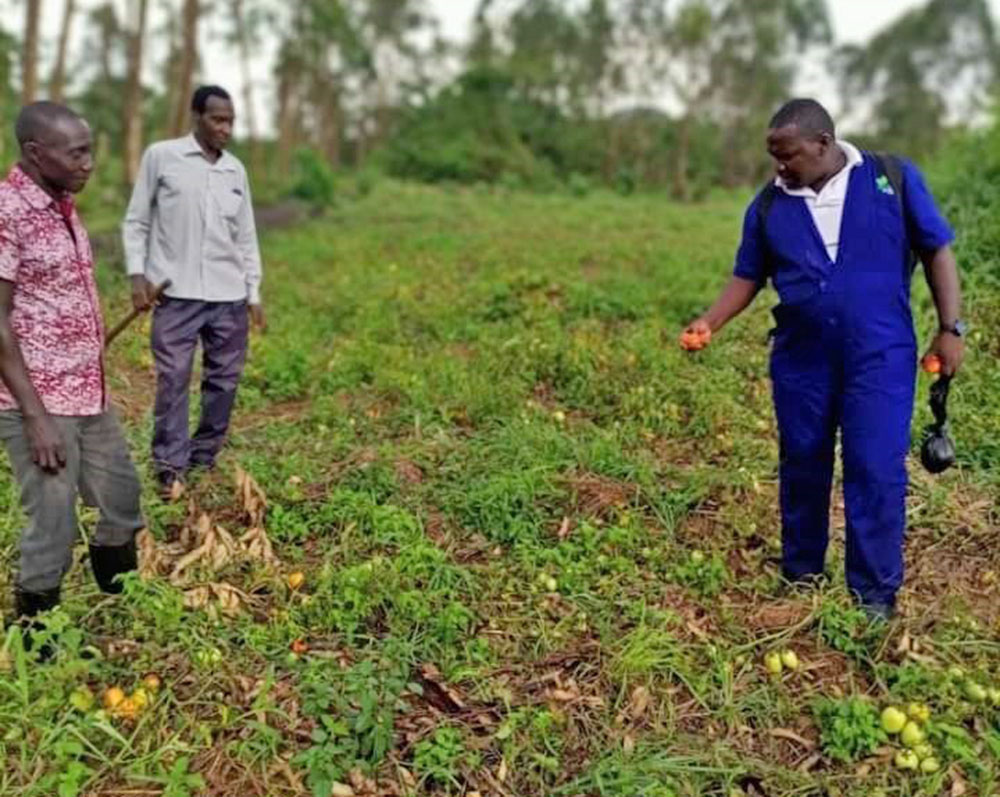 𝐌𝐚𝐧𝐚𝐠𝐞𝐦𝐞𝐧𝐭 𝐨𝐟 t𝐮𝐭𝐚 𝐚𝐛𝐬𝐨𝐥𝐮𝐭𝐚
𝐂𝐡𝐞𝐦𝐢𝐜𝐚𝐥 𝐜𝐨𝐧𝐭𝐫𝐨𝐥
Chemical control has been the main measure used against tuta absoluta.
Despite the numerous pesticides registered to manage tuta absoluta, most of them are of low to moderate effectiveness due to the cryptic nature of the larvae and the high biotic potential of the insect.
However, a farmer can apply the following to the tomato plant for safety reasons.
1.Flubendiamide 480 g/l
2.Emamectin Benzoate 50% + Lefenuron 50%
3.Emamectin Benzoate 5WDG
4.Azadirachtin 0.03% EC
𝐂𝐮𝐥𝐭𝐮𝐫𝐚𝐥 c𝐨𝐧𝐭𝐫𝐨𝐥
Ploughing, manuring, irrigation, crop rotation, solarisation, and the elimination of symptomatic leaves and destruction of infested tomato plants. Removal of alternative reservoir hosts such as nightshades are strongly recommended before and during the cropping cycle.
𝐏𝐡𝐲𝐬𝐢𝐜𝐚𝐥/m𝐞𝐜𝐡𝐚𝐧𝐢𝐜𝐚𝐥 𝐭𝐨𝐨𝐥𝐬
1. Clean the area of old fruits and plants
2. Close greenhouse ventilation openings with insect netting
3. Use horiver tuta sticky traps for monitoring and mass trapping of adult moths
5. Use delta traps with pheromones for scouting and monitoring the adult moths.
6. Use Tutasan water-trap with pheromones for mass trapping of the adult moths.