After graduating on top of his class, Isaac Nkonge embarked on a mission to find a job.
However, during that time, his former lecturer gave him an offer to produce an art piece for a commercial purpose. His life has never been the same.
He has built a business which sustains him and he is skilling other youth, writes Herbert Musoke.
Bananas are abundant in Uganda and for Isaac Nkonge, they are a means to earn a living.
The bachelor's degree graduate of industrial art and design from Kyambogo University makes art pieces and crafts from banana fibre. Upon graduation in 2013, Nkonge started searching for a job.
As he applied for vacancies, he was contacted by his former lecturer, Kimani Muturi, who is also the director of TEXFAD, a company that extracts fibre from banana stems.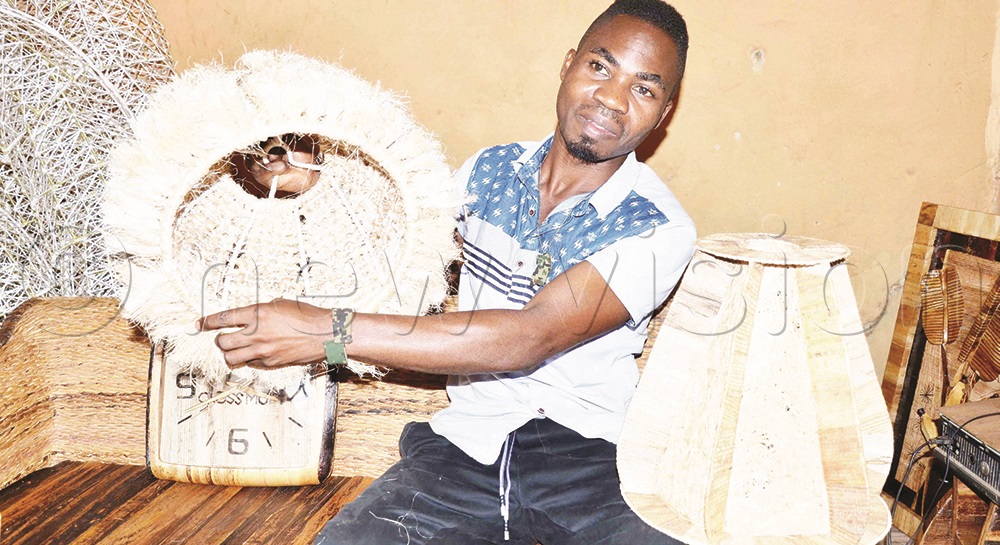 Muturi ordered an art piece to be presented to his partners.
"I was one of my lecturer's best art students and he ordered a piece that he would present to his partners at TEXFAD and he believed I would deliver to his expectations," he says.
Nkonge made a wall hanging using banana fibre, which he says, he completed in three days and was paid sh150,000 for it.
"The piece was a bird in a nest it had made atop a banana plant. To my surprise, the wall hanging grabbed the attention of the visitors who admired it."
Muturi offered Nkonge a job at TEXFAD thereafter.
Nkonge says while at university, he used to attend all art classes including sculpture, realism and painting.
He also pursued carpentry and joinery.
"All of these have helped me to become creative and come up with unique items," he says adding that creativity is key in the business.
Starting business
He says the first sh150,000 he earned motivated him. His thought was, if he could earn this in three day, how much more would he earn per month from his own business?
With that goal in mind, while at TEXFAD, he used to save part of whatever he earned. In addition, he would make products that he would display for sale.
In 2017, after four years of working with TEXFAD, he was confident that he could start his business. Nkonge says he had capital worth sh1.8m.
"I used to rent premises at sh200,000 per month. I paid for four months, bought a second-hand computer and other small equipment I needed to start," he says.
Today, Nkonge makes craft shoes, tablemats, photo frames, earrings, lamp holders, wall hangings and carpets.
Other enterprises
Nkonge also works with the youth in creative arts like drama and acting at Palace of Praise and Prayer Church.
"Both church members and non-members are welcomed and trained in music, dance and drama. They also offer labour whenever there are big orders, hence getting skilled," he says.
Market
Nkonge says the craft market is still a challenge as there is still a vacuum between the artists and clientele.
"Art is expensive and time consuming. Many of us the artists live in remote areas in the city suburbs yet the target customers are elite, who don't usually visit these areas. This has made marketing difficult," he says.
In his case, Nkonge turned to social media platforms, especially Facebook, to market his products. He posts pictures and gets orders, but is quick to add that it can be as long as three months or even longer before he gets business.
During the times when he does not have orders, Nkonge says, he is always making pieces for display and innovating other products.
"This is how I have come up with fibre wrapped pens, lamp holders, among others," he adds.
His other market channel is references from clients. His products are priced according to category and size, ranging between sh15,000 and sh1m.
Labour force
He has one permanent worker who is paid based on the business's performance that month earning between sh300,000 and sh500,000.
However, if he gets a large order, he hires labourers from the community and those in the church performing arts group.
Each is paid sh1,000 or more per piece, depending on the work done.
Best practices
Nkonge opened an account where all business money is banked before it is spent.
He says this has helped in keeping records.
"After computing the cost of doing a particular job, I save 20%, pay myself a percentage and that I use for managing other issues such as paying fees for my siblings," he says.
He registered his business as a community-based organisation as Ttalanta Designs with Kira municipality, Kampala.
Impacting the community
Apart from the youth in the performing arts group, Nkonge says he trains community members who want to learn how to make art pieces and crafts at no cost.
He says he allows to train community members because he wants to show people that they can use materials which are readily available to them to make different products for sale and make money.
"I have trained over 100 people; from school students to business owners in how to make art pieces," Nkonge says.
Impact of covid-19 pandemic
He says during the COVID-19 pandemic-induced lockdowns, business was slow because people focused on basic necessities, that buying crafts would be a luxury.
"I used that time to innovate and come up with new ideas that I have used to produce unique items such lamp holders," he adds.
Challenges
His major challenge is connecting with customers which he says has kept his market small. With the low incomes, Nkonge struggles to realise his dream of bringing on board as many youth as possible.
"The other challenges are common to all the businesses such as insufficient capital, scarcity of raw materials at times, especially during the dry season when fibres are of poor quality, bad debt as some customers fail to pay the balance," he adds.
How to start this business
Nkonge says to start such a business, one needs to be skilled in making items from banana fibres. Raw materials include banana fibres, wood glue, vanish and knives.
This can cost you about sh100,000. One can create a workstation perhaps at their home to save rent. For marketing, one can start with friends and social media.
Utilising the banana plant
Bananas are more than food because different products can be made from different parts of the plant, Dr Priver Namanya Bwesigye, the programme leader of the National Banana Research Programme at the National Agricultural Research Laboratories in Kawanda, Wakiso said.
She says bananas, especially the matooke is a known staple food for over 70% of Ugandans and many in the East African region.
"This creates a big market for products made from banana and creates jobs for the unemployed Ugandans, especially the youth. Hence, contributing to the development and transformation of the country's economy," she says.
Nkonge says with the advanced technology, banana fibres can be used for cottage/craft and textile to make car tires, paper money, capers and papers, hair extension, sanitary towels and carpets, among others.
Other products include craft shoes, tablemats, photo frames, earrings, lamp holders, wall hangings, carpets.
Fibres can also be used as embellishments for items such as chairs, TV sets, radios, computers and flasks.
Plans
Nkonge's mega dream is to establish an art gallery that will not only house the art and craft, but also the creative arts.
He desires to have all the arts housed in one place as it is done in other developed countries.
"According to the trade ministry, in the financial year 2019-2020 only, Uganda imported packaging paper worth $105m. The market survey done by Kawanda Research Institute indicated that packaging paper is one of a valuable and profitable innovation that will fetch money not only for the farmer groups, but also improve foreign exchange earnings for the country," he says.
Nkonge says Uganda has more potential that can be derived from bananas and nature if planned for well.
He says he wants to venture into other products and technologies that can improve the quality of products.
What others say
David SSekiziyivu, Kira Municipality Councillor
As leaders, we are grateful for what Nkonge is doing in the community because he is setting a good example for the youth to start something other than crying and lamenting to the Government for lacking jobs.
Ruth Nakaggwa, Friend
What Nkonge is doing is really impressive because we see a good number of graduates seeking jobs in vain.
He is setting an example that one can use the skills acquired in school to create their own jobs.
Emmanuel Mukisa, customer
As Ugandans, we need to support and boost our own people like Nkonge because many people, including trainees and workers benefit from his business.
Nkonge displaying lamp holders he made from banana fibre One can create a workstation perhaps at their home to save rent. For marketing, one can start with friends and social media.