By Umar Nsubuga
Sitting behind a collection of wine bottles, Stephen Lumbuye smiles happily. The collection includes wines made from mangoes, matooke, jack fruits, and pineapples among others.
A resident of Kiyuni village, Katente parish in Mubende district, Lumbuye is an avid agriculturalist, who has moved from just growing crops to adding value to them.
After Lumbuye retired from public service in 2013, life became easier because he had set up his farm.
"The belief that wine can only be made from factories not farmers, must be changed," he says.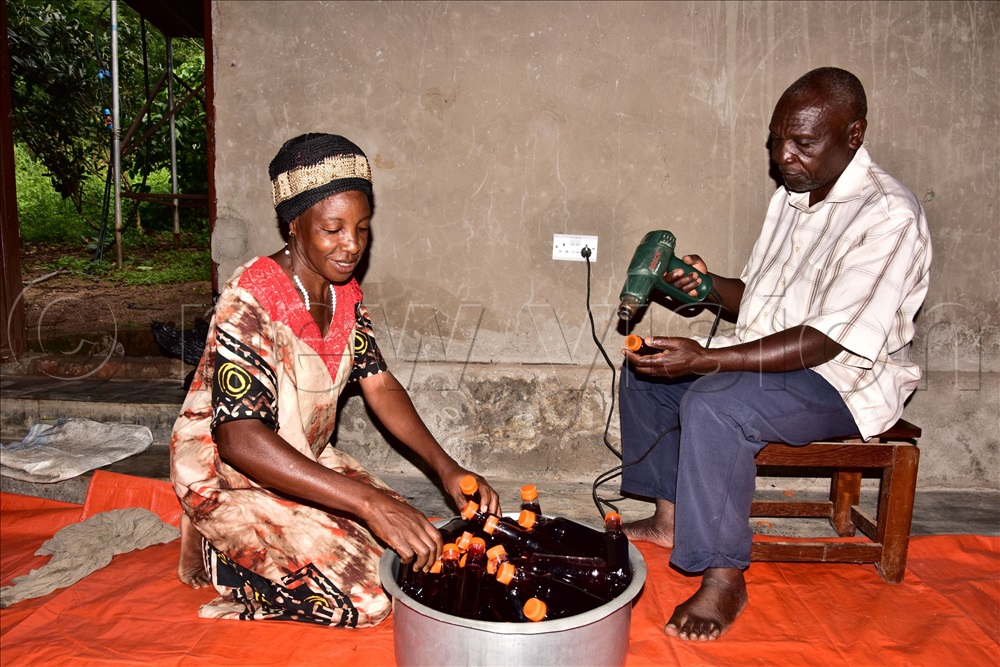 Lumbuye is tapping into a readily available resource, but not fully utilised by farmers.
"Many fruits are easy to grow and are available in many areas of the country. However, other than being eaten, little value addition is put on them," he notes.
Although he is rated as a winemaker, Lumbuye has land where he grows more produce to supplement what he harvests from the Kiyuni land.
However, he says he did not start as a winemaker, but as a farmer growing pineapples, mangoes, jackfruit, avocado, and cocoa.
"But when I took my produce to the market, what I earned was ridiculous and that is when I decided to add value'" he says.
Lumbuye started researching about wine production.
"I also attended workshops organised for farmers in my home village," he says.
With value addition, the produce is processed into more valuable forms instead of selling it in its raw form. For example, pineapples can be turned into juice.
Lumbuye has been growing fruits for over twenty years on over 20 acres.
Lumbye encourages farmers saying that setting up a cottage industry is not so expensive. He also notes that adding value to the produce would help fruit producers to earn more from their fruits.
"I encourage farmers to take up winemaking because it is something they can do alongside other responsibilities," Lumbuye says.
He adds that with proper planning, it is possible to have a 'wine village' in every sub-county in Uganda.
Challenges
One of the impediments to wine processing is very expensive packaging materials. Wine production requires a filter, juice extractor, boilers, and branded papers around the bottles.