By Umar Nsubuga
It has become common for farmers to sell all their produce without sparing seed for the next season.
This phenomenon has left the indigenous crop varieties endangered and farmers at the mercy of seed shops.
"These days traders from as far as Kenya come and buy all the season's produce and leave us without any seeds. Our indigenous maize varieties, especially those that used to be multi-coloured are no more. We are now at the mercy of farm input suppliers for seeds," Joseph Odong, a farmer in Adyanglit village, Muntu sub-county, Amolatar district, said during a recent indigenous seed and food fair competition between farmers on Wednesday at Amolatar Primary School.
The fair attracted farmers from various sub-counties in Amolatar such as Muntu, Odiak, Awelo, Nakatiti, Anamwany, and Kioga, among others.
The fair was organised by Facilitation for Peace and Development (FAPAD) and funded by Broederlijk Delen, a Belgian Non-governmental Organisation.
The farmers who took part in the exhibition had been trained by the Initiative for Community Empowerment and Support (ICES), a non-governmental organisation.
Farmers competed as exhibitors of indigenous and traditional seeds and foods with the aim of improving food security, market access, community resilience and adaptation to climate change.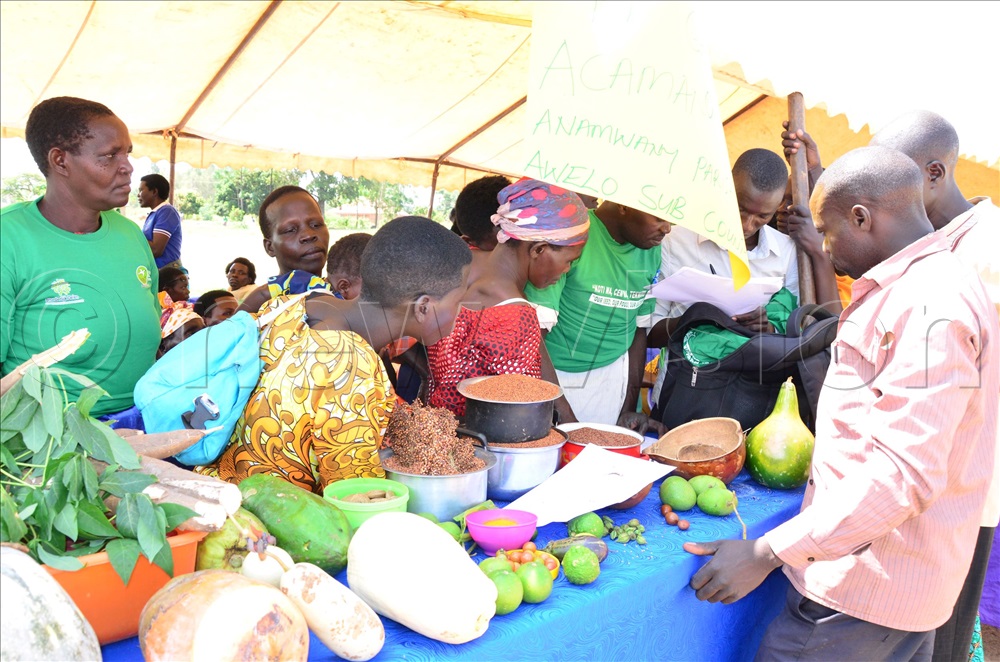 Phiona Amucu, a sesame (sim-sim) farmer in Adwongolana village, Awelo sub-county, was among those trained in indigenous seed preservation.
She said the training enabled her to save on the money she had previously lost to fake seed sellers.
"I had not attained these skills for the time I have been in farming. With the knowledge I got, it will be easier for me to properly manage my garden. The knowledge I have received will reduce the cost of buying fake seeds but now I have to manage the preparations myself," Amucu said.
Jennifer Alum, a single mother of five in Naibyaita village, Muntu sub-county in Amolatar, said the indigenous seeds have helped to boost her yields.
She inherited debts including unpaid school dues for the children, consequently, the children dropped out of school and became malnourished, owing to a poor diet.
After a year, her fortunes changed when she learned how to use indigenous seeds on her land to grow food.
"Before I got sensitised from ICES, I did many casual jobs, which included digging and fetching water for other people and life was not easy," she explained.
Alum is not alone as many farmers from various parts of Amolatar district who embraced the training shared their past challenge of buying fake seeds yet their option of planting indigenous and traditional seed varieties would reduce the burden.
District agriculture officers and selected agricultural extension workers from Amolatar also took part in the indigenous seed fair.
Godfrey Oyuku who works with ICES, said the five-year project started in 2021.
Oyuku said the project is beneficial to the local farmers who need to be sensitised because many had dropped traditional farming and indigenous seeds and foods.
Samuel Obura, a resident of Abali village in Akongomit parish said the project will help smallholder farmers become commercial.
He asked farmers to consult technical people where they encounter challenges.
Bram Jacobs, the country representative of Broederlijk Delen, said the five-year project is targeting to reach out 2,500 households directly and indirectly around 180,000 in Lango and Rwenzori regions.
Jacobs identified the root cause of most challenges faced by farmers as poor soil health, caused by limited understanding of the soil ecosystem and unreasoned use of synthetic inputs that upset natural regenerative processes.
When crops grow in poor soil with little organic matter, they become more vulnerable to drought stress and pests and diseases.
Farmers facing such challenges may be inclined to apply more chemicals as a quick fix, further destroying their soil and increasing their dependency on inputs.
The same thing happens when farmers plant seeds that are poorly adapted to the local conditions. Such crops will need all types of inputs to perform in an environment that's not suited to their needs.
That's why it is critical to safeguard the indigenous and traditional varieties we currently have. Such varieties are well-adapted and more resilient to environmental shocks.
Only a healthy agroecosystem with living soils and high levels of biodiversity can provide the foundation needed for an economically thriving agricultural sector.
"We are already challenged by climate change and associated issues such as extreme weather conditions and increased occurrence of pests and diseases. In this context, we cannot afford to lose the agricultural biodiversity which is the basis of resilience and our adaptive capacity," he said.
The project will work with agricultural training institutions to build the capacity of community-based farmer innovators and community farmers.
Agroecology can resolve hunger sustainably, address problems and limitations of industrial agriculture such as increased poverty and malnutrition rate, inequality and environmental degradation, particularly climate change, that hinder hunger and poverty eradication.
Smallholder farmers, constituting the majority of players in both crop and livestock sectors, have been crucial in producing food and cash crops, and they employ a significant portion of the population, including youth, women and the elderly.
Their efforts have contributed to Uganda's food security within the East African community.
Experts believe that embracing agroecology is essential to guaranteeing food sovereignty, responsible investments, and respecting the rights and needs of local citizens, especially for small-scale farmers.
By adopting comprehensive approaches like agroecology, Uganda's farmers are positioning themselves as agents of community change, working towards a future where food is abundant, income is steady, and poverty is reduced.
They play a vital role in supplying over 80% of the food in the sub-Saharan region, further solidifying their critical importance in the country's agricultural landscape.