By Umar Nsubuga
Fruits are vital in everyone's diet, given their high nutritional value, especially as a source of vitamins. And as nutritionists recommend, fresh fruits are the best source of these nutrients.
It is, therefore, vital for every home to have a fruit tree or two. Michael Gitta a gardener and designer says fruit trees are not only a favourite for diet, but also add beauty to the compound, since most of them bloom flowers before bearing fruits.
He adds that they also act as wind-breakers in the compound and also provide children with a learning experience as they watch them grow.
He also says fruit trees also act as fencing or barriers against intruders, especially the kind that have hardwood and thorns.
If you decide to plant an orange, Gitta says this requires deep, well-drained loamy soils to bear healthy fruits and have a longer life.
Orange trees should be grown least 12 feet from the house, driveways or walkways. They grow and produce best in full sun. It also has dwarf varieties that can be grown in containers.
Earning
The average cost of an orange across city markets is sh300 each. This is quite high, given the fact that one orange can only be mixed in a single glass of water.
The high cost of oranges has a direct bearing on the orange juice whose cost has also increased. If a family of four requires at least four oranges every two days to make good juice, at the current price, this family will spend at least sh1,200 to buy oranges every two days.
And yet, if you planned beforehand, you would not be paying this high price. For those who have space in their compound, a little innovation can relieve you of this heavy cost.
There are good orange plants on the market at the moment. They can be got from National Agricultural Research Organisation (NARO) research centres or from private fruit tree dealers.
Most orange varieties start producing fruits after 18 months of planting. The average cost per tree is sh2,000.
According to Twaha Kakooza at Shatwa Mixed Farm in Kayunga and has over four acres, oranges do not need so much care. "A little manure before planting and some spraying quarterly is all that it takes. A single tree will barely take three feet of your space", he says.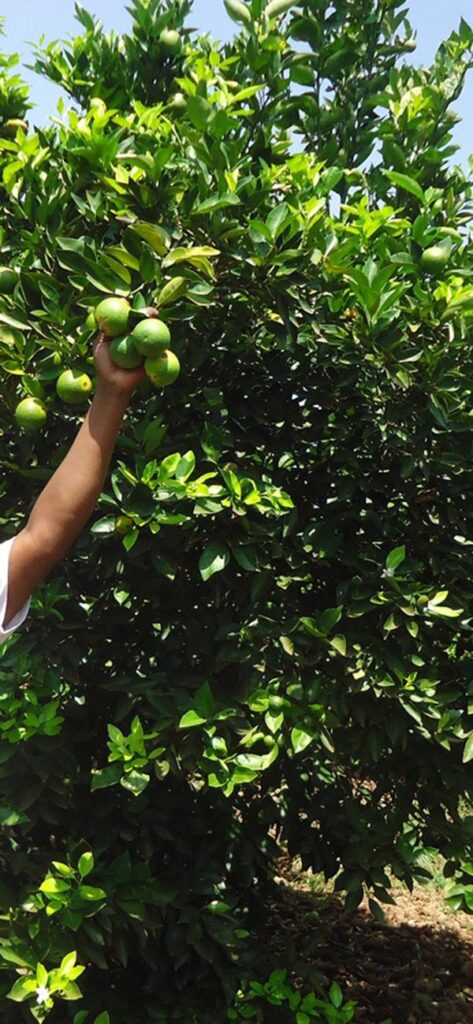 The oranges will start fruiting at 18 months and will continue doing so for many years to come.
Kakooza adds that during a single season, a well looked-after orange tree can produce between 500 and 700 fruits. These will of course be so much for domestic consumption.
You will sell some of them and buy sugar to make your juice. Right?
Some of the fruits are so big that each of them goes for sh700. Each seedling (grafted) costs between sh2,000 and sh3,000.
Visit farm shops for the best pesticides to use or an extension worker in your locality at the sub-county offices.
Positioning fruit trees in the compound
Gardening experts note that fruit trees can be scattered in the compound, depending on their height. Shorter trees blend in well in the front yard, while taller ones are better off at the back.
Fruit trees like coconuts can be grown along the walkways, borders or driveway. They can also be planted with flowers in the background or as a screen on the walls.
You can also choose to have a backyard garden if you have a big compound and this can enable you have a variety of fruits.
Fruit trees can also be grown in containers or directly in the ground, but this depends on the size of the tree and size of the compound.