When you visit Mengya village in Kween district and ask for Moses Kiptala, you may not find him easily.
However, if you ask for Governor (his nickname, to mean governor of Irish potatoes), you will be directed to his farm. Kiptala's enterprises sit on 75 acres.
He grows Irish potatoes on 35 acres, eucalyptus and maize on 10 acres each and uses five acres for rearing cows, among other ventures. He is one of the top commercial Irish potato farmers in Mengya.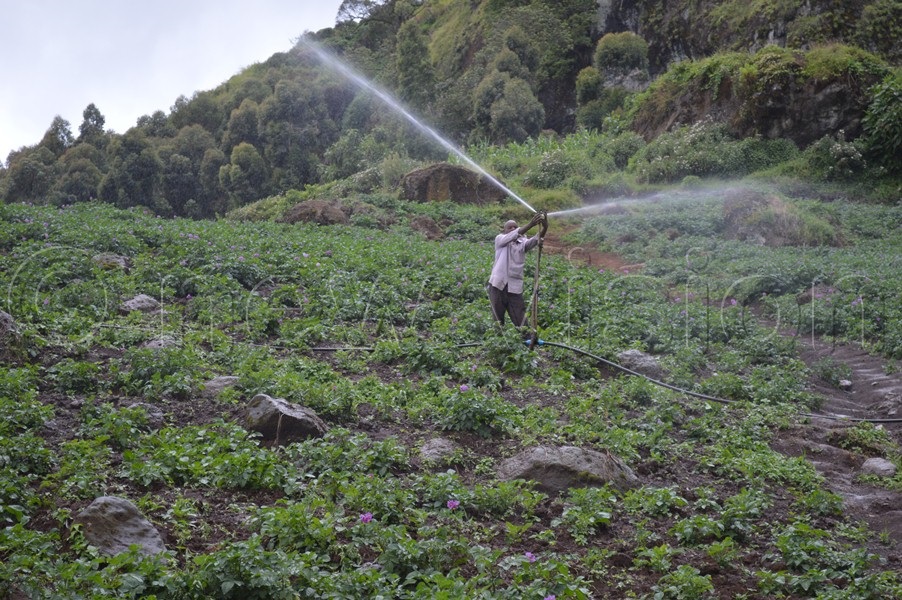 The 64-year-old farmer is a household name in Kween.
Kiptala is a teacher by training and owns a primary school in the area with more than 400 pupils. He started the school 10 years ago.
In the 2018 Best Farmers competition, he emerged as one of the winners. In 2019, he visited the Netherlands as part of his prize.
Lessons in the Netherlands
Kiptala says when he went to the Netherlands, he learnt that farms in developed countries are highly mechanised and, upon his return, he ventured into farming full-time.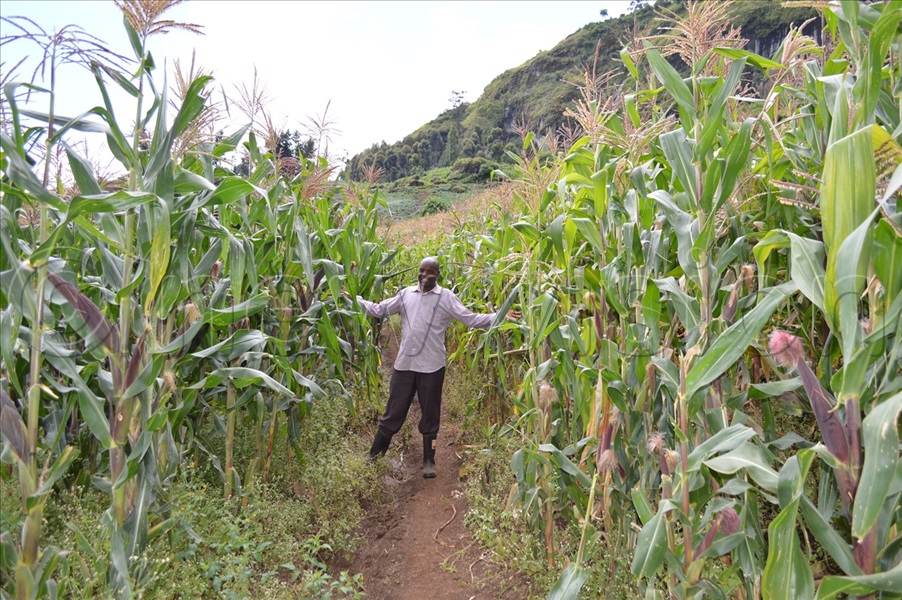 "In my area, people see me as the best farmer, so I preach farming to my village-mates. I have also realized that anyone can start with whatever available resources and be successful," he says.
"God has helped me to implement what I saw in the Netherlands. I have set up a 100,000-litre reserve tank, a greenhouse and more equipment for the water system."
Irish potato production
When Kiptala visited one of the farms near the border of Germany and the Netherlands, he was awed by its size and the technology used.
"It was over 200 acres and machines, such as tractors, were used to plant, weed and harvest," he says.
One of the lessons he picked was the importance of good quality seed.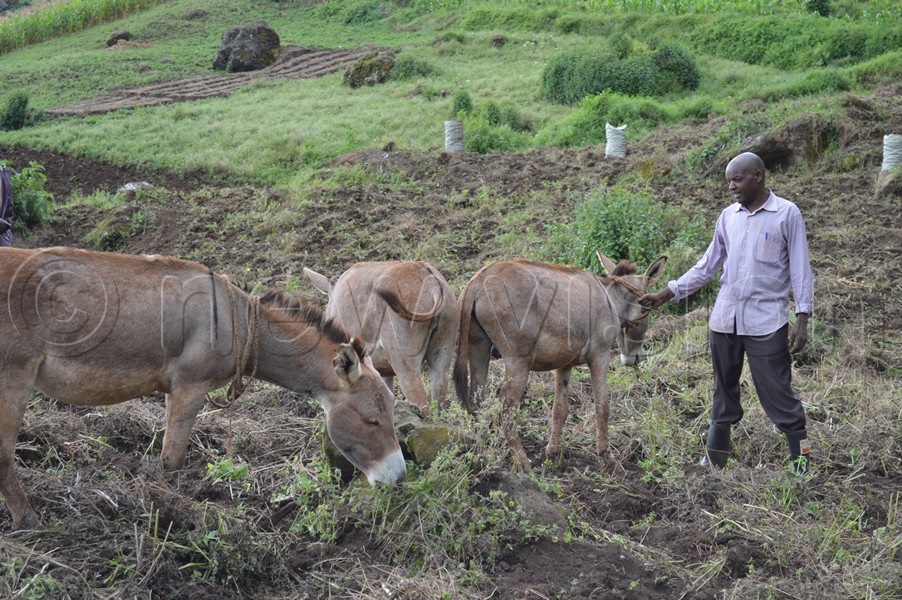 "Dutch farmers select seeds carefully because they say it determines the quality of the harvest. When I came back, I improved my selection of seeds," he says.
Back home, Kiptala grows Irish potatoes on 35 acres and his farming practices have greatly improved. He says he got the first seeds from Kabale district, as the variety is known to have high yields.
Kiptala says the seed is the most important variable in the enterprise. A 100kg bag of seed usually goes for sh200,000 and an acre requires five bags or sh1m. Land preparation takes sh60,000 per acre when using oxen for the first ploughing.
The second ploughing, after three weeks, takes the same amount and the tractor takes sh240,000 per acre.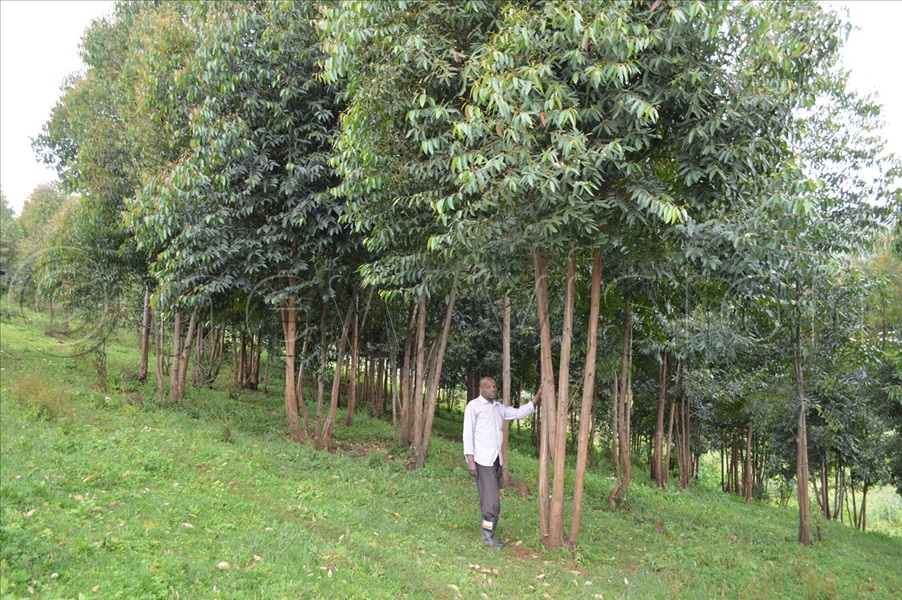 Before the Irish potato seed material is planted, a farmer should apply fertiliser. A 50kg bag of organic fertilisers goes for sh120,000 and an acre requires sh360,000. Planting costs sh100,000 per acre.
"Three weeks after planting, the Irish potatoes germinate and the garden is due for weeding. Thereafter, a farmer should apply another course of fertiliser (top dressing)," Kiptala says.
Top dressing application usually entails digging a shallow trench along the rows of the Irish potatoes and applying fertiliser.
At a month-and-a-half, the plants are long enough and a farmer is required to heap a mound of soil in every row. Attention is crucial as it gives room for the plants to yield more, Kiptala stresses.
Spraying using a fungicide protects the plants from possible infections by fungal diseases. It is done twice or thrice during the gestation period, depending on the threat.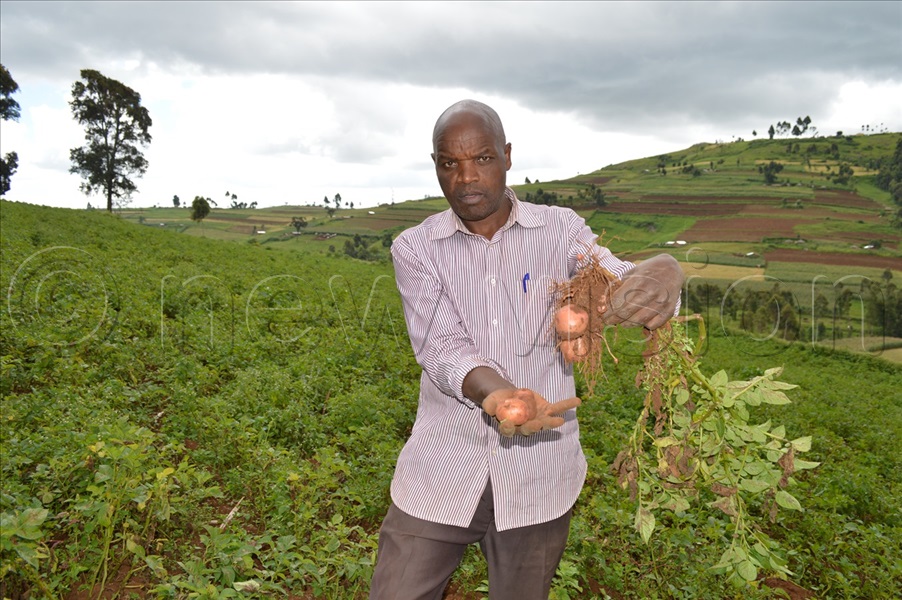 A kilogramme of effective fungicides on the Ugandan market goes for about sh35,000. A kilogramme mixed in water can spray an acre of Irish potatoes.
The labour for the fungicide application is usually sh50,000 per acre. There are two seasons in a year and he grows potatoes all-year, courtesy of irrigation.
Kiptala has Irish potatoes at different levels of growth.
He says having them at different stages of growth enables him to get a good price for the crop all year round.
"When you plant them at different stages, one can harvest at different times of the year. This is important because it will keep the produce in the market all year round," he says.
In the Netherlands, a single acre yields as many as 70 tonnes. In Uganda, however, the average yield is five tonnes per acre.
The farm gate price in Sebei ranges from sh60,000 to sh70,000 per 100kg bag during the rainy season and sh80,000 to sh90,000 during the dry one.
Barley
He grows barley on 10 acres and harvests 90-100 100kg bags per acre. Each kilogramme goes for between
sh1,000 and sh1,200 which earns him sh10m per harvest. Barley takes three to four months to mature.
"I plan to allocate more land to barley than maize next season. It takes three to four months to mature,
which is not the case with the maize which takes longer in Kween than in other areas. We normally plant maize in March and harvest in November," he says.
Irrigation
Kiptala says farmers must embrace irrigation.
"I have so far invested about sh8m in irrigation kits. My major expense was on sprinklers and installing lines across the farm," he says.
Ngenge falls, which is close to his farm, is his source of water.
Record keeping
Philis Chebet, Kiptala's wife, says the entire family takes part in the farming business. She advises
other investors to always involve their families in the management of their businesses, saying it ensures continuity. Apart from the farm, Chebet also runs the school.
Kiptala is a disciplined record keeper. However, since he is sometimes busy training farmers and other field supervisory work, Chebet manages the records.
"My wife records all the expenses and income because she is the supervisor of my workforce," he says.
"She also oversees most of the procurements. Our children participate in various activities on the farm during holidays."
Community impact
Joseph Kiplagat, a farmer, says he started growing Irish potatoes using modern methods.
"I was inspired by Kiptala," he says.
He also motivates youth to take up farming as a business.
"I employ 15 full-time workers, including an assistant veterinary officer," Kiptala says.
He also employs 15 casual workers. Farmers visit his farm to acquire free knowledge and skills on how to control diseases. On average, he receives 50 people on his farm weekly.
Farm expenses
Kiptala says most of the money he earns is invested back into the farm. He employs 30 workers, including his family members, with each earning an average sh10,000 per day. He spends about sh12m on wages every month.
"I pay myself a salary of sh2m and my wife is paid sh1.5m," Kiptala says
Challenges
He says planting materials are expensive and scarce in Sebei.
"Our Irish potato seeds come from Kabale as it is the only place where the Government, through the National Agricultural Research Organisation, has established a seed multiplication centre," he says.
A farmer should understand the dynamics of procuring seed materials, lest they fall prey to fraudsters.
"In the second year of my enterprise, I lost sh2m to fraudsters, after they sold me fake seed materials," he says.
"I had to buy other seed material from a sympathetic farmer who had obtained them from a genuine source. But, even then, I bought it at sh3m, because I was desperate," he recalls.
The enterprise is also affected by price fluctuations.
During the rainy season, many households grow Irish potatoes. Although the market is wide, the massive production compromises the price which plummets to as low as sh50,000 from 70,000 for a 100kg bag. During seasons when Irish potatoes are on high demand, a bag costs between sh100,000 and sh120,000.
Irish potatoes are also perishable. Therefore, when there is massive production, they are bound to rot. The nature of the soils in Sebei sub-region, like the rest of the Elgon Mountain region, is loose.
"During the rainy season, all access roads are impassable as the ground becomes marshy and sticky," he says.
"I have suffered huge losses because of the difficulty in taking my produce to the market. Trucks ferrying the produce frequently get stuck for days."
Tips
Kiptala advises farmers not to stick to one enterprise. He recommends trying many ventures because if one fails, the other can bail you out.
"You also have to involve your family to ensure your farm can be sustained even when you are gone. Make sure you have quality products if you want to attract the market," he says.
He adds that there is a need to create a strong relationship with your neighbours.
Training
Kiptala has no formal background in the Irish potato enterprise, other than curiosity and constant consultation from other farmers who have been engaged in the enterprise longer than him.
Best post-harvest handling
Because Irish potatoes are a perishable crop, Kiptala discourages the use of sharp implements, such as hoes, which bruise them.
"The danger of packing cut Irish potatoes is that they rot," he says.
It is a prudent practice for the handlers undertaking the harvest to use their hands to reduce damage to the potatoes.
Kiptala says one, informal, but effective way of preserving Irish potatoes is by slashing and leaving the unharvested crop underground.
"It has proved to be effective in preserving the crop, especially during the peak season," he says.
The most common diseases affecting Irish potatoes are fungal infections that cause the leaves to wither and dry.
"When such signs manifest in the garden, a farmer should apply a fungicide," he advises.
Dairy farm
"In the early 1990s, I had an exotic cow that used to produce over 25 litres of milk per day," Kiptala says.
He used the proceeds from the Irish potatoes to buy three more cows.
"Martin Kipmos, a friend, was impressed by my vision and charged me sh1.2m for two more cows. Ideally, each cow would have cost about sh1m," he says.
Over time, the herd has grown to over 40 cows with 20 of them yielding 400 litres of milk per day. He sells each litre at sh1,000.
Greenhouse
Kiptala topped up about sh8m to his prize money (sh7m) and set up a greenhouse. This is where he grows tomatoes. He now produces at least 50kg of tomatoes every week.
Greenhouse tomatoes are of better quality than those grown in the open because they are in a controlled environment.
"Supermarkets prefer greenhouse tomatoes because they have a long shelf-life of at least 21 days," he says.
Supermarkets in Mbale require at least 1,000kg of tomatoes per week. To meet that demand, Kiptala says he is engaging other farmers in the area to start greenhouse farming.
He adds that greenhouse farming is not affected by the weather, hence the ability to produce throughout the year.
Where to find market
Kiptala says the demand for Irish potatoes is high.
"My market is in Kapchorwa, Bukwo, Mbale and Kenya. Traders pick them from my farm, while others make orders and I deliver," he says.
He adds that he sometimes sells Irish potatoes to schools and other institutions in the area. Usually, traders pay him before harvest.
He harvests Irish potatoes almost every day and stores the produce in an ambient store.
Unlike other seasonal crops, Kiptala says, Irish potato buyers are usually on-site, witnessing the harvest exercise to ensure quality.
"Whenever a farmer sets out to harvest, a buyer is always on-site to take the produce," he says.
Achievements
Kiptala says the farm attracts people from all walks of life.
"Using farm proceeds, I have also purchased more land, constructed houses and extended piped water to the community. All his neighbours use the water for free.
"I have also built a school and a church," he says.
He has also acquired different pieces of land totalling 86 acres in different parts of Sebei and is engaged in agro-forestry, planting mainly pine and eucalyptus.
"I am planning to construct commercial structures as well," he says.
He has also been able to pay tuition for all his children at the university.
"Three of them have completed bachelor's degrees in different fields," he says.