By Abdulkarim Ssengendo
Church workers have been advised to join agricultural production if they want to enjoy a meaningful retirement.
The call was made by Rev.Canon Keith Katakanya 93 years, a retired archdeacon of Kyamate who noted that church leaders spend most of their productive time in church service and some reach retirement time when they have no investment to support their older age in terms of income generation.
Katakanya, a resident of cell number 8 in central division-Ntungamo Municipality-explained that agriculture, especially cattle keeping is a viable project old people can manage because they are easy to monitor and do more in terms of income generation.
Katakanya has a cattle keeping project implemented on his small piece of land in Ntungamo Municipality. He also has other projects like banana plantation, rabbit growing and goats.
He started with indigenous cows 27 in numbers which helped him to educate his children. Following advice from President Yoweri Museveni on how to profitably utilize a small land, Katakanya transformed to exotic breeds because he wanted to get better grades and yields.
"Any church worker should venture into this kind of a project because at a certain period you will have reached old age and as a church leader if you can venture into this project, it is viable and easy to do more than what one would be doing like doing a business. I prefer keeping animals especially cows because with that one cannot go wrong,"Katakanya stated.
Currently he is keeping a few animals selling 30 litres of milk each litre sold at sh1,200 generating sh108,000 a month.
At his age, Katakanya said is not yet satisfied with the project performance as his plan is to achieve 100 litres of milk every day.
"I don't think I am where I should be, the litres I produce are very little according to my desires," Katakanya added. Regarding his project sustainability- Katakanya interested his children to work with him. Paul Muhangi Katakanya- his last born son is walking in the footsteps of his father and has also started his own agriculture projects on top of helping his father to add innovations.
"Mzee is very consistent, that's what I have liked about him. What is needed in agriculture is patience and that's what he has on top of that he has remained focused. We are benefiting a lot from his projects; we get milk from cows and when we sell, we look at what we need to do to improve on the farm," Muhangi added.
Katakanya calls for government intervention
Katakanya said as farmers in the area they ask the government to look into recruiting more extension workers and facilitate them. "We want to improve our breeds but we are having difficulty in getting extension workers to come and inseminate our cows to improve the breeds, on top of that semen is also expensive,"Katakanya added. He also asked the government to help them get the market for the milk.
"Here in Africa, we are very unfortunate. Farmers are not actually helped which developed countries do because they have subsidize, they give to farmers," He stated. Muhangi said they need to be helped with acaricides . These also asked the government to put in place agriculture banks where farmers can borrow money at a manageable interest rate. "It is now difficult because entirely farmers depend on their initiatives depending on their financial base and abilities and don't have any help," Katakanya said.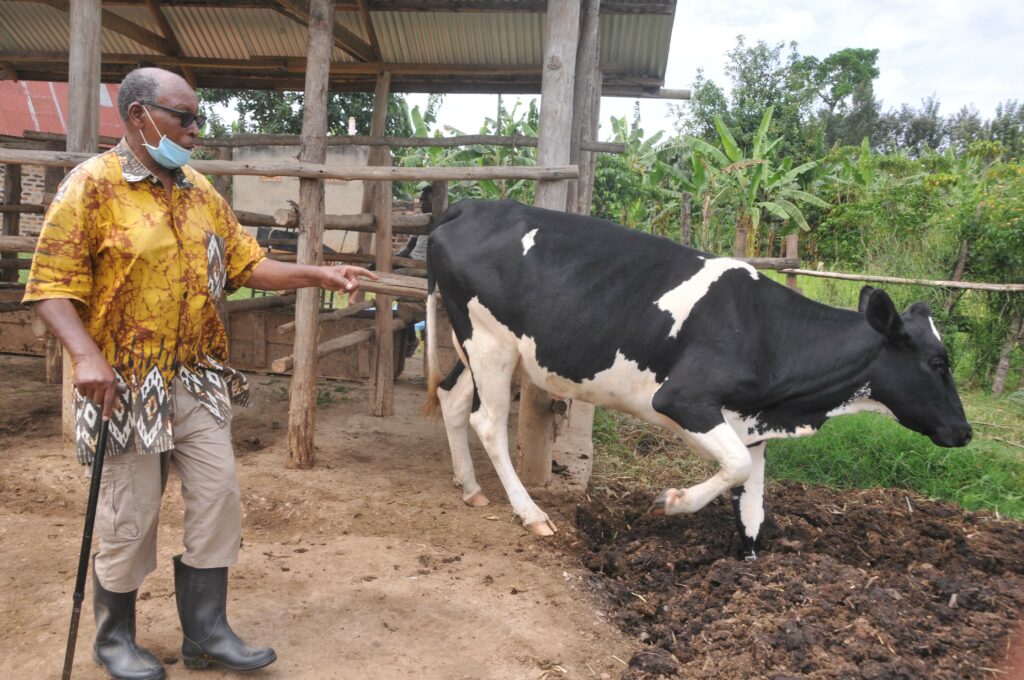 Rev.Canon Keith Katakanya 93 years showing his cows