By Herbert Musoke and Joshua Kato
While the 2022 Best Farmers' awards went on last Friday on December 2, 2022, some of the best farmers decided to showcase some of the value added products that they produce.
"These are some of the things that we do," John Bagada, who exhibited wines says. With at least five of them show casing, it turned into a mini exhibition that however carried a wider message; 'value addition is key'.
Of the 41 best farmers profiled in the 2022 competition, at least half of them practise value addition on their products. These include John Winter Bagada, winner 2015 who makes wine from his mangoes, Teddy Wabomba who adds value to honey products, Deo Mugisa who processes juices and wines from Bananas, Betty Mbaziira who makes yoghurt, David Wamai processes coffee, Tonny Kidega packs milk and ice cream, Abel Kiddu makes several products from mushrooms etc. Others like Rebecca Azza Ssenkubuge pack straw berries, while newly awarded William Mutumba processes porridge from pumpkins.
STRAWBERRIES
Rebecca Azza Ssenkubuge, winner 2019, the proprietor of Cuz Fresh at Garuga-Entebe exhibited her strawberries and blackberries that excited many who visited the stall. She exhibited next to the main tent where the awarding ceremony was held.
"Strawberries are a high value crop that is eaten by many but farmers fear to venture inti it yet it is one of the easy crops to grow. Although its capital intensive, but its return is worth the investment," she says.
Azza adds that she saw people looking at them with amazement because some could not believe strawberries could be grown in Uganda and they look that beautiful.
"I want to ensure Uganda is known for growing the healthier, beautiful and sweet berries," she says.
Her product attracted the eyes of the guests and good sales were made. "While the purpose was to show case what we do, we actually ended up selling many of the packets," she says. Each packet went for sh12,000 at the awards, but she sells the same at sh15,000 on the open market.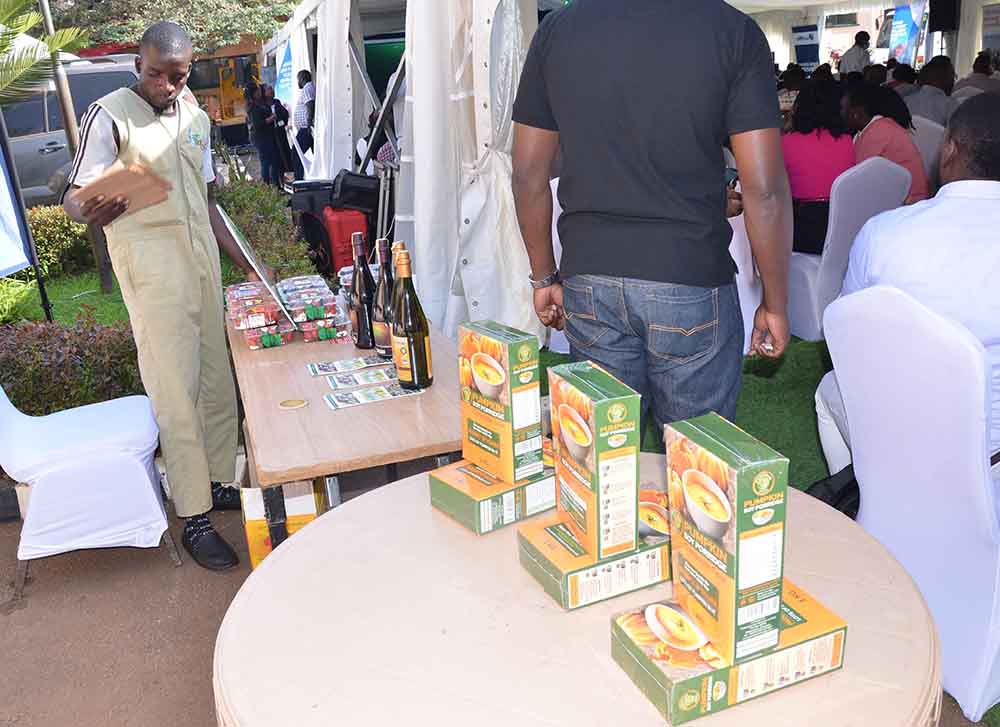 HONEY FLOWED TOO
Teddy Wabomba Wanzunula, winner 2016, who also emerged as the joint 2nd runner-up 2022, also came with samples of her quality honey to show other farmers the wealth that sits in the flowers on their farms as they all need is a quality bee hive to tap the bees and they make for them money by collecting nectar to make honey.
"This is organically produced honey. The bees pick their nectar from flowers that grow off crops on the farm. These include flowers from trees like mangoes, bananas etc," she said. Packed in 1kg, 500g and 250g, Wabomba sold off several of her product at the exhibition.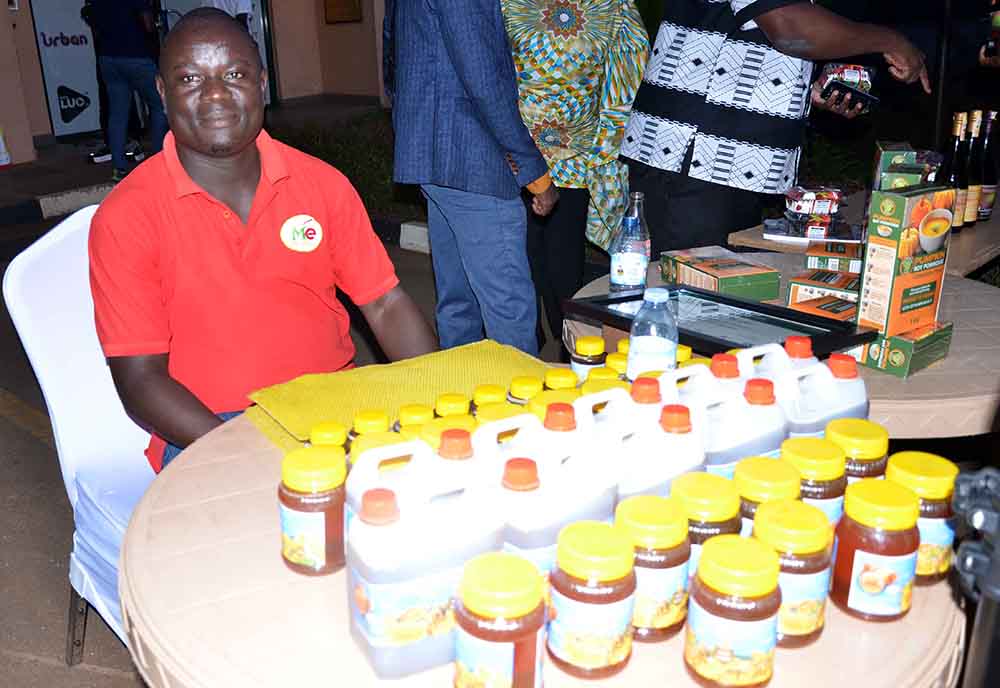 PUMPKIN PORRIDGE
William Mutumba of Pumpkin King who exhibited pumpkin porridge which is delicious and full of nutrition especially iron much needed by both the pregnant mothers and babies. Mutumba was recognised under the 'Special Category'. The Special Category is awarded to farmers who have not competed in the general best farmer`s competition, but are doing something to improve the value chain. Mutumba saw the ease at which pumpkins are grown in Uganda, he saw a big opportunity to invest in.
A few months later, Mutoscan, a Ugandan company whose aim is to create value addition on local agricultural produce was born. The company, owned by Mutumba and partners including Thomas Kjellgren, grows pumpkins and adds value to them.
"We identified the health value in the pumpkin fruit given its high nutritional values and its ability to grow over a relatively short period of time in many places across Uganda," Mutumba, one of the directors says.
Kjellgren adds that he was amazed by the potential of pumpkin growing in Uganda. "I like pumpkins and I saw a very big opportunity to produce them in Uganda."
With this in mind they set out to grow pumpkins in Luwero district on a large scale in 2019. With the help of out-growers, they have managed to produce enough pumpkin fruit to start on the pumpkin value addition project. The pumpkin farm, located in Kalagala, near Busiika, Luwero district sits on over 20 acres of land. They are leasing the land for a given period.
"We import good pumpkin seeds, propagate them, before planting on our farm or by our out-growers," Mutumba says.
WINE FROM MASINDI
John WinterBagada, the 2015 best farmer, exhibited both white and red wine at the event. Coming from Masindi, Bagada processes the wine from mangoes that he grows on his farm. Bagada carried four bottles of both red and white wine and at the end of the day, he had sold off all of them!
"I own a seven and half-acre mangoes orchard, which has about 800 trees. Alongside this, I rear hens, pigs. I began growing mangoes in 2006," Bagada says.
When he got an opportunity to visit the Netherlands, life never remained the same because he got connected to an expert in wine processing.
"He visited my farm and trained me on how I can make good wine out of mangoes," he says.
Currently, Bagada has different varieties of mangoes at his farm which he says he has minimized losses because of wine processing.
Bagada`s wine has been certified by Uganda National Bureau of Standards. Bagada says that he uses the mango juice which he ferments to make wine and sells to people around Masindi and his visitors.