By Prossy Nandudu and Joshua Kato
Beans are one of the crops that is widely consumed across all classes of people. In addition to institutions like educational schools, hospitals, the armed forces, in homes, refuges settlements among others. They are said to be a cheaper source of protein, making it highly important in the dietary regimes of the poor.
For the soil, beans fix nitrogen hence sustaining soil fertility, according to the National Agriculture Advisory Services (NAADS). When it comes to market, beans are on demand by all sectors including farmers, institutions, traders, exporters, processors among others.
At the moment, a kilo of beans in retail shops goes for between sh3000 to sh4,500 per kilo, a price considered higher than most food crops. However, despite the higher returns, bean production has remained low in Uganda.
What could be the reasons for the low production?
Arnold Mbowa, a PASTTA Project Officer at AATF, a project, that has been supporting bean production among other crops in different parts of the country blamed the low production of beans onto several reasons.
These include reliance of farmer saved seed, the belief that soils are still fertile, hence no need for fertilizers, delicate nature of beans where they are easily affected by drought, too much rains, pests and diseases and also cannot stored for a long time without compromising the quality and also getting weevils in there.
"Farmers still rely on their own seed. With the application of inputs like fertilizers still cannot get returns like those from real seed. For seed to be seed, it has to be grown for seed purposes. But majority of the farmers use grain as seed and then use it for many seasons. In the process, they accumulate diseases, losses vigor hence low volumes at harvest," explained Mbowa.
Mbowa adds that farmers have also abandoned science or good farming practices needed in beans production. "For example, when planting, beans, there is need to consider plant density like how many kilos of seed per acre, some will go for less and then scatter the field. We recommend that for large seeded beans like NABE 4,14,15, one should use 20 to 25 kilograms per acre, but we find farmers using ten," Mbowa added. The standard spacing is vital is 50 by 10 centimeters for bush beans.
Other reasons include the high cost of seed for example a kilo or quality bean seed is higher than that of maize, poor management of weeds, lack of storage facilities, and land among others, added Mbowa.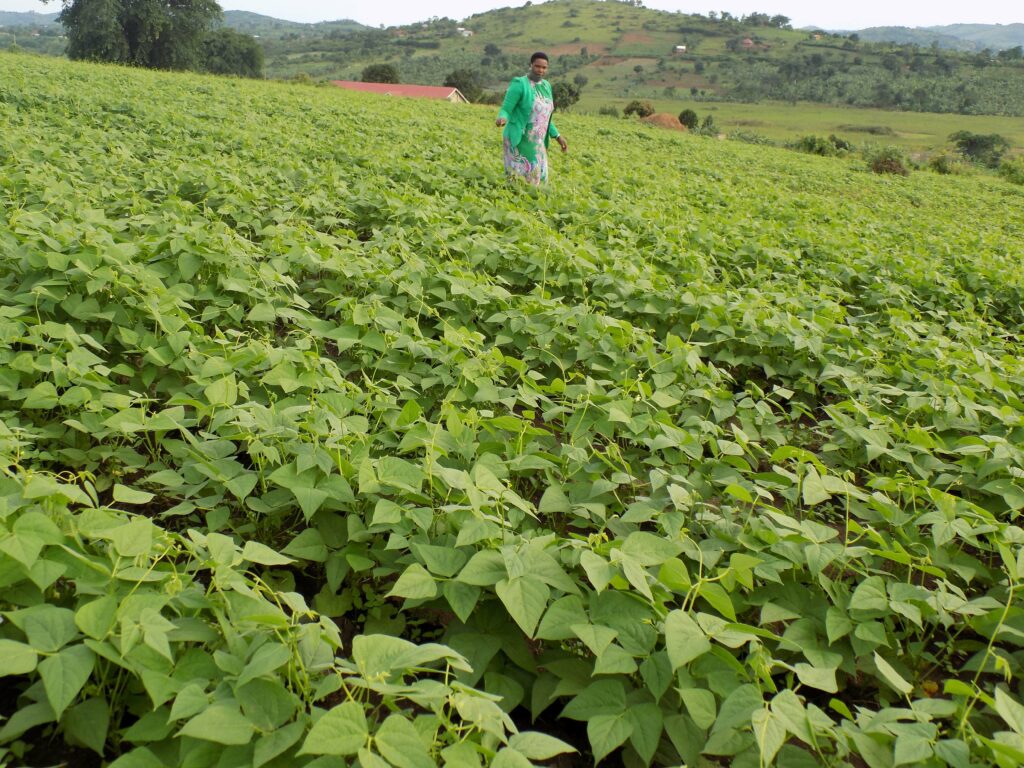 And yet to get good returns from beans, you need good acreage. Average production of beans per acre is 300 kilograms compared to maize which is between 1,000 to 2,000 kilograms per acre. Beside the cost of seed for maize is also cheaper compared to beans, he added.
"Where one would part with sh80,000 for ten kilograms of hybrid maize, a bean farmer will part with sh120,000 for the same number of seed and space. So, one may choose to spend more on maize seed than beans,"
Mbowa's observations were backed by Dr. Godfrey Seruwu, Team lead crop and research resources program at Mukono Zonal Agricultural Research and Development Institute.
He added that the changing weather is another issue affecting beans production. The ending season, we have too much rains, these affect the beans, causing rotting because there is room for drying, so makes post harvesting handling hard leading to higher post-harvest losses. There are also pests and diseases, hence the need for farmers to look out for improved seed, that is tolerant to some diseases such as NABE 15, that is tolerant to Alternaria.
At post-harvest level, the bean farmer has been left out. According to Seruwu there are no simple mechanization tools for beans to aimed in like threshing, given the fact that beans do shutter in addition to storage facilities to aid in the management of weevils.