Farmers in Ankole have asked the Government to establish demonstration farms to boost the Ankole Long-horned cow cultural heritage.
The call was made by breeders of Ankole cow in Mbarara and Kiruhura district.
James Bajuna, the chairperson of Abesigana Kashari Dairy Farmers Cooperative Society, said such demonstration farms will be used as centres where farmers with interest in keeping Ankole cows can get sufficient knowledge and good breeds.
Bajuna added that such demonstration farmers should be tendered to private farmers who will keep paying the Government in return.
"The Government should tender the project of preserving Ankole cows to private farmers and set up demonstration farms that should be managed by farmers themselves and be supported with required resources including giving them free cows," he said.
Bajuna said this will increase competition in rearing Ankole cows and raise income for the Government.
He also suggested that the management of government ranches preserving Ankole cows should be put in the hands of private farmers.
Bajuna said this will help to improve the breeds, noting that many farmers have vast experience in animal husbandry management than veterinary officials.
"Cattle in government ranches are not looking good because the management is poor. The animal husbandry officers employed there have little hands-on experience in the management of cows than farmers who have farmed for years," he said.
Farmers also asked the Government to employ farmers who are successful in preserving Ankole cows as consultants to help improve government ranches.
George Kashokye, who started grazing Ankole cows at the age of 5, asked the ministry of education to introduce a subject in schools targeting promoting Ankole cows.
He also challenged those doing research to be exemplary by engaging in grazing Ankole cows if they want to get trust in farmers.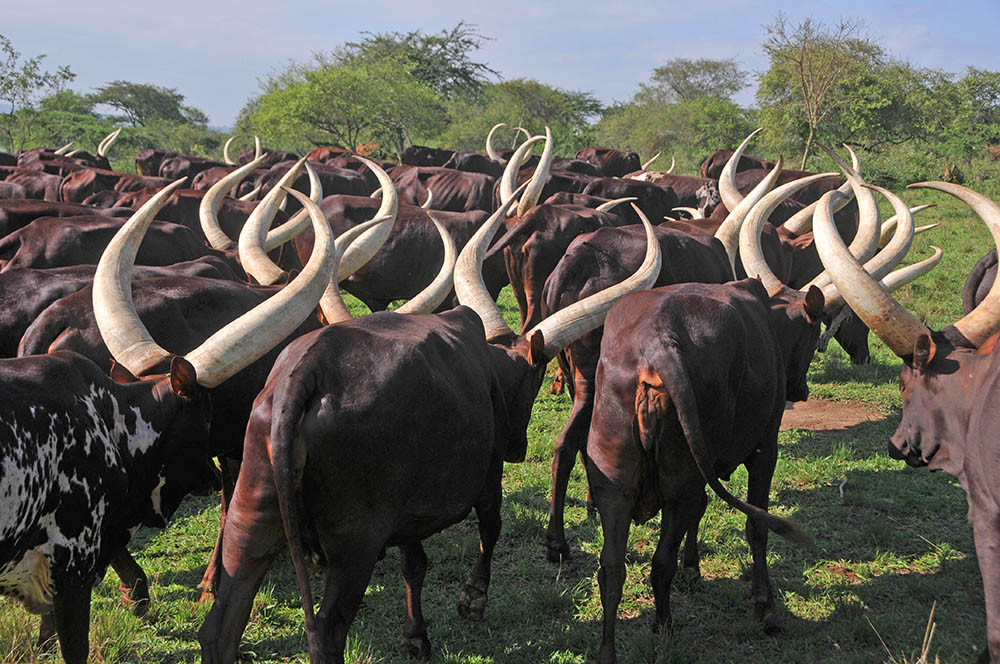 Kashokye called for sensitisation of farmers and encouraged those with good breeds to share with others.
He asked the Government to support farmers with good breeds that should be distributed to farmers with interest in preserving Ankole cattle.
Constance Rutahigwa highlighted the need to turn farms of Ankole cattle breeders into tourist attraction centres.
"We have invested a lot in these farms, and this is the time to start earning money out of them. We normally see people paying money to see wild animals in the national parks, and similarly they should pay to see our cows," Rutahigwa added.
Erick Rutahigwa, a farmer in Kamatarisi in Biharwe, Mbarara City North division, advocated for establishment of government drug shops at farmers' cooperative societies to save farmers from buying fake drugs.
Rutahigwa also asked the Government to give model farmers veterinary doctors or have them stationed at cooperative society headquarters.
Farmers tell benefits gained in grazing Ankore cow
George Kashokye Rumari, 59, a resident of Nombe village in Sanga, Kiruhura district, said the Ankole cow is the only breed that can thrive in all environments.
Regarding grazing, Kashokye said managing Ankole cows is easy compared to the current cross breed.
Abel Bwera, another farmer in Rwendama village in Rwenjeru ward, said Ankole cows are tolerant to harsh conditions.
He said that during the dry season when there is scarcity of water, they move the cattle for up to four days in search of water and they will keep giving them milk and survive.
Bwera also said Ankore cattle high quality milk, meat, hides and ghee.
Farmers dismissed claims that Ankole cows produce little milk.
Kashokye said some years ago at his home, they had Ankole cows that used to give us 20-30 litres of milk.
"We had a method called 'Okumikitsa or okukokotsa' (grazing milking cows for a long time) and a cow would produce over 30 litres," he said.
Kashokye said the same method was used to select cows that produce a lot of milk.
"I even remember cows that used to milk 60 litres, German researchers were here. I narrated this story to them and couldn't believe it. We tried Okumikitsa together and it worked," he said, adding that what matters is the selection of good breeds.
Regarding size, Erick Rutahigwa, a farmer in Biharwe, Mbarara said Ankole cows produce good-sized offsprings that are much better than cross-breeds.
On longevity, Kashokye said Ankole cows have a longer lifespan than cross-breeds.
"I remember we had cows that were born when I was a kid and I clocked 20 years when they were still alive."
Ankore cattle have unique and interesting colours, a reason they have different names, like Bihogo bya Siina, Nkorongo, Mayenje, among others, which, he said, is not common in cross-breeding.