I have shared a couple of smoothie recipes here in the past. This is just one of the many simple recipes you can try easily at home with an almost 100% guarantee that you can't mess it up even if you're the worst person ever when it comes to kitchen work. You'll also like the ingredients aren't that hard to find. Just 4 simple basic things like banana, mango, yogurt and ice cubes.
But like I always say, you don't have to limit yourself to the ingredients here. Feel free to substitute the fruits with anything you fancy like strawberries, grapes, kiwi, passion fruits or whatever. Bananas can also be substituted with papaya because they have the same consistency in texture. These also work better if you use them frozen. That way you get a thicker smoothie.
Try these out and share your experience with me through social media. Just look up Rogers' Bites.
4-INGREDIENT JESA SMOOTHIE
This 4-Ingredient Jesa Smoothie recipe is quick and easy to make, you don't even need to add sugar or honey because it's naturally sweetened with yogurt and fruit, and so tropically delicious!
TOTAL TIME: 5 MINS PREP TIME: 5 MINS COOK TIME: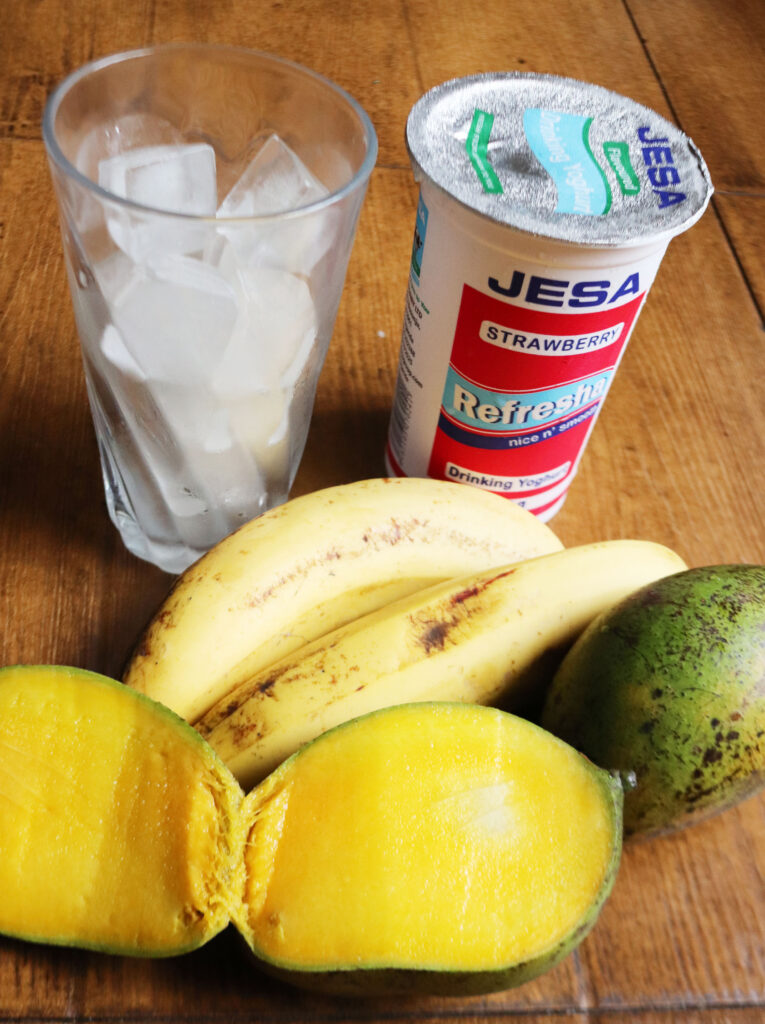 INGREDIENTS
400ml thick Yoghurt (any flavour of your choice)
1 ripe banana, peeled and sliced
1 ripe mango cut into chunks
1 cup ice cubes
DIRECTIONS
Add all ingredients to a blender, and blend until smooth.  Serve immediately.