By Umar Nsubuga
"But is there a bamboo market?"
Kennedy Rwaboona a resident of Kabaare village Rukiga district cannot recall the number of times he has had to answer that question.
He could not blame the people asking, aware that their experience with bamboo is limited to the times they got in contact with the teacher's cane, back in school.
Without caning them, Rwaboona who is in charge of many agricultural positions in the district has found a unique way of rehabilitating inmates using bamboo.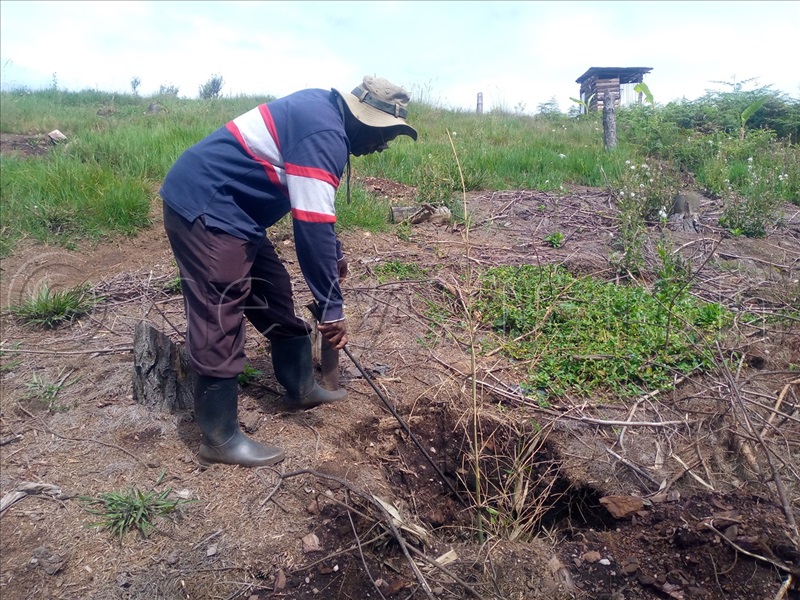 Just around his 100-acre garden, two acres are all for bamboo plantation. 
In the background of the pine forest, there are scattered stands of young bamboo, featuring different species, which will serve as mother gardens for the bamboo project in four to five years, says Rwaboona.
Two species are being multiplied in the four-acre garden.
Although sourced from Kenya, these species are originally from China. One is bamboo dentocalamus (with a giant stem) and bamboo aspa (with a normal-size stem).
Unlike the local variety with a yellow stem, the two imported species have green stems. Worldwide, there are about 300 bamboo species.
"This bamboo multiplication project at my farm is part of a major campaign in my district because I want to promote bamboo growing in the all-region, and help Ugandans tap into the international bamboo industry which is worth billions of dollars", he explains.
The start of the project
The multiplication project started this year with 320 bamboo seedlings obtained from Kampala.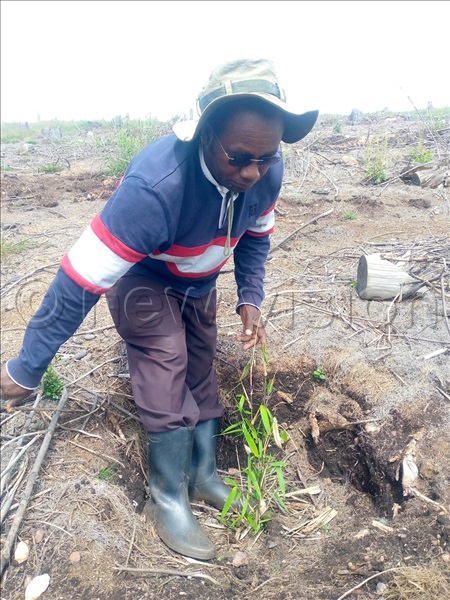 The idea was to keep our environment safe, "Bamboo absorbs carbon dioxide and releases 35% more oxygen into the atmosphere than an equivalent stand of hardwood trees", Rwaboona says.
Expected income
Rwaboona says after bamboo has matured, it produces poles every year for more than 50 years.
He adds that one bamboo plant can produce a minimum of 50 shoots a year.
That means a farmer with 500 plants will harvest 25,000 poles every year.
Sold at a minimum of sh5, 000 each, 25,000 poles will fetch the bamboo farmer sh125m a year, from one acre of marginal land that would otherwise not support any other farming activity.
Harvesting is done using a chainsaw.
Uses of bamboo
Rwaboona says growing bamboo can easily turn someone into a millionaire. As the world's fastest-growing perennial woody grass, bamboo has a variety of uses.
Filtering water is just one of the hundreds of different ways bamboo can be put to use. Besides protecting the environment, Rwaboona says the two bamboo species can change the lives of many Ugandan farmers.
Every part of the bamboo plant, from roots to leaves, is useful. Bamboo can serve as food for both animals, especially mountain gorillas, and human beings.
The shoots of certain species, like the one found on the slopes of Mt. Elgon, can be eaten, while leaves can be fed to goats and cattle.
The stem, however, is the most sought-after part of the bamboo.
Besides being popular with constructors because it is strong yet light, the stem can be processed into hundreds of products including toothpicks, furniture, jewellery, clothes and medicine.
Other products that can be made out of bamboo are musical instruments, cooking utensils, bags, water and sewerage pipes, match sticks, floor tiles, textile material, curtains and furniture.
There is even a bicycle made purely out of bamboo.
"Bamboo makes very good charcoal because it is hard," adds Rwaboona.
Known as the poor man's timber in Asia and other parts of the world where it is very popular, bamboo is a versatile crop that will thrive on marginal land like barren hills and swamps and it is very effective in stopping soil erosion.
In Tanzania, he notes that bamboo is being used as pipes in water and sewerage systems. Bamboo stems are being used to pipe water from the source to end users using a gravity system.
In Uganda, Rwaboona says bamboo is being used to make furniture and in construction.
When bamboo planted in Murchison Bay matures in two to three years, it will become a source of raw material for a lucrative craft industry that will benefit both the inmates and the community in Luzira.
Do you want to grow bamboo?
Start a bamboo growing enterprise with sh800,000 to buy 160 seedlings at sh5,000. These can be planted in about one acre.
We just cut the bamboo with nods and push it into the soil and water it until it germinates.
In the first six months, the seedlings need extra care in form of regular weeding, watering and some cases fertilisers.
In the first six months, Rwaboona says, seedlings need to be watered in the morning and evening every day until they develop roots.
"After they have developed roots, you can then water them once a day and transplant them after a month," he says.
"Bamboo planted in wetlands tends to grow faster.
A fully grown bamboo stem has a diameter of about a foot," says Rwaboona.
Bamboo also grows in highlands. Since it is grass, bamboo has fibrous roots just like sugar cane.
"It grows and multiplies like sugar cane only that it cannot be eaten by termites and it is more drought resistant," Rwaboona says.
Bamboo is planted in square form, five meters away from each other.
Rwaboona adds that this is because each plant has the capacity of reproducing as many as 50 shoots.