This is a creamy vanilla-based pudding that has been thickened by simmering rice with an egg (or two).
There are many ways of preparing rice pudding, try not to limit yourself to what you see on this list.
Feel free to be creative; throw in some rosemary, if you like. Do not skimp on the butter; the creamier the better. I put in some beetroot for a colour effect and it really worked for my daughter.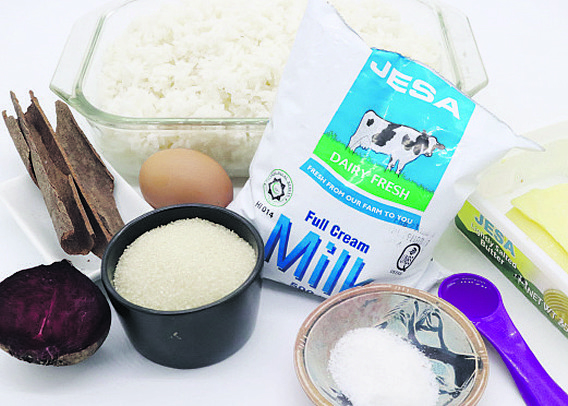 Preparation
Mix the cooked rice, 1 1/2 cups milk, sugar and salt. Let it simmer uncovered over medium heat for 15-20 minutes.
Whisk the egg and remaining milk in a bowl. Add about 1 cup of the hot rice mixture to the egg while stirring.
Stir the egg mixture and ginger into the rice. Cook for more than two minutes.
Remove from heat and stir in butter, finely grated beetroot and vanilla.
Serve warm and garnish with whipped cream and a sprinkle of nutmeg and cinnamon.
Ingredients
1/2 cups white rice cooked
2 cups milk divided
1/3 cup sugar
A pinch of salt
1 egg
1inch ginger, grated
1 tablespoon butter
1/2 teaspoon vanilla
cinnamon sticks
Fresh mint for garnishing (optional)
1-inch beetroot, grated