Patrick Bakumpe Makanga's name is common around Kyotera district and greater Masaka, thanks to farming. In Kyotera, about 20 miles from Kasaka, every politician knows Bakumpe the farmer. In Masaka, banana traders at Masaka city market celebrate him.
"When I won in the Best Farmers competition and travelled to the Netherlands in 2018, many people realised that farming can actually take people to far places. They realised that you can make a name by holding the hoe," he says. Bakumpe emerged as one of the best farmers in 2017 and travelled to Netherlands for a farming tour in June 2018.
Bakumpe, 38, and a holder of a degree in public administration is a mixed farmer, majoring in bananas and coffee. His farm is in Kindulwe village, Kabonera parish on the Masaka-Kyotera road. He has grown his farm by over 15 acres since he won. He has over 20 acres of bananas, 35 acres of coffee around Kabonera. His farms sit on over 50 acres of land. However, he has suspended keeping chicken for the last two years as he constructs new chicken houses at a new site.
I learnt to be innovative when I visited Netherlands. I saw farmers maximizing small spaces to produce quality foods. I realized that quality can take you places," he says.
How He Started
Bakumpe says he never saw his mother and then when he was only 14 years, over 20 years ago in 1997, Patrick's father, Paul Zziwa Bakumpe passed away.
"Obviously like any orphaned child, my future looked bleak," he says.
Because his father was dead, Bakumpe`s education was also affected.
"I did some odd jobs here and there until I got some money to kick-start my farming passion," he says.
Bakumpe started farming in 2010, when he planted his first coffee and banana shamba.
His father left behind a big house in Kindulwe, which many years later turned into the nucleus for Bakumpe`s farming activities.
Using the sh7m that Bakumpe won as his prize in 2017, he bought another piece of land on which he has constructed a house and plans to establish his new poultry structures.
The Bananas
When he won in 2017, thebananas sat on over 15 acres around Kabonera, today, he has added over 10 acres to make nearly 30 acres.
Bakumpe started by planting just over two acres in 2010.
"I got banana suckers from Kawanda National Agricultural Research Laboratories at sh1,500 each," he says.
He started with 800 suckers. He mainly planted the Mpologoma, plus other local varieties. Bakumpe planted the bananas in standard 3ft x3ft holes. He also dug channels across the shamba and these help retain water when it rains.
"As you can see, even if we have not had rainfall for the last three months, my bananas look good," he says. Although some parts of the country started receiving rain in August, greater Masaka region has just started receiving rain now.
For fertility of the soils, he dug holes for every four banana plants in which he puts the manure.
"I mainly use droppings from my chicken houses," he says. He explains that from his research, he learnt that bananas feed through the roots. "So, as they search for the nutrients from the soils, their roots spread out in all directions and the more they do, the firmer the plant gets," he explains. Bakumpe adds that there is a correlation between the length of the roots and that of the leaves.
"There is also a correlation between the length of the leaves and the size of the bunches that the plant produces," he says.
Bakumpe planted several other crops in the banana shambas, purposely to give shade and food for his family and the workers. Among these include sugarcane, pawpaw and hard yams (obukuppa).
"While working in the shamba, the workers are free to eat some of the pawpaw or sugarcane," he says. For food, they cook the yams. "These bukuppa are very good for food security because they are never affected by dry seasons and when a person eats them, the stomach is full," he says.
Market For Bananas
Bakumpe says he harvests between 100-200 bunches per month. At an average cost of sh20,000 per month, he earns about sh2m–sh3m from the bananas monthly.
He says his biggest market is the Kampala University (Masaka branch). "When I went there as a student, I told them that I am a farmer. They then asked me to start supplying them with bananas," he says. He has never looked back. "I also sell to traders in the main Masaka city market," he says.
While he planted the pawpaw and sugarcane for family consumption, he sells the excess.
"The pawpaw can produce as many as 300fruits per month and we cannot eat all of them," he says. His pawpaws go for averagely sh500 on the farm. He says that he earns around sh100,000 per sale.
Coffee Farming
When Bakumpe won in 2017, he only had coffee shamba and was also buying seedlings from other people whenever he wanted to plant. This has since changed.
"When I came back, I decided to set up my own coffee seedlings nursery bed. I bought an area of about 60×70 feet and started propgating seedlings," he says. The space can hold as many as 40,000 seedlings at any one time.
"To the ordinary person, this space is small. However, out of innovativeness, I am earning some good money from it," he says. A seedling costs sh500 each. With 40,000 seedlings, sh20m.
In addition to the nursery bed, his coffee acreage has grown from 20 acres in 2017 to 50 acres.
Bakumpe says that with coffee, he only had to increase production and innovation. Bakumpes`s coffee sits on 35 acres, in blocks averaging 4 acres each. He has nine blocks under coffee.
He says he planted both clonal and cuttings in his shamba. He fertilises the shambas using coffee husks, mixed with chicken droppings.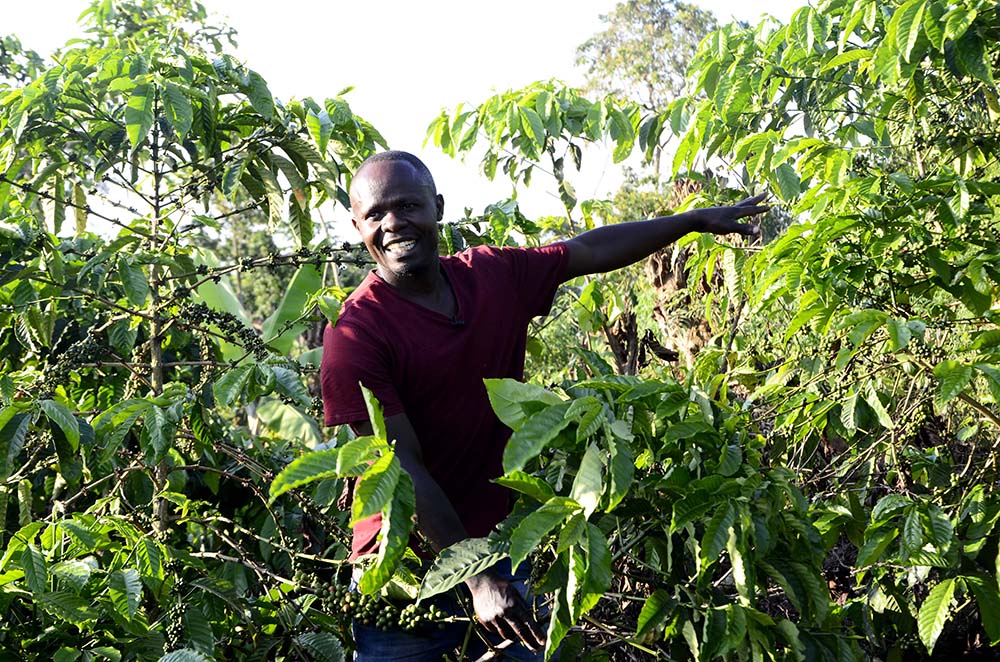 By end of 2015, his coffee had started yielding.
"By then, I had attended several trainings in good coffee farming practices organised by both fellow farmers and the Uganda Coffee Development Authority (UCDA) so I knew how to manage my coffee," he says. He still attends these seminars to increase his knowledge.
Among the skills that he got was coffee shamba management. "I prune the coffee trees towards the rainy season which helps them produce a stronger flower," he says.
During the harvest ending in July, he harvested 200 bags of 100kg each or 20 tonnes. A kilogram of coffee goes for sh3,000.
Bakumpe sells his coffee raw (kibooko). However his plan is to buy a coffee huller in order to start selling parchment (kase).
Attracting Big Jobs
In the last four years, Bakumpe has helped at least four national politicians set up their farms. Among these include a 100acre farm of coffee and matooke in Kyotera, which is owned by a cabinet minister and 50 acres of coffee and bananas owned by a local Member of Parliament. "These people visited my farms and decided that I was the right person to set up their own shambas," he says. These contracts have not only helped improve his earnings but also that of the young people that he employs.
Environmental Protection
Coffee and bananas need shades to thrive, and to do this, Bakumpe's coffee shamba has got trees to provide these shades.
"People wonder why I am never badly affected by the long dry seasons but the trick partly lies in the fact that I have trees on my farms," he says. He explains that under no condition should these trees be cut down.
"In addition to the trees in the shamba, I have also planted other commercial trees purposely to keep the environment clean," he says. He plants the trees on the boundaries of his land.
Farm Expenses
Because he is also helping other farms improve their practices, Bakumpe has a big work force. The farm employs 50 workers on his farm.
At my farm, each block of coffee or bananas has got its own worker," he says. He explains however that during peak tasks periods like weeding, he hires casual workers. "I for example have workers who are specifically responsible for cutting grasses to mulch the banana gardens," he says. He pays the workers an average of sh3,000 per day, plus providing them with food for the days worked.
For those working on other people`s contracted farms, they are paid a monthly salary because they stay there permanently.
Keeping Records
"Given the fact that I supply food to an establishment like Kampala University, I cannot run away from keeping records," he says. He explains that whenever he supplies food, he is given a delivery note that he keeps in his file. This helps him follow both his banana harvests and sales.
Bakumpe also keeps production records for each block of land that he owns.
"This helps me monitor which block is producing more and which ones needs to be enhanced," he says.
Community Impact
Bakumpe is a farmer`s trainer, both at the farm and on a local FM radio in Masaka. However, beyond training, he gives out free banana suckers and subsidised coffee seedlings to neighbours. "I good banana (?) sucker costs sh1,000 here, but I decided to give the out to farmers free of charge because that is the best way we can fight food insecurity," he says. Additionally, he gives out coffee seedlings at subsidised prices to farmers. "I realise that a farmer may wish to take 5,000 seedlings but does not have enough money. We do not only reduce the price, but also allow them to pay in installments," he says.
Family Involvement
Bakumpe says he runs the farm with his wife, Agnes Namata.
"Mywife is a professional teacher, however she is also the second director and manager of the farm," he says.
Bakumpe says Namata is in charge of sales and auditing of the farm activities whenever he is away. "Even if I am not around, she runs the farm," he says.
According to Namata, the farm provides an alternative income to the family. "I am a teacher but Bakumpe is a full-time farmer. I realise that farming holds the most stable future as a business for our family. This is why I take time off to support the farm," he says. The couple`s children are still young to effectively take part in farm activities.
Biggest Achievement
Bakumpe says that flying to the Netherlands on an all-expenses-paid trip ranks as his biggest achievement.
"Many people do all kind of things just to get a visa to Europe but I got mine in a day," he says.
Material achievements include buying 40 plots of land on which he is doing his farming and constructing his own house after he won and several rentals.
"I constructed a house after I won in 2017 and I am putting up rentals," he says.
For a person who lost his parents at a very young age, that is remarkable. He also explains that farming has helped him get so many friends from the greater Masaka region. "Where ever I go, I am recognised because I am a farmer," he says.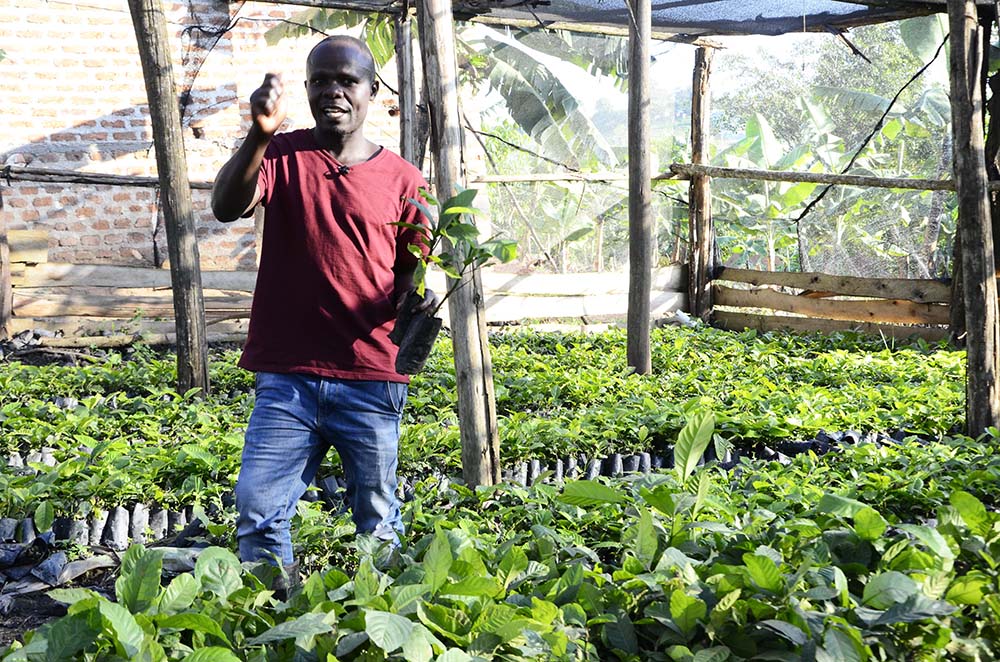 Plans
Although he has not yet started practicing irrigation, Bakumpe plans to acquire some irrigation equipment so that his crops remain green all year round.
"I spend a lot of resources to look for materials that I use for mulching my farms, however I will invest in water for irrigation so that I provide water to the crops whenever I need," he says.
Bakumpe is also planning to set up a pulping machine so that he starts selling parchment (kase) rather than selling it as Kibooko.