By Joshua Kato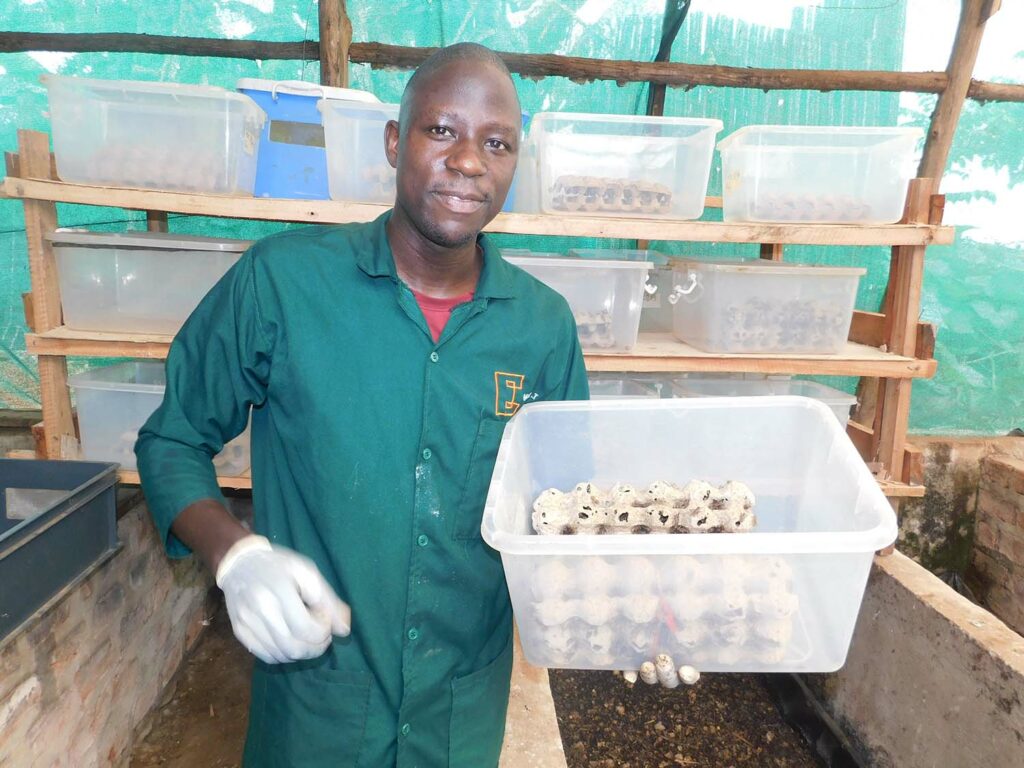 Ordinarily, the insects and worms that Tenywa fondly carries are scary to most Ugandans. But to him, this is money, it is a goldmine that few are willing to mine.
"These insects are not harmful. They do not sting. They do not even smell, but they are very useful to humans," he says. Tenwya, who studied agriculture at university is now earning from growing meal worms, crickets and black soldier flies for a living.
Tenwya runs his rare enterprise in two locations, both near Gayaza. The main farm is located at the Makerere University farm, Kabanyoro. He named his farm, Ento Organic Farm, Wakiso.
"These insects have got a big market locally and outside," he says.
Some of them can be consumed by both humans and animals. "The biggest attribute is that they provide a protein alternative to livestock farmers. They also have amino acids that help people and animals nourish their bodies," he says.
Animal and birds conservation centres including zoos are some of the biggest customers. "They have a lot of reptiles that survive on insects. These include chameleons, ghekos etc," he says.
Starting off
Tenywa studied agriculture at University, majoring in Crop production and management. However, while still there, he became interested in growing insects for a living. He started implementing his unique idea in 2019.
"I and other people did research in keeping insects," he says. Two years ago, he got a chance to go to Germany to basically study insect management. When he returned, he started his enterprise at Kabanyoro, with help from Dr Fred Kabi, of MUK, College of Agriculture.
"Initially, I was keeping the now common black soldier flies, but through exposure, I decided to spread my net wider," he says.
At Kabanyoro, the insects are housed under improvised structures made using iron sheets and timber. The entire enterprise covers about 40x20feet. In this space, he keeps the insects and has a store for manure which he also sells plus his office. But because the enterprise is high value, so are the earnings. In each space of two square metres that is dedicated to each of the insect species, his harvest is about 56kgs per a cycle of two months. Each kilogram of some of the insects goes for sh30,000 or US$s10. "A cycle is just about two months, so if things are consistent, you earn some money," he says. He says he earns a gross of sh4m per month from his insect enterprises.
Meal worms
Tenywa imported the first stock from the Netherlands because they could not be found here. "I got about 100grams of the insects and started multiplying them. It took us about 8months to succeed but now we are moving on smoothly," he says. Like the other insects, these are fed on crop leaves and fruits, which are readily available.
Mealworms are the larval form of the yellow mealworm beetle, Tenebrio molitor, a species of darkling beetle. Like all insects, they go through four life stages: egg, larva, pupa, and adult. Larvae typically measure about 2.5 centimetres (0.98 in) or more, whereas adults are generally between 1.25 to 1.8 centimetres (0.49 to 0.71 in) in length. Tenwya says that each of these stages is useful. "You can sell each of the stages. Some people use them in confectionaries including in processing cakes," he says. He sells a kilogram at sh30,000. In one cycle, he produces about 56kilograms.
Rearing crickets
Tenwya says that crickets are insects which are related to bush crickets, and, more distantly, to grasshoppers. Crickets have mainly cylindrically shaped bodies, round heads, and long antennae. Behind the head is a smooth, robust pronotum.
The abdomen ends in a pair of long cerci; females have a long, cylindrical ovipositor. Diagnostic features include legs with 3-segmented tarsi; as with many Orthoptera, the hind legs have enlarged femora, providing power for jumping. The front wings are adapted as tough, leathery elytra, and some crickets chirp by rubbing parts of these together.
The hind wings are folded when not in use for flight; many species, however, are flightless. The largest members of the family are the bull crickets, Brachytrupes, which are up to 5 cm (2 in) long.
"Crickets are reared as food for pets and zoo animals. "I sell my crickets to wild life conservation centres like zoos," Tenwya says.  He feeds them on leaves and fruits too. With a production of 50kgs per cycle of two to three months, he sells each at sh30,000. He explains that the biggest customers at the moment are the various wild life conservation sites in the country. "I do not even satisfy their needs," he says.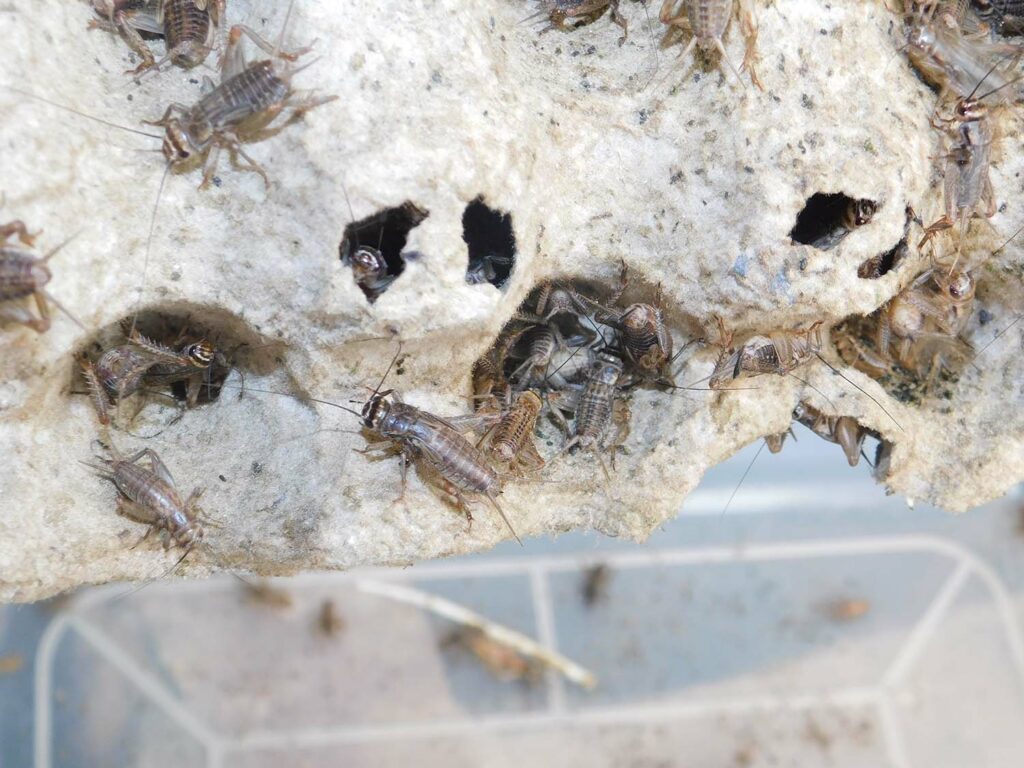 Black soldier flies
At the farm are also black soldier flies, one of the enterprises that many other livestock farmers have embraced. The structures is filled with nets full of flying wasp like insects at the other end and different boxes filled with blackish soils. On further scrutiny, these soils cover whitish larvae. It is these larvae that bring in the money.
"The nutritional content of these insects means you can make them an essential part of your chicken's diet – and they might even help your flock grow better and lay better eggs," Tenwya says. Black soldier fly larvae are full of protein, fat and essential vitamins and minerals. Protein is essential to raising healthy hens, and for feather growth. Feathers provide warmth for the chicken. A diet high in protein is also essential for excellent egg laying – so if your flock's diet is low in protein, then they might lay abnormal eggs.
Tenywa feeds the larvae on kitchen waste, including rotting fruits and foods from markets. "All that we do is pick this garbage from the markets and feed our insects.
Tenywa explains that while no other people are keeping meal worms and crickets commercially, there are many farmers now keeping black soldier flies. "We have some of our farmers who are engaged in backyard poultry farming and these insects are proving to be very useful," Tenwya says. The farm is already selling the insects to farmers across the country.
What are these insects?
According to Tenywa,  the black soldier fly (Hermetia illucens) is a member of the Stratiomyidae family, and just about anyone in the United States can raise them for their flock. 
"It looks like a gray wasp (kalalankoma) but unlike the wasp, it is not aggressive at all," he says. This is surprising because for most insects are considered pests and stingers. But inside Tenywa`s breeding house, these flies lazily fly around both inside their nets and outside without attacking the people walking around. This is what makes them perfect partners.
In nature, they play an active role in the ecosystem by converting wastes (such as discarded food) into valuable resources. Other advantages of Black Soldier Fly Larvae are:
are dry to touch (not slimy) and they don't smell
They are stingless so cannot harm humans
They are safe and are not carriers of diseases
Process of breeding
Although the actual fly lives for only 5-10 days according to Lwanga, the actual process takes 45-day life cycle, that is divided into 4 stages
Adult Stage – An adult Black Soldier Fly has a lifespan of about 5 to 9 days where they lay between 600-800 eggs. The adults deposit their eggs near the decaying matter.
Egg Stage – The eggs can be found around compost. They hatch out into larvae within about 4 days.
Larvae Stage – The BSF Larvae grows in the compost for 14 days where they eat, excrete, and convert waste. "This is the best time for harvesting the larvae for feeding to livestock," Tenwya says. He explains that if the harvest is not done at this time, then the larvae will turn into a fly.
Pupa Stage – From larvae, the BSF enters the pre-pupal stage for a week where they finally enter into the pupa stage where their nutritional content is at its peak.
"At this stage, they are taken into the nets where they finally turn into flies," Tenwya says.
Communal impact
Tenywa employs four workers at the farm, who he says he pays well. Additionally, he has so far engaged 16 out growers to help in the production of the insects. "I have a market for these insects but the supply is still low. This is why I am engaging other farmers to produce," he says. Some of the out growers include Phoebe Kiddu and Mohammed Bogere of Kamwokya.  Additionally, he explains that his innovation is helping livestock farmers reduce cost of production.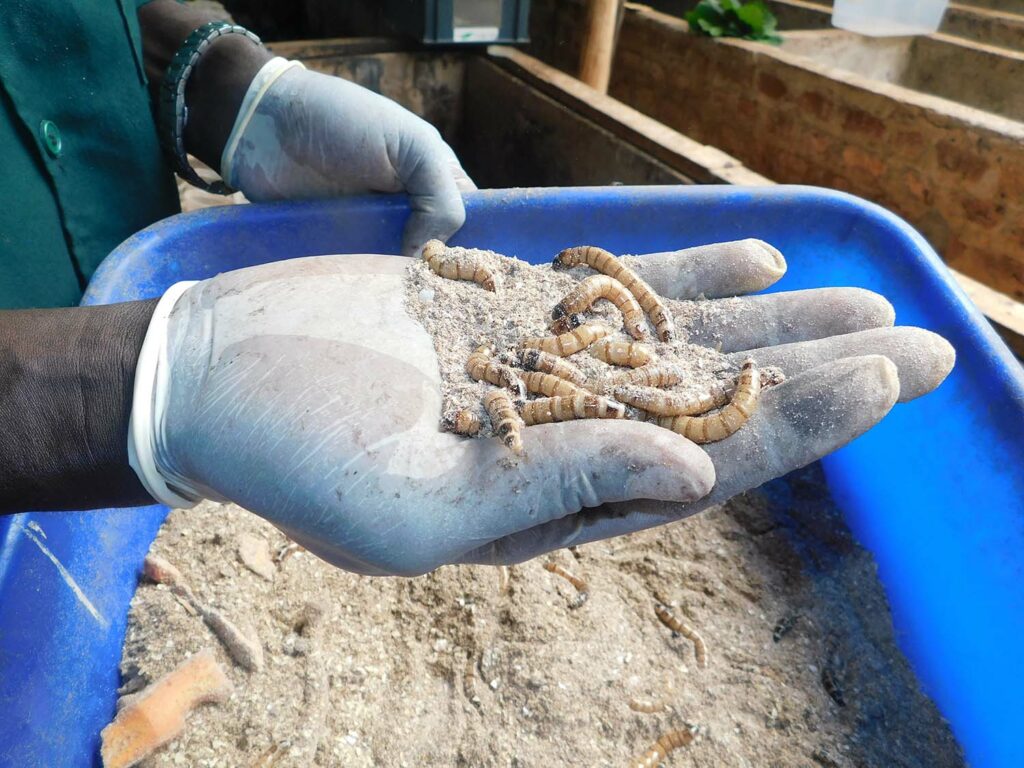 Challenges
One of the biggest challenge is that Tenywa's enterprise is relatively new in Uganda.  "There are many Ugandans who think that insects are dirty or cannot be farmed. Many of them even fear to eat the edible ones," he says. He wonders how people easily eat wild insects like grass hoppers and white ants but cannot eat domesticated insects. He however explains that this is not the biggest challenge. "Financial institutions are reluctant to give me funding whenever I mention the enterprise that I am keeping. They think there is no money and yet when I compare this with other practices, I am earning well,"
What others say
Dauson Musasizi, poultry farmer, "Tenywa`s innovation has helped us gradually reduce the cost of feeding our chicken. It is easy to learn and adopt and can be practiced by farmers with the smallest of spaces,"
Regina Nabwire, poultry farmer, Busia "I grow my own black soldier flies for feeding my flock. Tenwya has helped us learn and adopt this practice.