By Joshua Kato
Two hundred metres away from the roundabout at Padibe town council in Lamwo district is the renowned St Francis Sunflower Press Padibe Mission, an agribusiness non-governmental organisation that has greatly transformed the lives of sunflower farmers in the Acholi sub-region.
Located about 30 miles to South Sudan, the mill was founded by local Christians and officially launched in 2013 as a post-war income generating project supported by US friends called "The Global Solidarity-United States and Padibe Catholic Parish under Gulu Archdiocese". Their main objective was to empower the community economically to eradicate extreme poverty and improve on their health (balanced diet).
In the manager's office is a poster defining the company's goal as "To increase the production of sunflower; to expand the press by investing in more press machines; and to diversify the activities of the organisation by setting up more income generating activities".
The northern part of the country produces a lot of sunflower, however for many years, value addition has been low. While companies like Mukwano Industries buy some of the products, the rest is processed through rudimentary methods, hence making losses for farmers.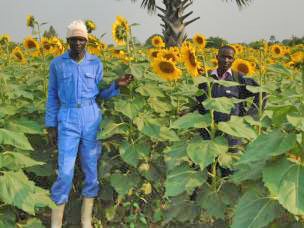 Overall, the agriculture ministry estimates sunflower production at around 200,000 tonnes, with most of it produced in Lango and Acholi sub-regions.
Small idea, big results
According to board chairman Francis Onek, the mill started in a humble way with local sunflower grain, producing oil from a Nytia-make grinding machine imported from India in 2013.
However, the venture faced initial hurdles because the quality of oil from local sunflower was low compared to hybrid varieties, although the sunflower cake was of much better quality.
The local varieties also had a hard coat (cover) which affected the crushing part of the machine.
The turning point was in 2014 when the organisation looked outside and partnered with Mercy Corps and IRR/VODP II to work with 35 farmer groups in order to scale up its production and improve on quality of seeds through good agronomic practices.
As a result of this partnership, earnings by farmer groups have greatly increased compared to earnings by individuals.
Anthony Wanyoto, the communications officer for VODP, says the government body offers inputs and training to farmers and groups in order to improve production and post-harvest handling.
Sunflower crop
John Ojakol, an extension officer, says when planted, it takes between 90-110 days for sunflower to mature. Average yield is 1,000kg per acre. Average price per kg of sunflower today is sh1,200. And gives a farmer about sh1.2m per acre. Given the fact that production costs average sh400,000 per acre up to the end of the season, a farmer makes a profit of about sh800,000, far higher than what other grains, for example, maize can fetch.
Lots of by-products
The company's main products are sunflower cooking oil and sunflower cakes which are sold at the cheapest price yet offering the best quality in the greater northern region, Onek.
"Cooking oil is consumed by people from near and far, while cakes are sold to processors of livestock feeds from across the country," he said.
Run by a board of directors, the mill has greatly transformed the lives of sunflower farmers in the region. In addition to putting money right in the hands of farmers by buying their produce, the company also provides the farmers with extension services related to growing and post-harvest handling. They also provide farmers with transport from their bulking centres to the mill.
Improved post-harvest practices
"We provide tractor services at a reduced cost to farmers. We also provide them with tarpaulins for drying grains and free bags because they would always bring them back with grains. As our dear clients, when the market price is sh1,000, we add to the farmers a premium price of sh100," Pamela Lamunu, the long-serving company accountant explains.
"Prices stabilised the moment we got this processing unit here. We no longer run around looking for where to sell or process our sunflower from," Peter Labeja, who maintains three acres of sunflower says. The average price now is sh1,200 per acre.
Lamunu says the sunflower press has a milling capacity of 10 tonnes of sunflower grains per day, enabling it to take care of the needs of many farmers and agro-dealers in the region. Before the partnership with the government VODP II the capacity was low.
Lamunu says the company has in stock large quantities of sunflower cake which has apparently overwhelmed the market for it.