PARIS, Feb 15, 2023 (AFP) – Dropped over their target by drone, dozens of tiny wooden "robots" twirl through the air in a balletic freefall before hitting the ground, where the work begins for these experimental self-burying seeds on an aerial replanting mission.
Inspired by natural seeds that have a curved tail to help them burrow into the soil, a study published Wednesday unveiled prototype human-designed seed carriers that can be sprayed from above and coil and uncoil depending on the humidity in the air, helping them to corkscrew into the ground.
While the technology is still in its early stages, researchers said the biodegradable wooden carriers performed significantly better than their natural competitors in tests and could ultimately be used to boost reforestation after wildfires, in restoring degraded land and in agriculture.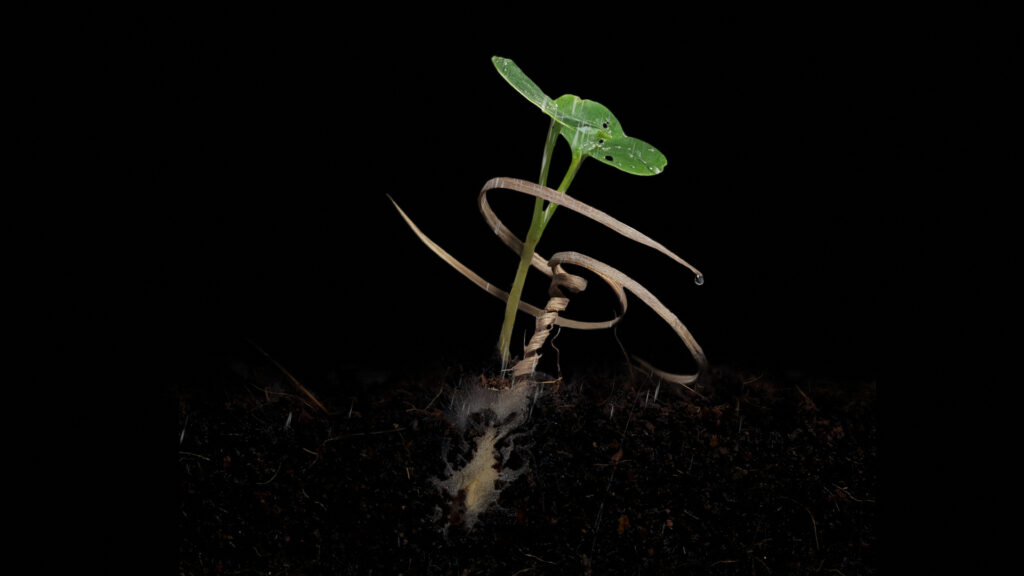 "We wanted to design and engineer a self-burying system for aerial seeding that works robustly on both flat and rough terrains," said Lining Yao of Carnegie Mellon University, co-author on the study, published in the journal Nature.
Aerial seeding can access vast and remote areas by spraying seeds from aircrafts or drones, but germination rates can be low because of bad weather or animals eating the seeds.
– 'State-of-the-art' –
Self-burying Erodium grass seeds that inspired the research have a single whip-like appendage to help them push into the earth.
Researchers gave that natural design a technological update using engineered white oak wood veneer to create a carrier with three rotor blade tails.
The engineered seed carriers can be tailored to carry a wide variety of crop and plant seeds as large as those of a whitebark pine, which are a little over centimetra e long (roughly half an inch).
When tested, the carriers could drill into the soil 80 percent of the time, compared to the self-burying grass seeds, which had a success rate of as low as zero on some terrain, according to the study.
But the carriers were significantly impacted by stormy conditions and will need more work to be used in weather-beaten remote locations, said Samuel Mason and Naomi Nakayama, both from Imperial College London, who were not involved in the research but published a comment piece alongside the study.
"Although these wooden robots have potential, they are not flawless," they said, adding the fiddly manual manufacturing process would also "need to be refined if it is to be scaled up".
But they said the design was "impressive and shows that wood is still a state-of-the-art material". Yao told AFP that the researchers have patented the technology and are looking for investors to develop it further.