By Umar Nsubuga
Perhaps he needs no introduction. Kennedy Rwaboona is known to many as a cooperative commercial farmer and a mobiliser of different Community Based Organisations (CBOs).
When you go to Kabaare village, Rutare parish in Rukiga district, Rwaboona is a farmer to reckon with.
With a panga in hand and wiping sweat from his brow, you will find him working alongside his employees weeding and pruning Hass avocado.
It is hard for a first-time visitor to believe that the man buried deep in the task of trimming Hass avocado trees owns several gardens of different projects in the district.
"When I am here, I spend most of my time in the garden because I hate poverty," he says, adding that "I adore farming because it is the spine of my wealth."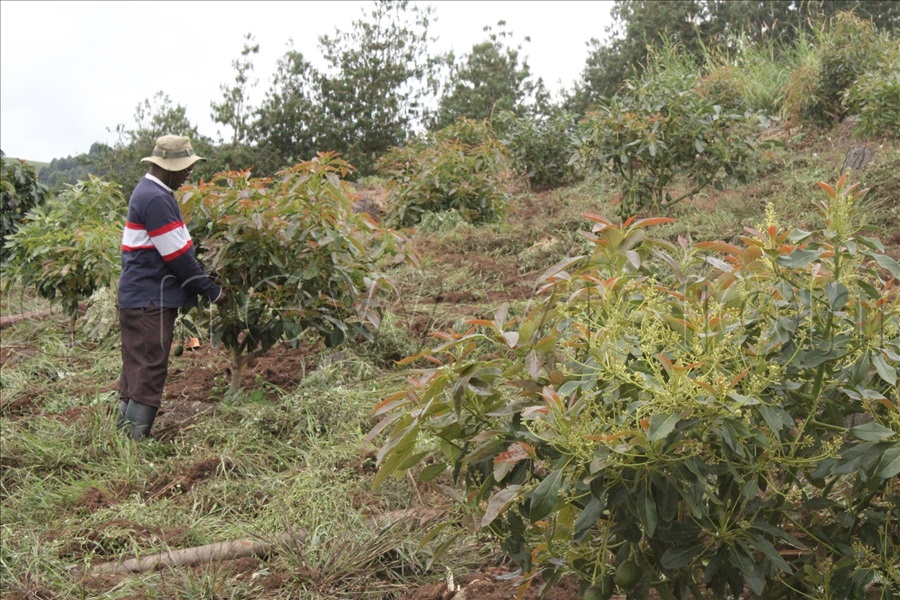 While some people resort to farming for survival after failing at other occupations, for Rwaboona, it is the kind of work he has been doing since he was still a public servant.
He is passionate about promoting commercialised farming in the area.
He also urges Ugandans to at least plant a Hass tree, saying everyone can earn from the crop no matter how big or small the plantation is.
When Rwaboona joined Hass Avocado Co-operative Society (HACS) and having read about it, he wished to take up the venture.
Buying a Hass avocado seedling depends on the location, it goes between sh5,000 and sh10,000.
"Although lucrative, the price per seedling was too high for the rural poor, he says Hass avocado has since been dubbed the "crop of the wealthy".
He is leading by example and has cultivated Hass avocado on six acres on his farm in Rukiga district.
Rwaboona hopes that poverty will reduce in the next three years.
What is Hass avocado?
It is an improved variety that flowers and fruits in two years. It has green pulp, a cone-shaped top and an enlarged bottom.
The inner seed has lots of nutrients for humans. It can also be used in the manufacture of medicine, body lotion and cosmetics.
"In the first harvest, avocado yields 80-150 fruits," Rwaboona, says.
"As the tree grows taller and bigger, the yields increase by 350-565 fruits per season. The trees can last for over 50 years," he says.
He adds that Hass avocado has a ready market.
He says that plans are underway to set up processing plants for value addition and market sustainability.
He says the crop was declared one of the poverty-fighting tools.
According to Rwaboona, a three-year-old tree can yield 200-300 fruits.
"An acre can yield about two tonnes, which translates to sh6m per season. The fourth and fifth year yields about 8.5 tonnes, translating to over sh24m minimum in a year," he says.
Rwaboona says Hass avocado is a less risky crop than others. It needs very low input and maintenance. It also has a ready market. It is a suitable crop for Rukiga.
"It can be inter-cropped for six years, enabling the farmer to have seasonal income," he says.
The planting pattern is 5×5 metres. However, the farmers are discouraged from applying chicken droppings manure, save for cow and goat dung.
Market
Rwaboona says Hass avocado can be exported in fresh or dry form.
He adds that the demand for it is high in Canada, Qatar, Egypt, Norway Sweden and Spain, among others.
Sharon Naluwende, a nutritionist at Mulago hospital, says Hass avocado has benefits that include body nourishment, skin enhancement, better hair growth, improves digestion and minimises constipation.
Abubakar Ssengendo of Musubi Farm says by the year 2030, Hass avocado will be Uganda's leading foreign exchange earning crop as it is expected to bring in $3.76b.
Facts about Hass Avocado
Kennedy Rwabona, a board member and farmer, said Hass Avocado is a dark green-coloured, bumpy skin large-sized fruit weighing between 200 grammes and 300 grammes. When ripe, its skin becomes dark purplish-black, and yields to gentle pressure.
He said farmers can have two harvest seasons a year and the tree lifespan is approximately 50 years. When ready to serve, it becomes white-green in the middle part of the inner fruit.
Owing to its taste, size, long shelf life, high-yielding and in some areas, year-round harvest, Rwaboona says the Hass avocado type is the most commercially popular avocado worldwide.
"Their potential health benefits include improving digestion, decreasing risks of depression and protection against cancer. It is a naturally nutrient-dense food with nearly 20 vitamins and minerals, and it is the only fruit that provides a substantial amount of healthy monounsaturated fatty acids," revealed Rwaboona.
Monounsaturated fatty acids are chemically classified as fatty acids containing a single double bond (in contrast to polyunsaturated fatty acids containing two double bonds and saturated fatty acids without double bonds).
Appeal to the government
His appeal is that the government increases the support it provides to smallholder farmers especially in mechanising agriculture.
"Government should think of giving us more machines to effectively promote mechanisation in the region," he says.
However, as a person of great versatility, he set out to prove that with hard work and determination, anyone can succeed in any environment.
Apart from pursuing farming to prop up his earnings, Rwaboona also uses his farms as a demonstration of good farming practices for farmers in the Kigezi sub-region.