By Patrick Okino
At exactly 10:20am, I reached Margaret Adupa's farm at Telela village, East division, Lira city, located 4km north of the industrial area.
Adupa rears pigs but I did not hear any oinking or grunting noise of pigs, raising a seed of doubt since the environment was quiet but looking so beautiful.
Before I picked up the phone to call, I craned my neck over the wall fence to check and confirm that it was the right place, where a retired secondary school teacher-turned-farmer is practising piggery and poultry farming.
I saw the beautiful brown chicken breeds roaming the compound and a huge piggery unit.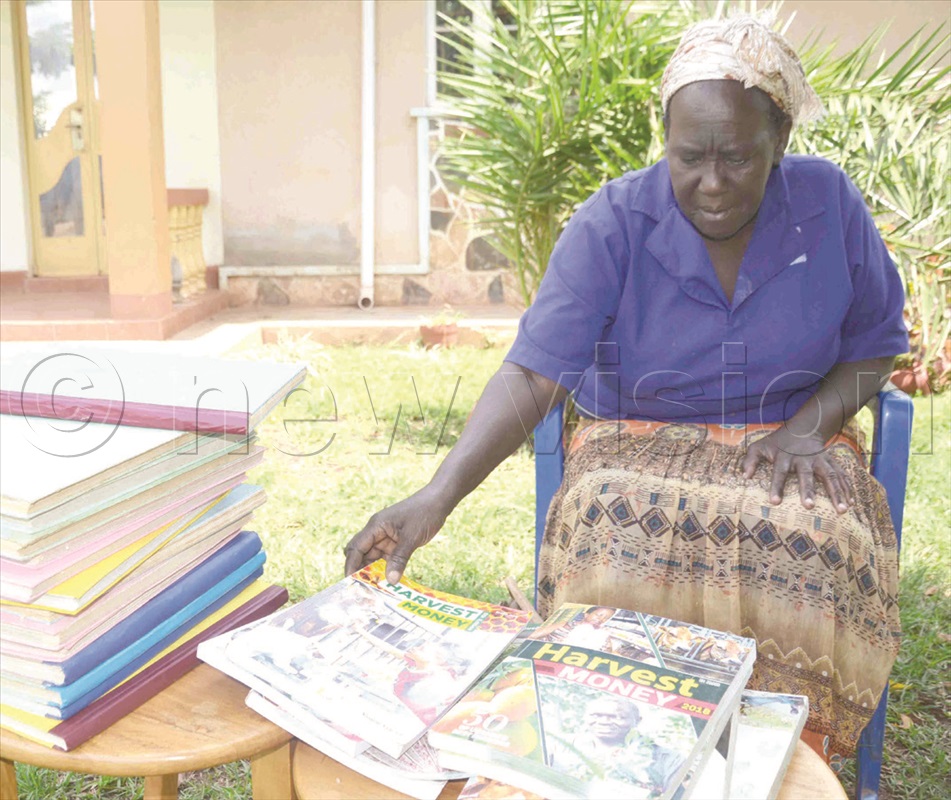 "This is my small home where I am rearing pigs. I also supplement it with poultry keeping," Adupa said, welcoming me to her home behind Lango College, one of the renowned traditional schools in the country. She was inspired and developed an irreversible desire for piggery when the Government's National Agricultural Advisory Services (NAADS) programme was still active.
"It was in 2006 when I found Dr Joel Ongebo, the former NAADS district co-ordinator, training a group of women at Omito trading centre on piggery farming and what you need to observe when starting a project," she began.
"Most of the women here are now interested, why don't you join them?" Adupa remembered Ongebo asking.
Responding in the affirmative, she started going for the training. Adupa said the women, of a number she cannot recall, never picked interest and shortly after, the training venue relocated to her home.
She added that they started conducting training in the afternoon on the benefits of piggery and also how the project could supplement her meagre monthly earnings.
Starting out
Adupa, who was still teaching at Comboni College in Lira, did not hesitate to try piggery. She got four piglets (three female and one male) at a cost of sh200,000, each piglet costing sh50,000.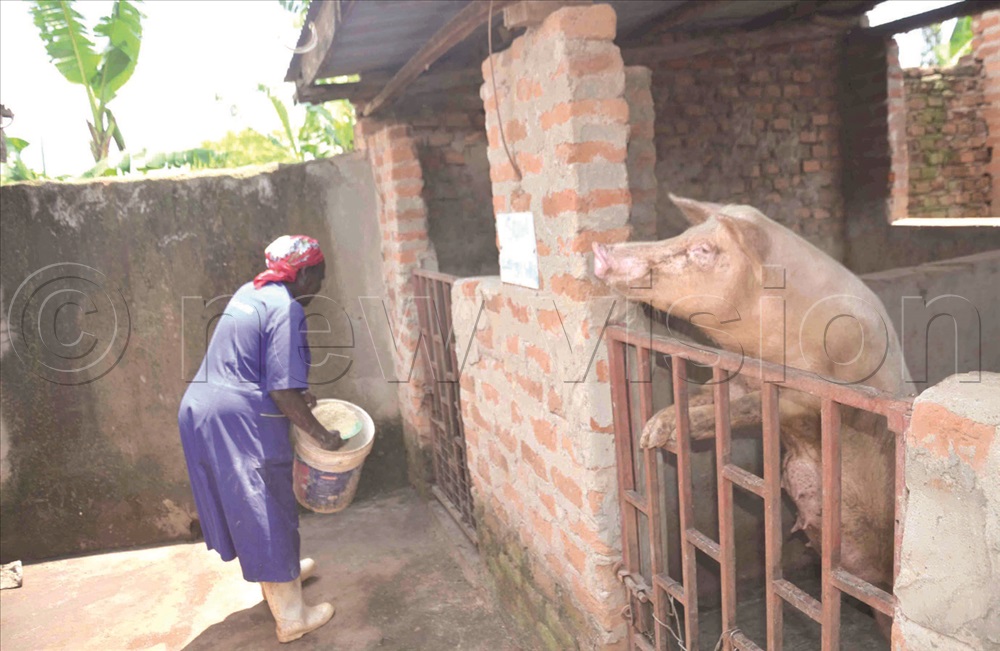 "My piglets were of good breed and NAADS pledged to get me more, but they didn't honour their promise," Adupa, who is practising farming on a four-acre piece of land, said.
Fortunately, a few months later, according to Adupa, each sow bore eight piglets, bringing the total to 24. Unfortunately, eight of them died. She sold the remaining 16 at sh80,000 each, earning sh1.2m.
After the sale, Adupa invested more to get good breeds and quality feeds. Having sold her stock in 2007, Adupa searched for other quality breeds.
Luckily, she found some at St Katherine Secondary School in Lira and bought two. Adupa bought the breeds identified as Landrace at sh60,000 because she wanted to bring different breeds onto the farm. The farm now has three breeds; Large White, Cambra and Landrace.
Again, she continued to look around since there was a balance left and bought three piglets, each costing sh40,000.
"The skills I got during the training helped me a lot in identifying good breeds and how to manage them. Each time I got to any farm, I was able to select the best breeds," she added.
Expanding the farm
Adupa started with four piglets and would save a part of her salary for farm expansion. She continued to acquire more piglets and make sales. In 2012, she had 100 pigs in total, including piglets. Adupa said local leaders and NAADS officials realised she had good high-quality breeds and began to make a beeline to her farm.
Pader and Agago district local governments were Adupa's regular customers, buying piglets for farmers under the NAADS programme.
"I got a lot of money from the sale of piglets, more than the pigs themselves," she said, adding that she would sell a month-old animal at sh100,000 and train leaders on how to keep the animals.
Piggery units
At her farm, Adupa has a big piggery unit separated into small units where piglets, female pigs, sows (pregnant pigs) and boars are kept separately.
The unit has 250 pigs, including 90 piglets. The farm also has a big store to keep feeds, four water tanks and channels waste into a tank from which biogas is made.
Feeds
Adupa said she buys 1,000kg of feeds monthly. To supplement the feeds, Adupa said she also cultivates maize and soya bean.
She grows the maize on three acres in the same village and this has enabled her reduce the quantity of maize bran she buys.
Adupa said she gives 2kg of feeds to the piglets daily. The big ones consume 3kg each.
Benefits
Adupa said the merits of pig rearing include being able to generate income and getting biogas for cooking and fertilisers from the animals' waste.
"It also keeps me busy," the farmer, who retired last year, added.
"I have also employed three staff to help me on the farm," she said, adding that the boys are tasked with giving feeds, cleaning the units and monitoring the health of the pigs.
The workers reside in a separate house she built on the farm. Adupa also takes care of them, providing medical care cover, meals, bedding, clothes and allowances.
Treatment
Because she keeps the units hygienic and out of bounds for outsiders, Adupa spends little on treating the animals.
She treats them after three months, especially when they give birth and also the young ones after three days.
Adupa also contracted a veterinary doctor for general treatment. She spends sh350,000 monthly, including the doctor's fee, depending on the number treated.
Market
Adupa said her regular clients are in Gulu city, including a few pork dealers in Lira.
Adupa added that when she started the project 17 years ago, she made a lot of money on piglets because NAADS was still active and the demand for them was high.
Family involvement
Adupa said some of her children actively participate in the project by cleaning the units, providing feeds, carrying out research, and washing the pigs.
"My husband, Dr Cyprian Benedicto Adupa, helps me a lot. That is why the project has expanded," she explained.
Dr Adupa, a senior lecturer at Kyambogo University, said he does a lot of research including getting ideas to boost the farm.
"The farm can grow because of a lot of research, financial contributions and reading materials, including New Vision," he said.
Neighbours speak out
Robert Otak, a neighbour, said he started interacting with Adupa when she was raising Friesian cows, though she later abandoned the project.
He said he was inspired to also start a piggery and chicken rearing project, but was limited by finances.
"Once in a while, when I visited, she would guide me on what to do when I want to start the project," Otak said.
He said he raised enough money to buy two piglets from the farm some time ago. Now, piggery helps him raise money for his children's school fees.
"On her farm, there is a borehole which helps the community a lot without paying a coin," he added.
Moses Odongo, another neighbour, said he was planning to start poultry farming.
He said the skills he has attained from the farm are enough for him to start his own and progress.
Polly Otak, another resident, said Adupa had guided them on how to treat and feed the animals, including keeping hygiene to reap big.
Challenges
Adupa cited expensive feeds, erecting structures, treatment, unpredictable weather and the market as some of the challenges hindering the speedy expansion of the project.
She said building piggery units needs a lot of money, but many people make mistakes and erect temporary structures.
Tips for piggery
For anyone willing to venture into piggery, Adupa said one should secure land in a place that is not populated, save money for feeds, put up temporary structures which are affordable and save for drugs.
Expenses
Adupa said she spends about sh2m monthly to buy feeds, pay three workers and provide treatment, transport and labour.
She added that she pays a sh50,000 monthly salary to each worker.
She spends sh500,000 on feeds and sh350,000 on treatment. The rest is spent on transport, including people who provide daily services on the farm.
Sustainability
Adupa said for the project to remain vibrant and afloat, she is training her son, Ceasar Adoko, to manage the farm.
She said he keeps the farm's financial records and checks how the project is progressing.
"We plan together because in the future when I am gone, he will take over the farm and the project continues," she added.
Security
To ensure the security of the farm is guaranteed and it remains safe, Adupa has installed CCTV cameras, deployed two dogs and fenced the area. RECORD KEEPING Adupa said she keeps records of expenditure, treatment, income, amount of feeds used per month and when to treat them.
Plans
Adupa said by next year since she is permanently still at home, she is planning to expand the farm and have 3,000 pigs, improve on the breeds and add more piggery units.
Poultry rearing enterprise
In 2019, Adupa introduced poultry farming after visiting a progressive farm in Entebbe with many enterprises.
At that farm, Adupa said, she saw chicken, pig and turkey projects doing very well.
"I thought I should do it also to earn from eggs, waste products and the chickens themselves," she said. Adupa said she started the poultry project in 2019 with 50 broilers and later included layers.
"I got a lot of money from selling eggs, which motivated me to buy 50 more birds later," she added.
Adupa said she spent sh600,000 to start the project, which included purchasing feeds and providing treatment.
"I have three small rooms which accommodate 150 birds, but my target is to construct a decent poultry unit which can accommodate 1,800 birds," she said.
Adupa collects 20 trays of eggs in a month and sells each at sh15,000. She normally acquires each bird at sh9,000 from Family Poultry Care Farm, a breeder farm in Lira city, feeds and sells each at sh30,000 after three months.
Mistakes
Adupa said one of the mistakes she made earlier on was to leave the farm, especially the piggery units, open to everyone who came to visit.
"At one time, a gentleman who came had slaughtered a contaminated pig (with swine fever). He entered the unit and after a few days, the pigs started falling sick," she said.
Adupa realised very fast and sold about 80 pigs cheaply to avoid incurring losses.
"It affected me badly because those pigs were big, which I would have sold at sh1.2m but I sold each at only sh800,000," she added. To mitigate this, she started restricting visitor numbers on her farm. Adupa said she charges sh20,000 for whoever enters the unit, but when one buys a pig, that money is refunded.
"Then I started giving them general treatment three times in a year," she added. Another mistake she made at one time was to overfeed the pigs. Later, they became stunted.
"I noticed and I was advised not to overfeed because it affects the growth," Adupa said, adding that she put a fixed ratio of 2kg per day for the piglets.
"Instead of producing 12 piglets or 14, you just get six yet it is from the piglets that you reap the benefits of piggery farming," she said.
Workers
Adupa only employs youths, especially school dropouts. She equips them with skills and later takes some to do vocational training in fields like mechanics, welding and carpentry.
She said she looks for young people not older than 25 years when she is searching for reliable workers.
"I hire them and after two years, I send them for vocational training," Adupa added.
Adupa's profile
Adupa had primary education at Alebtong n Secondary education at St Mary's College Aboke in Kole (1976)
Canon Lawrence Teachers' College, Ngetta in 1983
Uganda Christian University, Mukono for a bachelor's degree in education.
Adupa taught at Comboni College in Lira and later Lango College, from where she retired in 2022 and went into full-time farming.