By Joshua Kato
One big farming village!
Over 200 exhibitors have already signed for space. The exhibitors include those from abroad as far as from the Netherlands. Exhibitors cut across key farming sectors including seeds, value addition, financing, machinery, extension services, researchers, government, irrigation etc. To tour the expo, you will pay sh10,000 while to attend training sessions, you will add another sh10,000.
Machinery in plenty
So you have all along been scared of approaching a tractor supplier to talk about getting a tractor to your farm? This fear will simply evaporate the moment you enter Kololo for the expo. Over 10 tractor dealers will be laid before your eyes! The companies include Engsol, The Cooper Corporation (CMC), Mahindra, Dura Motors, NEC Tractor project, Mas Corporation Ltd, China Huangpai Machines, among others. Engsol has even made a discount of 20% on all machinery through the duration of the 2023 Expo.
According to Ministry of Agriculture, at the moment, less than 3% of commercial farms in Uganda have got any form of mechanization, compared to around 12% in Kenya, 30% in South Africa and 90% in most farms in Europe. Engsol's Marketing Manager, Med Mwiri explains that one of the reasons why Ugandan farmers are not mechanising is lack of exposure to equipment. In terms of farm tractors according to Ministry of Agriculture Anima Industry and Fisheries (MAAIF), there are an estimated 1,400 tractors in Uganda, against a basic need of around 6,000 tractors.
Ekyuma kyomu Daaki (Netherlands Village)
You have heard about the legendary 'Kyuma Kya Mudaki' slogan? The slogan was coined in reference to the toughness of machinery made in the Netherlands. The Dutch are known for fabricating some of the best equipment for your farm-including tractors, dairy processing equipment, food processing units of any sizes etc. Of course, one of the reasons Ugandans may not have access to this equipment is the distance from here to the Netherlands. But now, the expo has brought the Dutch near to you.
They will exhibit innovative agri-solutions for both crop and livestock specifically in dairy, horticultural, poultry, potatoes, livestock feeds, soil, crop and animal health, solar energy and irrigation.
This development should excite Ugandan farmers because the Netherlands is one of the best farming countries in the world, with the most adaptable farming technologies and research. "The Netherlands are the second largest exporter of agriculture produce in the world. They are also manufacturers of some of the best agri-equipment with a lot of good history," Josephat Byaruhanga, Agriculture Policy Officer at the Embassy of the Netherlands says. He explained that the Dutch are bringing this technology to Uganda.
Artificial rain!
When the sun rises and gets hotter during the dry seasons, for farmers, this is a very bad period because crops are not happy at all, animals are not getting enough food and water and dry season diseases are knocking all over farms. However, at the expo, measures have been arranged to show you how you can create your own rain! Over 15 companies that help farmers create rain on their farms have already set up to show you how. Among these include Davis and Shirtliff, Adritex, Multiple Industries, Amaica, Tom Tom Distributors, Power Products, Prime Power, NSI Water Ltd etc. Prices of these products start at as low as sh600,000 for a pedal pump.
27 training sessions
Learning never stops even for experienced farmers. At the expo, there are 27 sessions which touch on nearly every aspect of the agriculture chain. The trainings are tailored in such a way that both starters and experienced farmers benefit. Of course popular enterprises like poultry, piggery, coffee, goat keeping, vegetable farming, passion fruits feature in addition to value addition on fruits, dairy and dairy waste.
Government is there too!
All along you have had burning questions about the operations of key government agriculture entities? Burn your brains no more, because all of them are at the expo. Among the key government entities that have been booked for the expo include the Vegetable Oil Development Project, National Agricultural Research Organisation (NARO) groups, Uganda Coffee Development Authority (UCDA), Dairy Development Authority (DDA), National Coffee Research Institute (NACORI), the National Genetics Resources Centre (NAGRC). These are government bodies that are responsible for general and basic research plus regulation of the agriculture sector.
Value addition!
Ugandans are fond of donating their agriculture produce by selling it off as raw materials. And yet according to experts, value addition improves average earnings from any produce by over 40-80%. For example, while a kilogram of raw coffee beans costs sh3,000, the same quantity of processed crop goes for over sh30,000! This is why the expo has brought together companies that can help farmers learn how to add value to their products, for better earnings. At the expo, there are several companies that are exhibiting simple equipment that can help farmers add value to their products. Equipment includes simple milking machines, juice processors, honey press, dough mixers etc. Such companies include Frank Farm for Dairy equipment, Staunch Machinery, Makiga Appropriate Technology, Makerere University etc.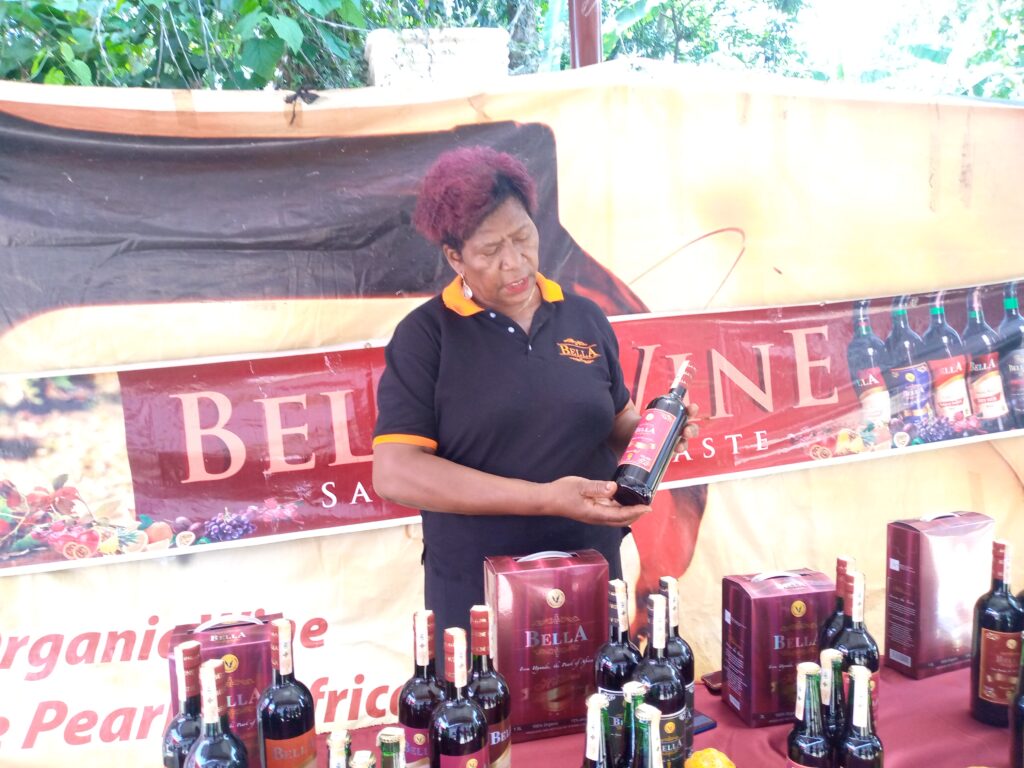 Livestock issues solved!
Feeding and livestock health are the major challenges facing livestock farmers today. "You know that feeding accounts for 80% of livestock management. As long as a farmer solves feeding issues, then his animals will be okay. At the expo, there are over 10 feed processing companies, that will not only show genuine feeds, but will also explain to farmers how to feed their livestock for a profit. These companies include Kuku feeds, Ugachick, Champrisa International (Trouw nutrition), Biyinzika feeds international, Kaffika feeds/ Koudjis Nutrition BV, Conversion Feeds and SR Afrochicks, among others