On average a bird produces one egg per day. Furthermore, not all birds start to lay exactly when they are 21 weeks old.
Planning is, therefore, required for egg production to be constant so as to maximise returns. A schedule similar to the one shown in the table, which indicates on average satisfactory levels of production for a flock of birds, can be used.
In areas where the climate is hot and humid, commercial hybrid laying birds produce on average between 180 and 200 eggs per year. In more temperate climates birds can produce on average between 250 and 300 eggs per year.
The table illustrates a typical production schedule in a hot and humid climate.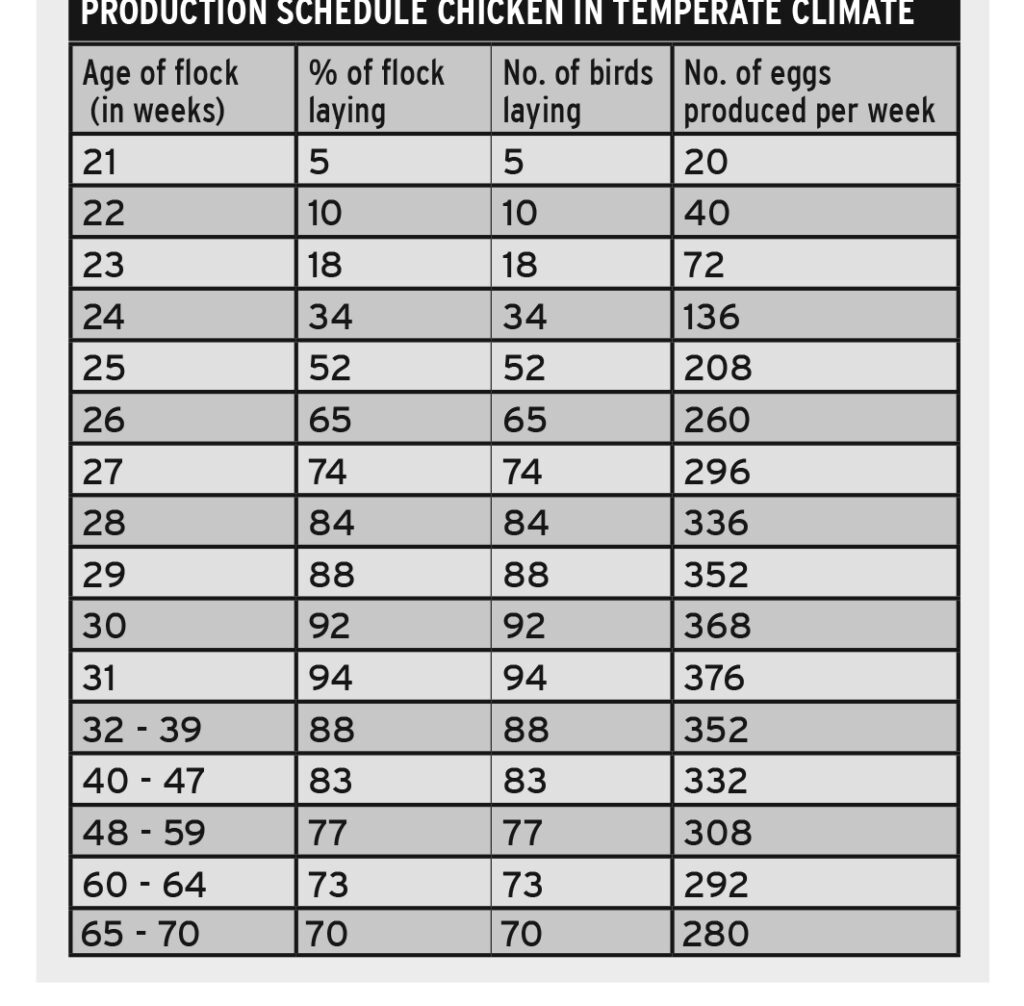 The percentage of birds that lay during that week of age is shown in the second column.
Usually, at 21 weeks of age only 5% of the flock lay.
Of every 100 birds at 21 weeks of age only five would actually be laying.
In the fourth column, the actual number of eggs produced is shown. On average a bird produces 208 eggs over a twelve-month period, which is a weekly production rate of four eggs per bird.
At 21 weeks of age 20 eggs are produced (five birds produce four eggs each) and at 22 weeks 40 eggs are produced, etc.
Egg production rises rapidly and then starts to fall after 31 weeks of age.
When less than 65% of the flock are laying eggs (71 weeks of age), it becomes uneconomical to retain the birds.
Feed costs and sales of culled birds for meat must be considered as well as prices for eggs.
In some instances, when egg prices are high it may be viable to delay culling birds until 45% of the flock is still laying eggs (78 weeks of age).