By Stephen Nuwagira
When John Nsabimana, of Nyakabande in Kisoro district, started out as a banana grower almost two decades ago, not many gave a chance wondering why he chose the enterprise. Kisoro's staple foods are Irish and sweet potatoes. However, the then livestock trader had noticed that bananas brought from neighbouring districts were on demand in markets across the district. This convinced him to take the 'plunge' and start growing of matoke. His conviction paid off as Nsabimana is earning handsomely from the crop and is now a respected model banana grower in Kisoro district. His plantation is a demo farm, used by the district production department to train farmers that are interested in banana growing proper husbandry practices.
Starting out
Nsabimana started small. Initially, the project was on nearly one acre of land, but it has since been expanded and currently occupies four acres. The former cattle trader says he used proceeds from cattle sales to start the plantation after noticing the huge market for bananas in Kisoro.
The model farmer says the project sought to cushion the family against food poverty and also to ensure a sustainable source of earnings for the family and support its development needs.
I was able to expand the plantation after buying off some neighbours, he says.
Nsabimana grows banana varieties like shararugazi, entaragaza, and kabaragara, at the farm.
To help him manage and care for the plantation, Nsabimana employed four workers who earn sh150,000 each per month. He also engages casuals at sh5,000 per day for the time they work.
He says that extension workers visit quarterly to check on his progress and guide him on best practices.
He has inspired some people in the area, like Francis Ndagijimana and Emmanuel Ngoga, into banana production.
Production & marketing
"I get over 100 bunches of bananas from the plantation on a monthly basis," says Nsabimana.
On average, a big bunch of bananas goes for over sh40,000 in Kisoro given the fact that most people don't grow the crop. The farmer supplies most of the matoke to Serena Hotel in Kisoro town, while others are sold to drop in retail buyers from the community and elsewhere. The hotel buys 20 bunches of bananas weekly.
The farmer also gets about 20 bunches of kabaragra per month from the plantation. A bunch goes for an average of sh5,000 each, earning him sh100,000. He sells them to buyers from Kisoro town.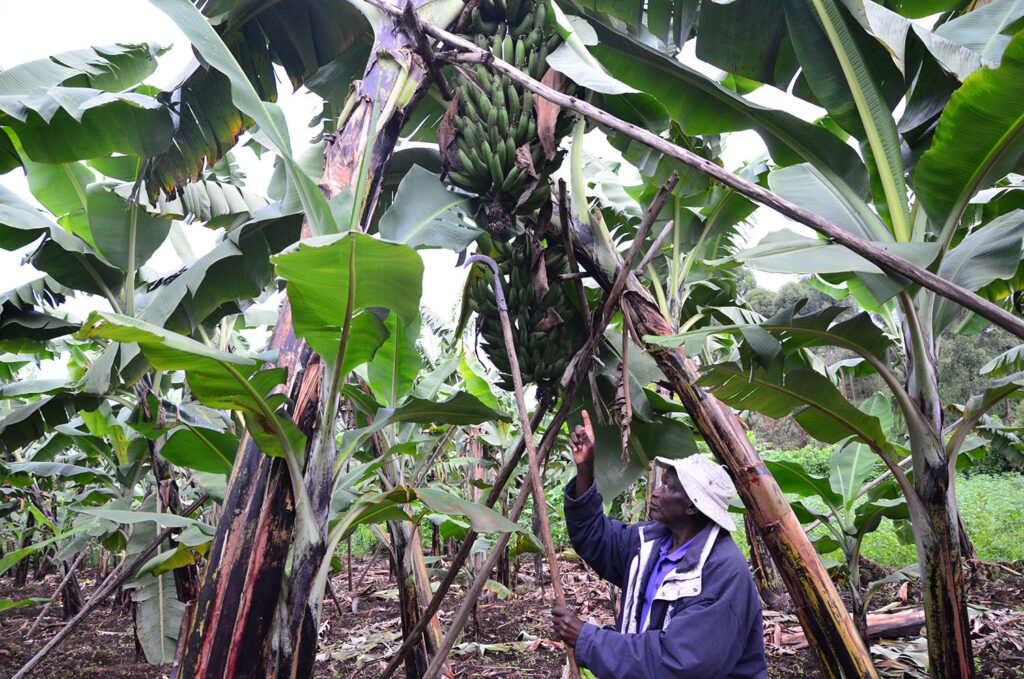 Demo farm
Nsabimana's plantation is used by the district extension staff for demonstration. Other farmers visit him as individuals or groups to learn more about banana production. He doesn't levy any fee as part of giving back to the community. Residents interested in banana growing get planting materials from him. He also provides suckers to Operation Wealth Creation and NAADS.
Chahi sub-county agriculture officer Lillian Nyirabuntu says that the farmer follows the recommended husbandry practices, explaining that the farmer's plantation is well-spaced, and mulched which conserves soil fertility and water and controls weeds and, hence, boosts productivity. It's desuckered to avoid competition of suckers, which translates into high yields, she adds.
She also lauds Nsabimana for promoting food security in the area. He trains farmers in the area, who are interested in banana growing, says Nyirabuntu, adding that Nsabimana is a model farmer in the sub-county.
"We are planning to take a group of farmers in coming weeks to train in banana production at his farm," said the agriculture officer.
Knowledge
Nsabimana gains knowledge and keeps up to date by visiting other banana growers and attending farmer training.
Tips
The model farmer attributes his success in banana growing to the fact that he observes recommended crop husbandry practices like mulching, application of organic manure, pruning and keeping weeds as well as pests and diseases at bay.
The farmer, who also has a few heads of cattle, uses the cow's waste to manure the plantation and also mulches with bean and sorghum stalks and grass.
I also consult extension workers regularly and am continuously learning, especially in aspects that help conserve water and soil, says Nsabimana.
Challenges
The farmer says that banana wilt disease (BWD) has been one of the biggest challenges over the years. He was able to contain the disease by immediately removing the affected plants, as well as restricting use of tools from 'outside' on the farm and ensuring that tools used to destroy affected banana trees are sterilised immediately after use. Nsabimana says that mulching materials are also costly, adding that banana thieves are also rampant in the area.
Achievements
The plantation has, however, accorded the agripreneur a sustainable source of income these challenges notwithstanding. I don't struggle to raise money to meet basic needs for the family or pay fees for the children, says Nsabimana. He has also used some of the proceeds from the project to buy more land for expansion.
"The bananas have secured our financial future because it is a reliable source of income," according to his wife, Theresa Nyirandatwa. Nyirandatwa encourages other people to engage into banana growing, saying it is a lucrative business that also promotes food security.
What others say
Francis Ndagijimana, a farmer in Kabuga village, was inspired by Nsabimana to grow bananas. He says that the model farmer is always willing to train those willing to embrace banana growing. He does not charge for the service rendered and at times gives you banana suckers free of charge, he adds. "He always comes around to supervise me and guide me accordingly. Generally, I have learned a lot from and all the knowledge I have on banana growing is thanks to him," adds Ndagijimana.