By Victoria Nampala Bugembe
After realising low crop harvest for several years, farmers at Kasaala village in Kyampisi sub-county in Mukono district have started making their fertilisers to save on the cost of doing business and protecting the environment.
The fertiliser they innovated is called Biocha and it is made out of organic waste and is applied on different crops to improve the yields.
Kintu John, a farmer at Kasaala is happy after applying the fertiliser in his maize garden for two seasons, the yields fulfilled his expectations because he got a lot of money after selling the crop.
"The fertiliser has also helped me to manage waste mainly from the kitchen that used to be dumped in the garden to rot but right now, it is put to rightful use," he says.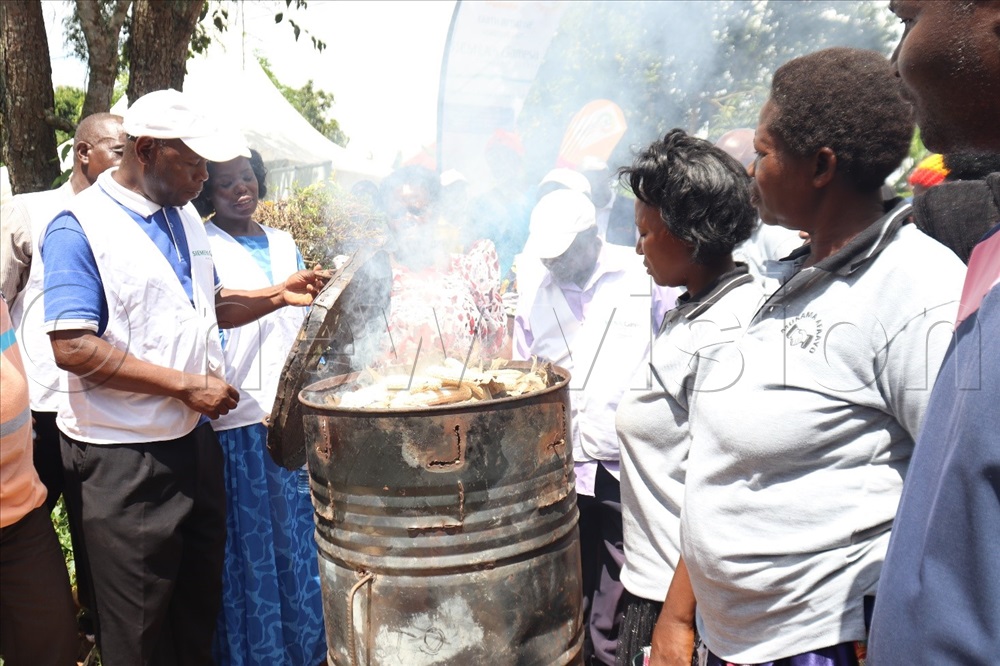 Henry Mboowa, an environmentalist from Climate Change Institute Uganda first got concerns about low yields from farmers under their management despite using different pesticides.
The team sat down and started to look for solutions and Biocha was put to the test. After proving its results, a group of farmers from different farming groups were picked and taught how to make the organic fertilizer.
He added that for the first year when farmers were taught how to make organic fertilizer, there was a change in their crops right from the garden to the market and they attracted many buyers.
The fertilizer is applied to vegetables, maize, cocoa, and sweet potatoes, bananas among other crops.
This fertilizer is friendly to the farmers and the environment because it is organic based on the raw materials used. There is no way it may harm even the soil, but preserves its natural nutrients and produce more," said Mboowa.
Biochar can increase soil fertility, and agricultural productivity and protect against some plant-feeding and soil-borne diseases.
Apart from soil fertility, Biochor stays longer in the soil compared to other inorganic fertilizers like Ammonium phosphate and Urea which only stay in the soil for an average of two weeks.
Biochar is also cheaper and affordable to the local farmer regardless of the locality.
How to make the fertiliser
Mboowa said the farmers have to collect organic waste mainly agricultural residues like coffee husks, and maize cobs. wood chips, groundnut shells, cotton stalks, rice husks, and papyrus.
They are filled into a drum and it is packed to full capacity. The drum is light from the top down. Once the smoke turns grayish blue, add a layer of soil over it and leave it to burn slowly.
After the organic matter is well-cooked into charcoal-like materials, put out the fire with water.
The charcoal-like is then crashed into particles and spread in the soil. A farmer can apply it once in three planting seasons and four bags can be used in one acre or as desired in a year.
He said the process of making Biocha is cheap because it's only the drum which costs between sh150,000 and sh200,000 and it can be shared by the groups.
Mboowa, however, asked the government to avail funding to such initiatives geared at protecting the environment and assisting farmers to do their business.
Nakazzi Grace from Tuzimbe Obumu Farmers Group said the fertilizer has helped them to cut costs because they were spending over sh200,000 on a bag of DAP and sometimes could not get the desired yields.