By Herbert Musoke
God created every place perfectly unique to support production and sustain life, thus it is upon every individual to make the best of where they are.
This is Mahawiyah Mukasa's explanation of how he came to venture into growing dragon fruit which is one of the new fruits with a very high demand in Uganda.
"Dragon fruit requires very little water to grow and, therefore, is a perfect fruit for areas like Kapeera that lie along the cattle corridor characterised by little rains and prolonged drought," explained Mukasa, adding that it's upon individuals to understand the climate in their areas and make proper decisions.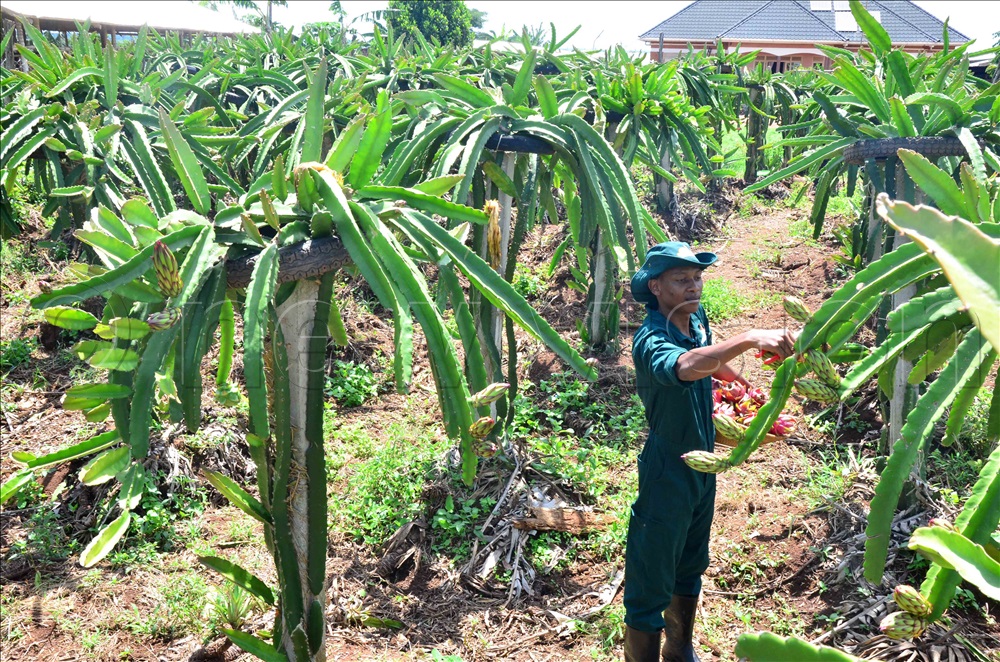 The beautiful scenery of the dragon fruit garden welcomes you to Kapeeka Agro and Livestock farm which is seated on 370 acres. Mukasa grows not only dragon fruit but also, mangoes on 50 acres, oranges on 22 acres and pineapples on 20 acres and the rest of the land is used for growing food crops and pastures for rabbits and goats he keeps on a commercial basis.
Joining farming as a business
Mukasa is among the first Ugandans who went abroad looking for jobs (kyeyo) in Dubai in 2010. He was then working at the airport.
While in Dubai, he joined the Association of Ugandans in the United Arab Emirates, which not only brought together all Ugandans in the UAE, but organized agriculture shows and training for Ugandan farmers to connect them to the market.
He recalls that during his Hijja in Mecca, he met Haji Mustafa of Musubi Farm, the renowned Hass Avocado growers who convinced him to join Hass Avocado farming.
"I was taken by what Hajji Mustafa told me and came back and brought 100 acres of land in Kapeeka. However, after clearing 50 acres, I was advised not to plant avocados in this place because it is dry," he narrates.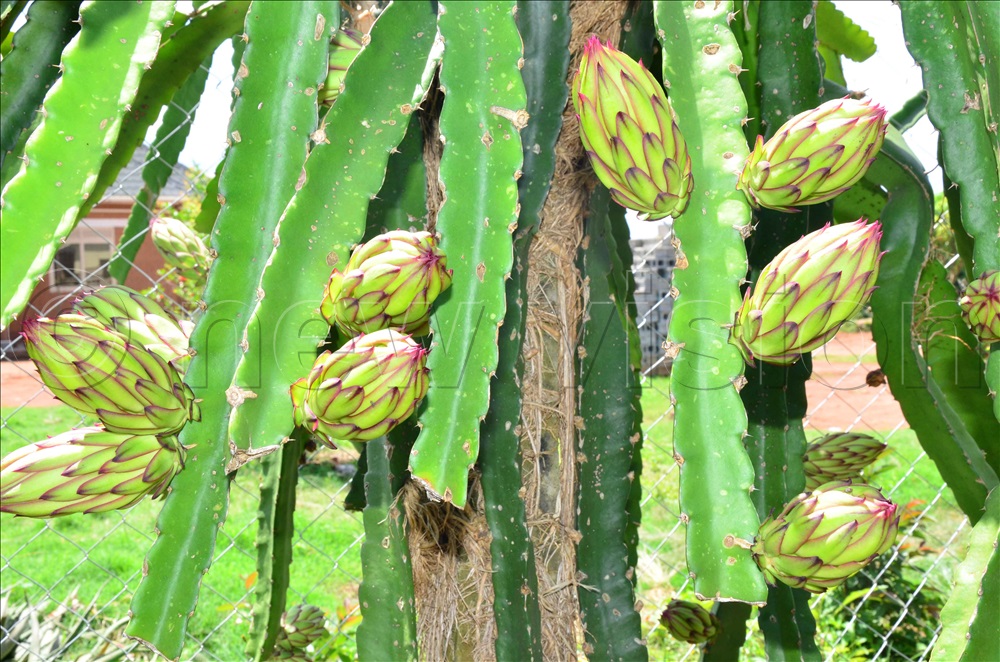 He continued attending shows and trainings organized by the association in different countries like; France, Germany and Turkey among others where he learnt and got interested in other enterprises.
The dragon fruit
Mukasa explains that after realizing that the land he bought was dry, he started looking for agricultural projects he could do on it and when he landed on the dragon fruit which requires little water to grow, it was an answered prayer.
Mukasa got to know about the dragon fruit while on a plane going for a show in Turkey.
"I was served with fruits including the dragon fruit which caught my attention. It was sweet, I had to ask what it was," he recalls.
"Luckily, I met a dragon fruit farmer at the show in Turkey who I later visited to learn more about the fruit. I also bought 10 seedlings at $20 each in 2019," he says.
On coming back to Uganda, he continued researching the fruit and learnt that there was a dragon fruit farmer in Meru-Kenya whom he visited. It is from here that he discovered three varieties; the yellow, white and red fruit. He also learnt the best and easiest growing systems.
He explains that he used the ten seedlings (he got from Turkey) to multiply and now has half an acre of dragon fruit, but with a plan of planting 10 acres since he has enough seed.
How to plant Dragon fruit
Mukasa advises farmers to get seedlings from a trusted source and information about a given variety so as not to miss out on the market.
"After securing quality seedlings, get concrete poles on which the fruit grows. We use concrete poles because they last for over five years," he says.
In an acre, a farmer is advised to put 450 poles (each will cost sh70,000) and on each pole put four seedlings (each pole is counted as a plant). So you will need 1,800 seedlings each at sh20,000.
The pole should be 5ft long. Plant four seedlings on each pole, putting one (seedling) on each side.
If the seedling is mature with roots, it will take 8-10 months to grow and in two months (after growth) it will start facing down and in the other two months, it will start flowering. The fruit will ripe in 45 days.
The best practices
He explains that this fruit doesn't need a lot of water to thrive, if planted in a water-locked place, it rots.
According to Mukasa, this fruit is a desert plant which can survive on water in its stems for some time, but you will see part of the stem thinning if too much sunshine hits it.
To grow the fruits under an organic system, he mixes rabbit droppings as fertilizer with the soil but also mulches around the plants to keep the little water in the soil.
Harvest
At best, each plant will give you 10 fruits every two months which means you will harvest 60 fruits from each plant a year.