Many barkyard poultry farmers are resorting to mixing their own feeds. This particularly helps them to lessen operational costs and avoid being cheated by unscrupulous dealers in the market who use substandard ingredients and fake measuring scales.
Maureen kasekende, a poultry farmer at Bweyogerere in Wakiso district, has been mixing her feeds for chicken for over five years and has no regrets.
"I spend less on ingredients and time. The birds are fed on quality and standardised feeds and I get good quality eggs. The off-layers also are easy to sell because they are always in good shape," she says.
According to Geoffrey Mayega, a veterinary doctor with Agrovets in Container Village, Kampala, chicken like other domestic animals, need to be given right feeds in the right amounts if they are to be productive.
Benefits of mixing your feeds
Mayega says the farmer stand to gain by mixing their own feeds because they are assured of the quality since the ingredients are standard, and thus ensure good chicken health and performance.
"Mixed feeds made at home is very cheap as compared to the ones available in the market," Kasekende adds.
Mayiga adds that the quality of the feeds also translates into faster growth for broilers and more egg production among layers.
Since Kasekende started mixing her own feeds, her 1,000 birds have increased their egg production from 10 trays a day to 25 trays.
The size of the eggs also increased as well as having clean and healthy eggshells.
Besides, her expenditure on feeds has gone down. In the past, she used to spend sh45,000 on a 100-kg bag of mixed feeds. Today, she gets 250kg for the same amount of money. This is because, she cultivates her own maize and just processes it into feeds.
Besides maize brand which is the main food ingredient, Kasekende adds cotton and sunflower, salt, mukene, shells and premix.
John Peter Biswaka, an animal nutritionist, says many poultry farmers resorted to mixing their feeds after realising that most of the feed dealers are more interested in getting profits from clients than giving out quality feeds at the farmers' expense.
"Some unscrupulous dealers add sand, saw dust, crushed maize cobs and other dirty substances with little or no nutrients to increase the volume and weight of their feeds," he says.
This leads to slow growth in animals or birds upon consuming such feeds and less profits can be realised in the long-run.
Biswaka adds that some dealers do not add or put the recommended ingredients like fish and shells which compromise the quality of eggs and chicken meat.
He, however, advises farmers to get mixing formulas right from the start to avoid costly mistakes.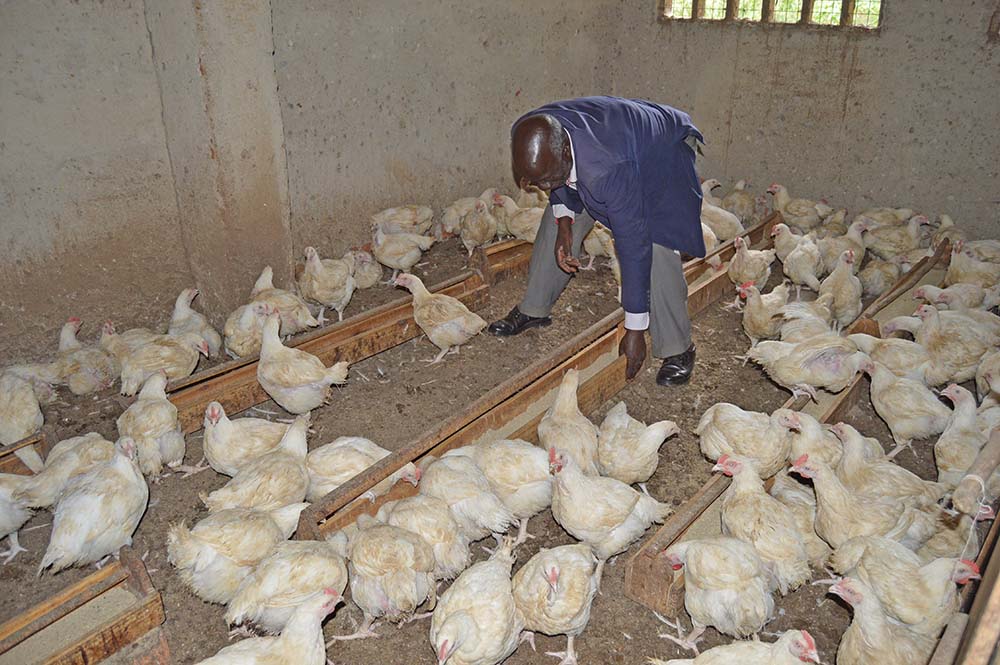 The farmers should also know the nutritional needs their birds; animals need at different stages of growth. This will help on determining which ingredients to use and in what amounts.
However, Biswaka cautions that there is no fixed formula. But they keep on changing all the time thus farmers can obtain such vital information from animal nutritionist and fellow farmers who have undergone training in animal nutrition and have been successful in mixing their own feeds.