By Abdulkarim Ssengendo
Ham Ahimbisibwe, is the head teacher of Mbarara High School, one of the giants in Western region, has also become a progressive farmer in his Kabingo village in Nyarubungo ward in Mbarara City South division.
In 2017, Ahimbisibwe chose to start a grape growing project after acquiring a piece of land in the area. He prepared the land and by 2018 the crops were already growing and he got his first harvest in 2019. For five years now, Ahimbisibwe has been having improvement season after season
"Growing grapes is a good venture because once you have established the garden the vine cannot expire or dry up, it keeps on growing and increasing production even if it stays for 100 years," he stated.
Why grapes farming
"It is a project that is engaging at the same time rewarding, the grapes are like a gift to some of these places that look abandoned," Ahimbisibwe added.
More importantly he said in his area they were encouraged to grow grapes by a renown grapes farmer Sarasi Kamanyiiro.
"As a teacher I discovered it could be a lifelong engagement that would help me get money to supplement my income on the job and in any case, it would stay forever," a smiling head teacher said.
He adds that with grapes once you have a market you can have sufficient money and so far, it's giving him some good earning.
"Every year it keeps increasing production and it's a very exciting project which doesn't suffer like other crops. Even during dry seasons, it keeps fresh," he added.
He explained that the crop stems have a very thick dry coating which prevents it from losing water and its roots goes deep into the rocks to extract water to sustain it.
"After the harvest you have to remove all the leaves and leave it there so that it stores water until you decide to prone and prepare for the next seasons," he added.
He, however, asked the government to support them with an irrigation system.
"It is expensive to start but the good thing once you have established the garden the crops are growing you will not have much to put in," he said.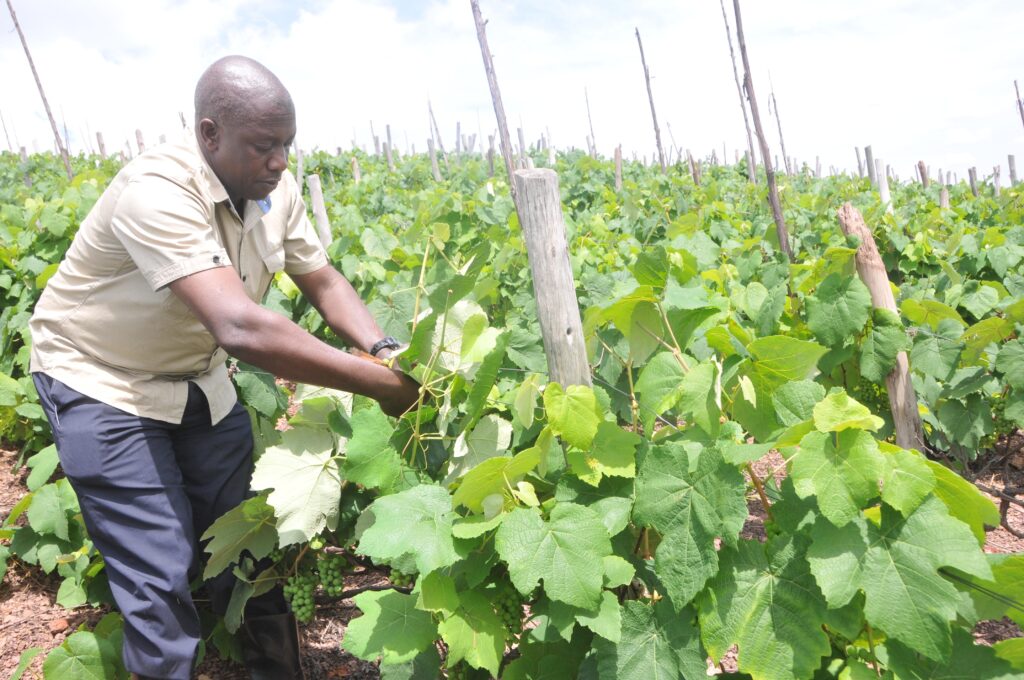 The first harvest comes in about one and a half years.
Ahimbisibwe has many people working in his project or interested in joining.
He has mainly two sources of markets; one is for vendors who come and pick the grapes vending in hotels and streets.
"My wife and I have opted for value addition, which we are just starting. We have chosen to harvest and take all our harvests for processing into wine. We might go into the market like three or two years from now. Two years in future we shall be ready enough to hit the market for original wine from original grapes, no concoction," he said.
"We are looking at expanding the yard to make it big to sustain our production and improving productivity by adding manure so that all the time production goes up," he added.
He is also looking at influencing communities around to go into grape growing so that they attract bigger markets and production.
He also has a plan of establishing a nursery bed so that it is ready to supply those growing. He encourages all people staying in hilly places to go grape growing and use their land which have been abandoned and grow grapes.
He said the major challenges are the natural hazards including diseases that infect the crop especially at flowering stage. They do preventive spraying.
Others are pests especially when the grape is ripening.
"The birds are another challenge. If you don't get people to scare away the birds you will not get fruits," he said.
Natural hazards like wind also affect his grapes and make it expensive to put in poles which need constant checking.