By Umar Nsubuga
Isaac Malinga wakes up at 6:00am every day to attend to his banana plantation in Kapchesombe, Kapchorwa district.
Three years ago, Malinga used to despise cultivation in favour of cattle rearing.
But today, the banana plantation, sitting on five acres is his major means of livelihood.
High returns realised
In a week, Malinga harvests 30-40 bunches of matooke.
Consequently, he quit rearing many animals and growing crops to concentrate on banana farming.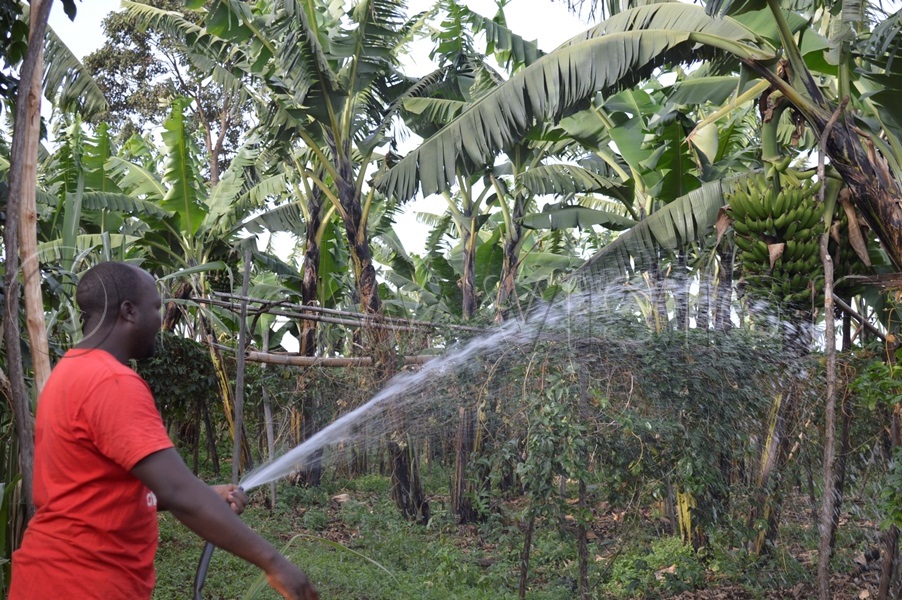 He says matooke has virtually replaced their indigenous traditional food (maize). The farm-gate price of a bunch of matooke is currently between sh10,000 and sh15,000.
The price rises to sh17,000 when the farmers find the buyers in Mbale town.
Malinga, who is the director of Maikut Farm, says the prices go up to sh20,000 during times of scarcity.
He is one of the hundreds of matooke farmers in the district, who earns a living from the crop.
On a good day, Malinga can earn as much as sh500,000.
According to Simon Chemarum, an agricultural leader in the district, farmers have been able to realise high profits from their banana gardens because the soils are fertile and favour the crop.
Kapchorwa, which is located in eastern Uganda, has about 115,186 people, according to the National Population census estimates.
Teamwork key to success
Chemarum says farmers have formed groups and drafted strict regulations governing them.
"In Kapchesombe village, for example, farmers have by-laws guiding them. A farmer who fails to adhere to them is fined,'' he notes.
The farmers grow matooke under different co-operative societies.
They have also formed their savings and credit co-operative societies.
The farmers also ensure that all farmers apply the new farming methods such as pruning and water flow control while adhering to the advice given by the National Agricultural Advisory Services (NAADS) officials.
These officials also provide suckers to those who are willing to start growing the crops.
Chemarum says farmers monitor themselves and evaluate the productivity of their crops to ensure progress.
He adds that through their groups, they have learnt how to market their matooke and set uniform prices to avoid exploitation.
Malinga says the farmers fight banana diseases as a group, citing the banana bacterial wilt disease that had attacked Kapchesombe two years ago but has tremendously reduced today.
"When we taught the farmers how to cut and bury the affected plants, they would do it as a group in their gardens because they are near each other," Chemarum says.
He reveals that the farmers in Kapchesombe village earn about sh150m in a month from banana sales.
Richard Waya, one of the district leaders, attributes the farmers' success to the district agricultural extension workers who monitor and offer advice to farmers on the best practices.
He also says the groups formed by farmers act as a bargaining tool.
"There is competition among farmers' groups and the farmers themselves. This has encouraged many to produce more matooke so as to get more money,'' he says.
Waya also notes that SACCOS have helped the farmers get money to access chemicals required to fight banana diseases.
Varieties
Justin Kyelangati, a matooke trader who has been in the business for five years, says Kapchorwa customers can tell the quality of matooke by its variety.
"Although it is not easy to differentiate the varieties by merely looking at the matooke, if a customer wants to know the maturity of a particular variety of matooke, he has to trust the trader for that information," she says.
Kyelangati also says the other alternative is to ask the trader to break a piece off one matooke finger. If the matooke is yellowish on the inside, then it will most likely ripen within two days. If it is white, then it can go for about a week without ripening.
Alex Sekalala, a farmer says the best variety is Nakitembe, because it is soft when cooked and is commonly used in customary rites such as initiation of twins in Buganda.
He says Kibuzi variety comes next, followed by Musakala.
"Kitika variety is not so good. Even when it is fully mature, it remains hard when cooked," Sekalala says.
How to grow matooke
The ideal plant spacing for medium-sized bunches in the four rainfall zones in Uganda differs.
The dry zones in the eastern part of Uganda that receive less than 1,000mm per annum should have a spacing of three-by-three metres.
The slightly wet zones (receiving 1,000 to 1,200mm per annum of rain) should have a spacing of three by two metres.
For the third zone typically (the northeast), which receives 1,200 to 1,400mm per annum, spacing should be two and a half metres by two metres.
The fourth zone, which receives 1,400mm and above should have a spacing of two-by-two metres.
Malinga says matooke is more expensive in October and December.
Although bunches of matooke are bigger from June to August, in the dry season, farmers earn less from sales.
Bananas are one of the most expensive food items for urban consumers, costing between sh15,000 and sh35,000 per bunch and accounting for 16% of the consumer food basket, according to the National Agricultural Research Organisation (NARO).
However, NARO says the profits hardly trickle down to the rural smallholder farmers.
Farmers say matooke is one of the most important food crops in Uganda, produced by millions of smallholder farmers, with yields as low as five to 30 metric tonnes per hectare a year, compared to potential yields of 70 metric tonnes.
Challenges
Malinga says that the major challenge of growing bananas is the farmers' low adaption rate towards modern farming methods.
"Some farmers still believe that traditional methods of farming are better than modern ones. Some farmers, during mulching, cover the plants up to the stem (about four feet) instead of the recommended two feet from the ground," he notes.