By Umar Nsubuga
Twaha Kakooza's 80-acre farm in Bubajjwe village, Kayunga district is covered with leafy green garlic crops that make many people marvel.
Towering above the traditional crops, there are also healthy different medicinal plants, maize, tomatoes and a banana plantation.
Beneath garlic is Kakooza's secret of success. Kakooza went against the norm at his farm under his man-made dam.
"Many farmers have been going through a prolonged dry spell, but that has not affected my crops," Kakooza says.
Kakooza's farm has both drip and overhead irrigation systems.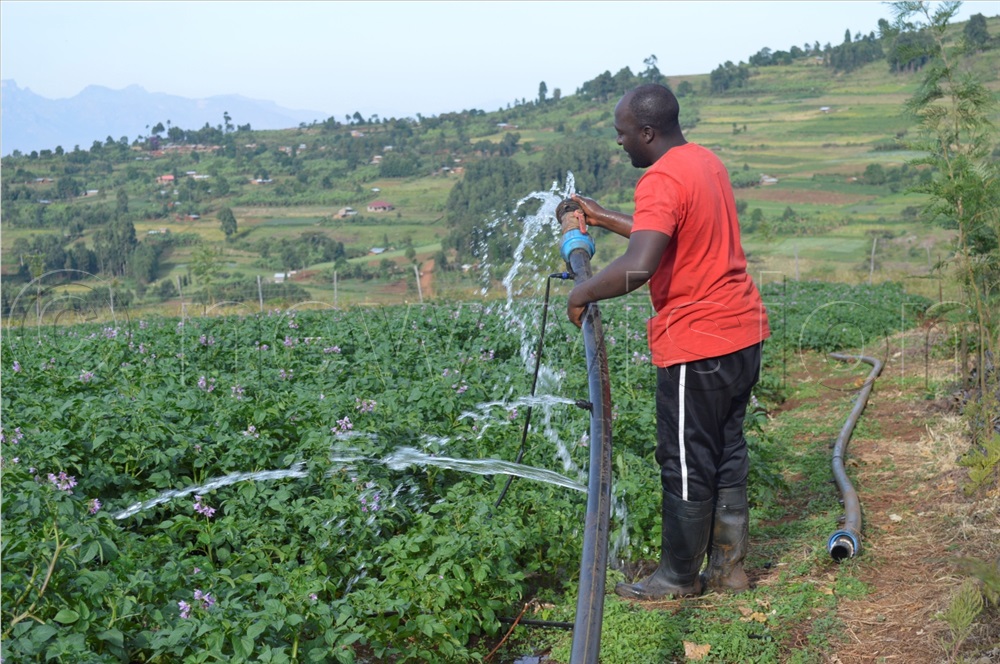 Like Kakooza, there are many irrigation systems Ugandan farmers could adopt to increase food production.
The fact that the great majority are smallholder farmers, there is no reason anymore for low farm output. With irrigation, production can be throughout the year.
The commonest irrigation systems in Uganda include drip irrigation, furrow/ canal systems and sprinklers.
The choice depends on the size of the land and the finances a farmer has.
Drip irrigation
According to Kakooza, drip irrigation is a method of watering plants using small diameter plastic lateral lines with devices called emitters at a selected spacing to deliver water to the soil surface near the base of the plant.
The system applies water moisture within the desired range for plant growth.
He also says the system needs a continuous source of pressure for operation. This pressure can be provided by a pump or through gravitation forces. Water is then distributed in a farm through a plastic pipe network and comes out through small emitters or drippers.
"The system uses small amounts of water regularly, thus keeping the high moisture content in the root zone. Under these conditions, the plant grows at a constant rate and gives maximum yield with less water compared to other irrigation methods," he says.
The advantages are that only a plant root zone is supplied with water, thus increasing application efficiency, proper management, less labour requirements and easy weed control.
It also reduces bacteria, fungi and other pests that depend on a moist environment in the area which is not irrigated. This system can be operated using both mechanised pumps or gravitation forces.
According to Richard Kaka who deals in irrigation equipment, the drip irrigation system is good for greenhouses, vegetables and even larger crops.
The cost of a drip irrigation system depends on the size of the farm. For example, a complete set that includes a water tank of around 2,000 litres and irrigation lateral lines covering half an acre costs between sh3m and sh4m.
However, it can remain in use for five years.
Furrow/canal system
This is a partial surface flooding method of irrigation normally used with clean tilled crops where water is applied in rows. Under this system, channels are dug through the farm.
"The channels are flooded with water at least twice a week and the water gradually sips into the soils from where it is taken up by the crops," says Aloysious Mubangizi, an irrigation consultant.
For this to be effective, there should be a permanent water source within the vicinity—for example a river or lake or even a pond.
"As long as there is a water source, a farmer only spends money on digging the water channels and occasionally desilting them," Kaka says.
It is conducive for all types of crops.
Sprinkler
According to Kakooza, this is a planned irrigation system in which water is applied using perforated pipes or nozzles operated under pressure, to form a spray pattern above the crops.
This is good for both small and large-scale farmers. The water is sent to the pipes using either gravity or a pump.
"The main advantage is that this system replicates what rain does because it pours water over the crops and then it finds its way down," he says.
This can be operated using both multi-stand pipes with rotating nozzles or static pipes. The main disadvantage is that it wastes water since some of it is not absorbed by the crops.
Costs start from as low as sh500,000 for a system that can be operated in a 20x20ft space.