Raising seedlings is one of the most challenging things for every farmer. Many have to incur the costs of having to buy seedling trays while others have incurred the costs of buying polythene bags to rise the seedling. However, all these are expensive means that on many occasions farmers have to incur.
After the seedlings are ready for transplanting, those who have used polythene bags always remove them before transplanting, and these bags are very often disposed of in the environment, which is a bad thing.
However, to control this, a new way of raising seedlings was recently introduced to farmers in Odupi sub-county Terego district. They were introduced to making seedling pots using banana leaves and other plant leaves which is a very cheap and environmentally friendly method.
Denis Ducan, a farmer trainer from East West Seeds, says the use of leaves as a pot in raising seedlings is organic and environmentally friendly.
He explains that using leaves in a seedling pot is a concept that was introduced and it was observed that banana leaves make good seedling pots.
"It lasts until the seedlings are ready for transplanting. There is no need to remove the pot when transplanting because the pot itself could be used as fertiliser since it has potassium that is essential for plant growth and fruit-bearing," he says.
Ducan adds that leaves are abundant everywhere and they are just either left to rot and when dry are burnt hence seldom used for other purposes yet they can be used in very many forms including making seedling pots.
You do not need any money to rise a seeding pot instead just walk to any tree or banana plant and get the leaves to sit home and make the pots by yourself without incurring any financial costs.
Some of the advantages of using leaves as seedling pots include cheap and locally available, environmentally friendly whereby they do not pollute the environment and can easily decompose to increase soil fertility.
"To make a pot, you need to get leaves, fold them round and get a small banana fiber and tie it round so that they do not unfold. After you put the decomposed soil in the folded leave and put your seed. Place the pots in a good shed and the rest will be history," he advises.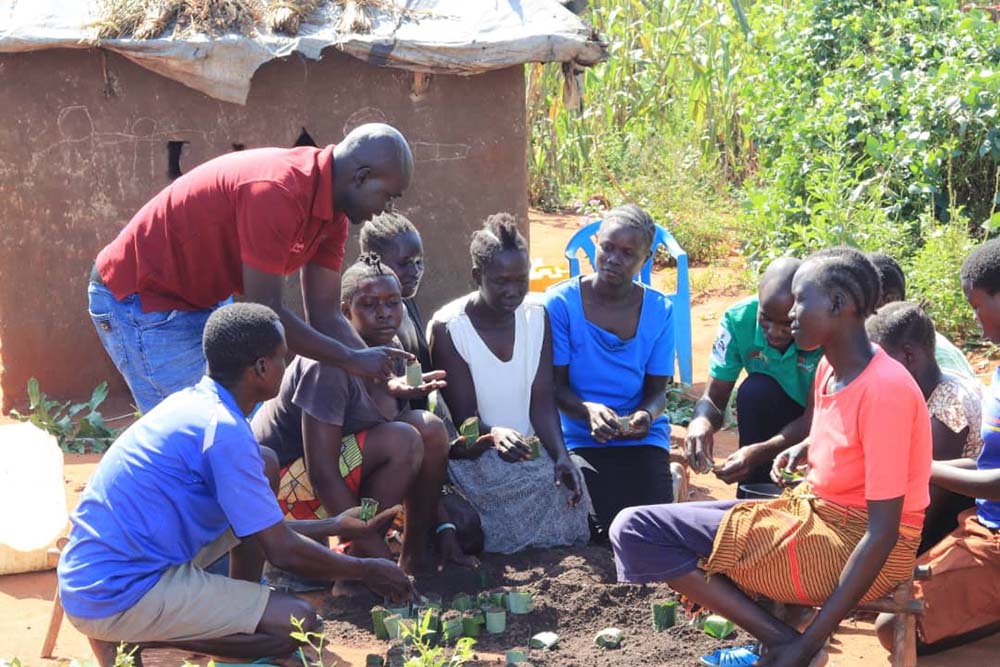 Care for nursery seedlings
Ducan says you have to keep watering (irrigation to maintain moisture), provide shade against strong sunshine, wind and rain, as well as fence around the nursery to offer protection against stray animals.