By Andrew Masinde
Bosco Ogwang, is a farmer in Obolokome village, Ogur sub-county in Lira district.
He has been growing maize for years but was never gaining. This was because he was not practising good agronomic practices.
Ogwang says that he would buy grain from the local markets and when planted, the yields would be very low. I never knew that I was supposed to space when planting, instead, I would just plant with no spaces in between.
However, he was lucky that he attended one of the trainings from which he learned various skills on how to benefit from maize production.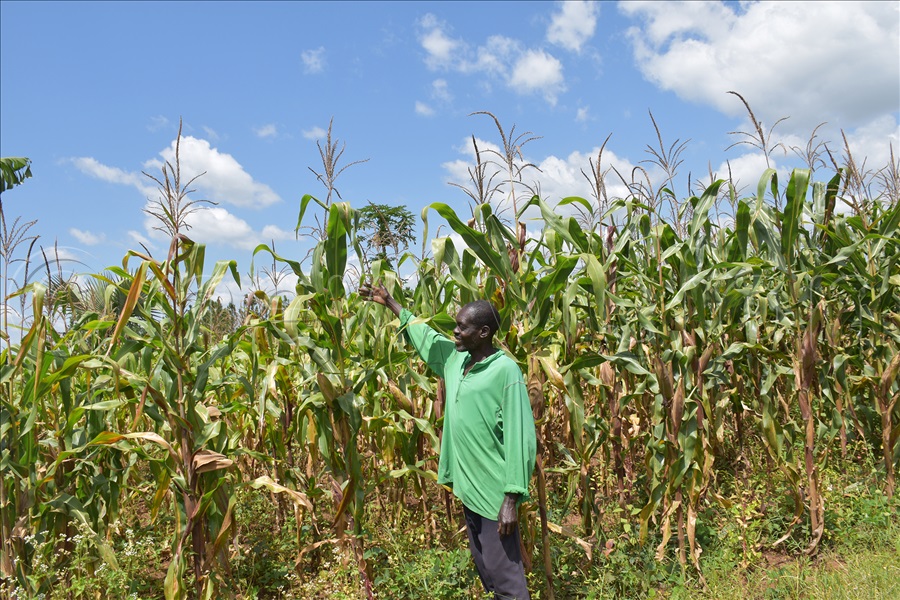 "Imagine before I was getting five to six bags of maize from an acre and I would celebrate, little did I know that I was making losses. But after the training, today I harvest 20 bags of 100kgs and above from an acre," he says.
Ogwang revealed that he plants hybrid maize which he buys from certified companies, applies fertilizer, and ensures that he spaces his maize during planting.
He weeds twice something that keeps the maize healthy.
He also records everything that happens on his farm, something that helps him to know if he is making losses or not.
On an acre, he plants 14kgs of maize seeds, on three acres he plants 42kgs unlike before when he would plant 20kgs per acre. He expects to harvest 20 bags of 100kg per acre.
Ogwang says that he expects to sell a kilogram of maize at sh1,500 earning sh9,000,000 from the three acres.
"Last season was not good, I got sh5m but this season has been good and the yield is very good, I am expecting to get good money. Those engaging in maize should know that maize is profitable if you invest in more," he says.