By Joshua Kato
Agnes Luswata has been keeping chickens and pigs for six years now.
She has been feeding them a combination of concentrates, maize, and bran.
However, getting the right combinations to reduce the cost of feeds, while effectively feeding her fl ock has been a challenge.
So, when she came to Kololo for the 2023 Harvest Money Expo, her intention was to learn how to maximise the available feeds.
"It is not so easy to get the right combination of concentrates and maize so I came here to practically understand how it is done," Luswata said.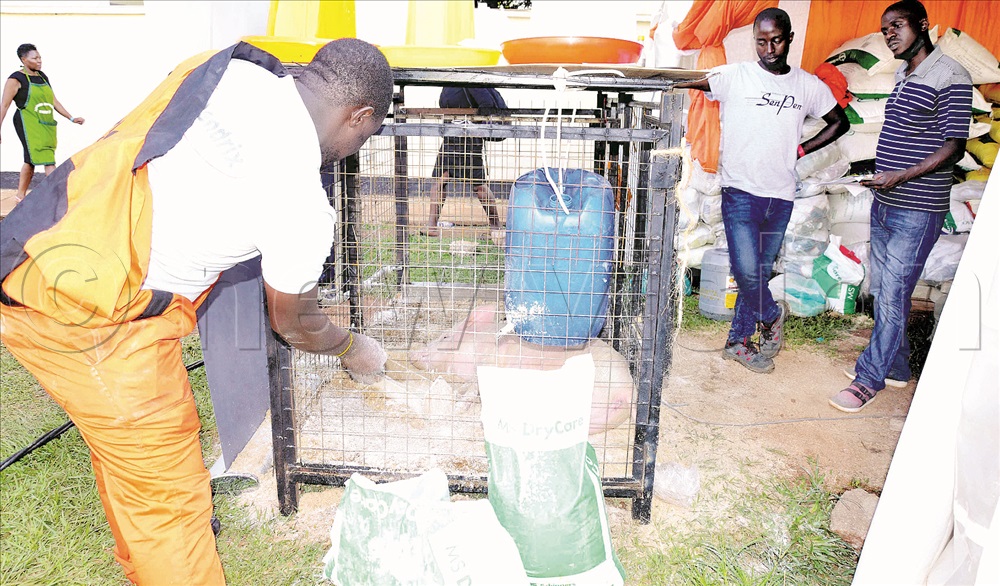 For any livestock enterprise to thrive, feeds are key.
"Feeds constitute at least 70% of production costs for commercial livestock. This is why farmers must be careful when selecting feed combinations for their stock," Chris Magezi, the director of Champrisa International, and poultry keeping trainer at the expo, says.
Poor feeding has got negative implications on the fl ock.
"Livestock get stunted if the poor feeding manifests when they are young and if they are broilers, they will not attain the right weight in six weeks. If they are layers, they will not lay eggs at the right time or in the expected numbers. Pigs will also not gain weight fast," Dr Esther Nakajubi, a veterinary officer and farmer, says.
During the 2023 Harvest Money Expo, there were several companies that exhibited concentrates.
Champrisa International Ltd, distributors of Hendrix concentrates in Uganda, exhibited products that lower the cost of feeding livestock.
Champrisa was one of the sponsors of the expo. Other exhibitors included Koudjis Nutrition BV, Farm Factory, Nutri-nova, Lion Pro, Jubail, Conversion Feeds, Bulemezi Agro-vet and Intraco, and SR feeds.
"Farmers can lower production costs by mixing their own feeds, but they need to understand the concentrates they are using. There are concentrates that make feed mixing affordable because they have energy-giving nutrients and hence, require less whole maize. There are also concentrates that make feed mixing costly because they require more whole maize," he explained.
For example, when feeding broilers using the 25% concentrate, you require less whole maize (broken) and more of bran. A kilogramme of broken maize is sh1,600, while bran goes for sh700.
To formulate 200kg of feed using the 25% broiler concentrate, for starter, you need 58kg of concentrate at sh280,000, 62kg of whole broken maize at sh9,200, and 80kg of bran at sh56,000.
This makes a total of sh435,200, which gives you a kilogram of good starter feed at sh2,176, compared to the market price of sh2,400.
For grower feeds you need 50kg of concentrates at sh240,000, 60kg of broken maize and sh96,000, and 90kg of bran at sh63,000. T
his makes a total of sh399,000. This gives you a kilogram of grower feeds at sh1,995, compared to the average market price of sh2,300. While for 'finisher' feeds you need 46kg of concentrates, 74kg of broken whole maize, and 80kg of bran.
Dr Samuel Ssewagudde, the commercial manager of Tunga Nutrition and an expert in livestock nutrition, advised farmers to use clean maize and bran before mixing the concentrates.
"There is a lot of poorly dried maize on the market so look out for it and avoid it. Bran must not have any black spots and should not be moulded," he says.
Local production, lower prices
According to Ssewagudde, concentrates are set to become even cheaper because production is set to start here locally.
"They came and attended the 2017 Harvest Money Expo and they discovered that there was a big market for concentrates here in Uganda. They then started looking for a facility to set up the factory," Ssewagudde says.
He explains that in 2021, Nutreco, which also produces Hendrix concentrates reached a partnership with two indirect subsidies of Unga Group – Unga Farm Care (EA) Limited in Kenya, and Unga Millers (U) Limited in Uganda to produce livestock concentrates in Uganda.
Both ventures were named Tunga Nutrition, taking inspiration from the Swahili word Tunga, meaning "to compose".
Tunga Nutrition Kenya will increase production capacity at its jointly-owned fish feed plant in Nairobi to commercialise these products under Skretting and Fugo brands.
Tunga Nutrition Uganda is making use of Unga Millers' dormant flour mill in Kampala, converting this into a modern feed mill producing animal feeds and concentrates. Its products will be sold under both Trouw Nutrition's Hendrix and Unga's Fugo Brands.
The structure has four silos, a factory for processing the feeds, and warehouses to store the fi nished product. At the moment, Ssewagudde says at least $6m (sh20b) has been invested in the project.
"About 80% of the work has been completed now and we are due to open up the production line in August," Ssewagudde says. The factory has the capacity to process at least 15 metric tonnes of feeds per hour.
"With a 10- hour shift, that is about 150 metric tonnes per day," he adds.
Farmers to supply to factory
Dr Samuel Ssewagudde, the commercial manager of Tunga Nutrition and an expert in livestock nutrition, said one of the big beneficiaries of their project will be cereals farmers.
"The concentrates will be processed here, using locally-sourced raw materials and at the same time with the quality similar to what we currently import from the Netherlands," Ssewagudde explained.
Among the raw materials that will be locally sourced include maize and soya.
"The factory will require lots of soya and maize. We prefer buying these directly from farmers' groups rather than middlemen. We have already contacted several farmers' groups to supply us soya and maize," he says.
The factory will process 150 tonnes of feeds per day.