By Jovita Mirembe
Duck meat is an outstanding source of iron which provides 50% of the iron our bodies need in a day.
Andrew Alikuluya, the executive chef at Extreme Adventure Park Busiika, says iron helps in making healthy blood that flows through our bodies hence giving us energy and making us grow well.
He says other nutritional facts about duck meat include calories (340g), fat (28g), protien (19g), Sodium (9g) and carbohydrates.
Alikuluya says roasted whole duck meat is something you need to try for adventure because it has a great taste.
He takes us through the process of preparing whole roasted duck below;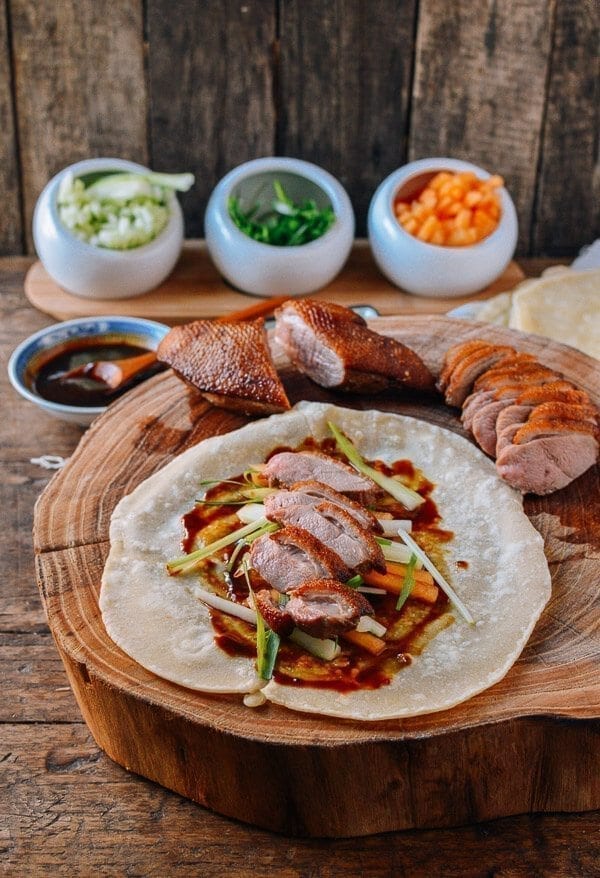 Ingredients
1 whole duck cleaned
1g ginger grated
2g garlic grated
2g onion grated
1/4 tea spoon Black pepper corns
50ml light soy sauce
4ml Dijon mustard sauce
1g cooking salt
50ml cooking oil
1g dry mixed herbs
Hand full of rosemary fresh chopped
1 stalk of leek steamed
2 Carrots cut buttonets steamed
1 piece of good flour tortilla ready made
1 bowl of stir-fry sauce
Charcoal for roasting, light 20 minutes before
Salt water( Brine)
Mix 2 cinnamon sticks, tablespoon of star annis, 3 tablespoons grated garlic, 2 teaspoons grated ginger, 2 bay leaves, 4 tablespoons brown sugar, 100ml light soy sauce, 50 ml Rice vinegar, fresh herbs tired in small bundles , 2 cup water, 2g salt , a teaspoon of black pepper corns (not crushed).
Mix all the above in one cooking pot, boil for  about  10 minutes, check the seasoning that you have boiled  and set aside for about five minutes to cool, thereafter add in the duck making sure the liquid covers it well, then wrap with cling film and set aside  over night.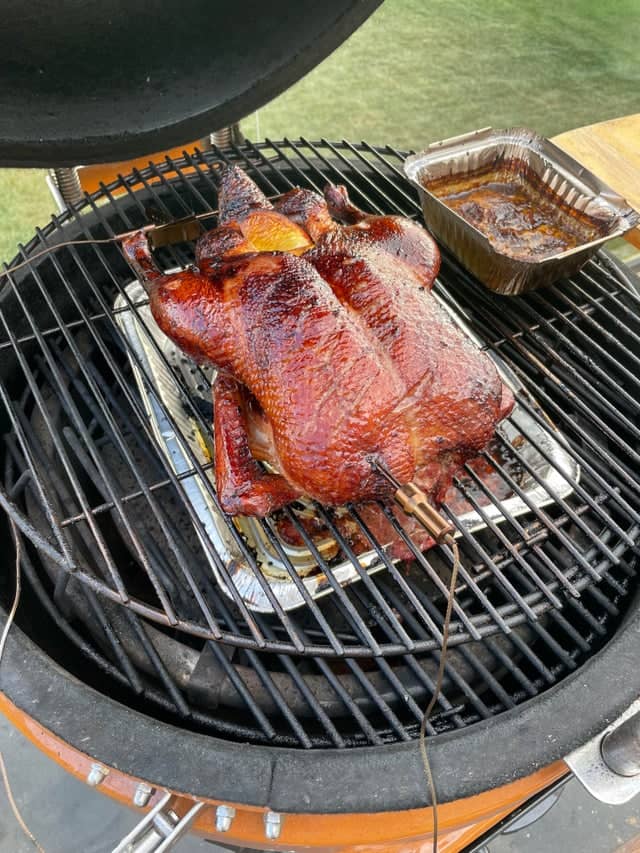 Remove and drain from salt water( Brine) and follow the method below;
Method
In a clean container, add garlic, onion, ginger, mustard, light soy sauce ,salt, cooking oil, crushed black pepper corns or white pepper corns ,mixed herbs or fresh thyme .
Using a whisky or wooden spatula mix until it forms sauce like.
Get a paper towel and drain the duck
Add them to the marination made or seasoning ,set it a side for 20 to 30 minutes as you light your Charcoal stove or barbeque grill.
Make sure the charcoal stove is not too hot ,if its too you won't get good results, you may use Ash to cool it a bit.
Transfer the Marinated duck to the Charcoal stove ,keep checking turning every after 10 minutes, cook or roast for about 50minutes to one hour at moderate temperatures or until its ready to eat or sauce runs clear .
Remove from the charcoal stove or barbeque grill ,using a sharp knife slice and serve of accompaniment but me I prefer flour tortilla or chapati as seen below.
It may be eaten alongside the following;
1 . Parsley potatoes
2. Vegetable rice
3. Assorted vegetables
4. Salad