By Stephen Nuwagira
Banana farmers in Ibanda and neighbouring districts have complained about the lack of quality planting materials for long, a challenge many blame for declined production.
This situation forced some farmers to source quality banana suckers from other districts to keep their enterprises productive.
The lucky ones get plantlets supplied by the Government through the Operation Wealth Creation (OWC) programme and National Agriculture Advisory Services (NAADS).
However, these are always the selected few, leaving the majority of farmers at risk of planting suckers infected with banana wilt disease.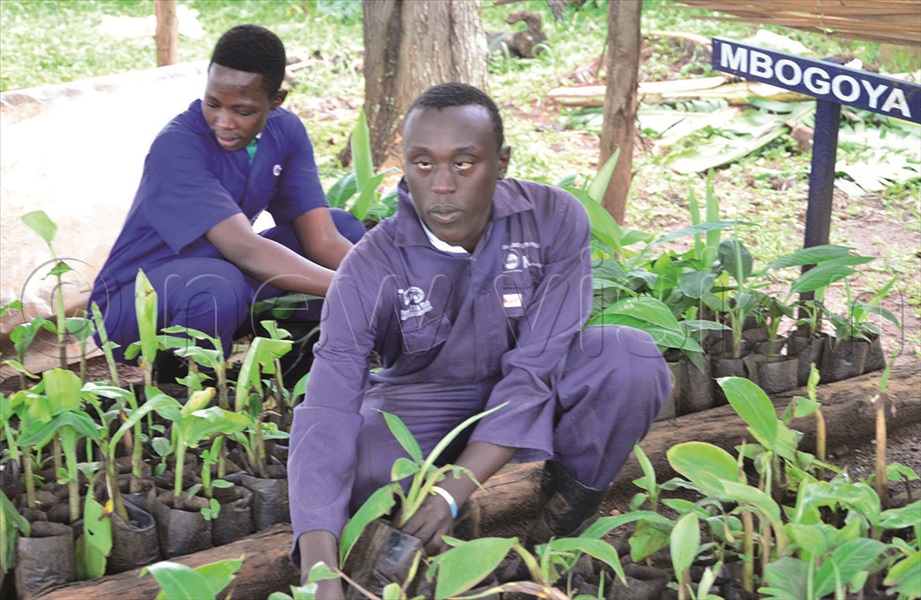 However, this challenge could soon be a thing of the past after a group of students started producing quality plantlets using banana micro propagation technology.
The venture, by the agriculture students of Ibanda Farm Institute, will ease access to quality plantlets, which are resistant to disease and pests, says the Rev Sister Agnes Bossa, a beneficiary farmer from African Volunteers Association in Kamwenge district.
Background
Vincent Atukwatse, the project's marketing chief, says the initiative was started in March last year to address the challenge of lack of quality planting materials in the sub-region.
"With banana wilt disease destroying large acreages of plantations, farmers need planting materials that are resistant to the disease and pests," Atukwatse says.
The learn-to-earn project, operated by a group of 12 agriculture students, produces a number of cooking and desert banana varieties, including mpologoma, kibuzi and mbwazirume.
Already, over 36,000 plantlets have been produced by the group and were quickly snapped up by individual farmers and institutions, according to Atukwatse, a second year student of agriculture.
These include Mbarara University of Science and Technology (MUST) that bought 600 and Prof. Patrick Ogwang, who bought 200 gonja plantlets, that he took to Soroti, adds.
Meanwhile, farmers from Mbarara, Kamwenge, Ibanda and Kitagwenda districts have also got plantlets from the project. It takes up to five months for the plantlets to be ready for sale.
The cost of plantlets ranges from sh1,500 to sh5,000 each (retail), depending on variety, with those of gonja at sh5,000.
Future of farming
Josephat Bainomugisha, the Ibanda Farm Institute principal, a says the use of simple technologies such as this are crucial to the future of sector as they will help bridge the input supply gap in banana production.
Secure plantlets safeguard plantations and spur production, he noted, during the tour of the project by Harvest Money.
Enid Owomugisha, a group member, explains that the enterprise has a business arm, where they provide extension services to farmers in the community and neighbouring districts. This also brings in cash for the group.
"I do not ask my parents for pocket money because we earn well enough," Atukwatse says.
''We want to inspire other young people, showing them that the future is in innovation, creativity and entrepreneurship."
Barriers
The dwindling secure mother gardens from which breeding stamps are got. They are also being affected by pests and diseases.
One needs a lot of water for irrigation during the incubation stage and when the plantlets have been Bainomugisha displaying a young banana plant that was grown in May as micro propagated plantlet potted awaiting time for transplanting.
However, the project lacks enough facilities to water the plantlets.
There is also lack of equipment to sterilise soil, so people resort to local means of heating the soil using firewood, which is time consuming and not environmentally friendly.
Opportunities
Peter Abaho, the Ibanda district principal agriculture offi cer, says such innovations were pivotal in improving productivity of banana farming enterprises, strengthening food security and spurring household income.
He says the project offers immense opportunities for students and the farming fraternity, including helping to boost production.
It also attracts partnerships and networking opportunities.
Demo, entrepreneurship lab
The project is a one-stop centre and a demo site where farmers come to learn new banana management practices, as well as new technologies, such as banana micro-propagation and trends in banana production.
"Students from neighbouring secondary schools use it for some of their lessons at minimal fees," Atukwatse adds.
Owomugisha says the venture has equipped her with entrepreneurship skills and she will start a similar project when she completes school.
What buyer says
The Rev Sister Agnes Bossa last year visited a farmer in Kyenjojo where she found micro propagated banana plantlets, but they were going for sh10,000 each.
"I bought only four plantlets, which I planted, and they are doing well. I am happy that I can now get plantlets from the institute at a relatively lower cost," she says.
Bossa, however, noted that the cost is still high for the ordinary farmers.