By Joshua Kato     
We call it unripe or even immature jackfruit, but for Judith Bakirya and other farmers, this is what they are earning dollars from. These farmers are exporting 'immature' jackfruit to the Netherlands!
"We harvest them at least a month after fruiting. This is before they develop the flesh inside," she says. The average weight is about 2kg at the time of harvest. They are then chopped after removing the outer cover into small pieces, packed in airtight containers and then exported.
Alternatively, they are cut in small pieces, dried, packed in airtight bags before it is exported to the Netherlands.
In the Netherlands, these are boiled, mixed with spices like tomatoes, cooking oil etc and eaten as a vegetable sauce! "It is a delicacy especially for vegetarians," Bakirya says
And now, Fiber Foods, an impact-first company that creates economic, social, and sustainable value for all stakeholders, is proud to announce the launch of its first dehydrated jackfruit value chain from Uganda for export to the European market.
Dr Karin Van Boven, Netherlands ambassador to Uganda says that the export of this traditional Ugandan fruit to the Netherlands shows how much untapped opportunities are there in the agriculture sector. "It is one of the 'out of the box' innovations. This is because it is out of a crop that has been around for many years," she said during the launch of the dehydrated jackfruit last week.
Jackfruit is meat
Jackfruitis a common, tasty delicacy in Uganda. Traditionally most of the trees were planted by wild birds and nurtured without any serious agronomics by farmers. Consumers wait for it to ripen before they harvest it, cut it and enjoy the fruits. Majority of it is not even sold commercially, but consumed by owners and passerby or even fed to livestock. Leading producers of jackfruit in Uganda include Busoga and Teso regions.
"We did not know that young jackfruits have value," Bakirya says.
Young dehydrated Jackfruit is an ideal alternative to meat, with a solid meaty bite that absorbs flavours and spices perfectly, making it a favourite of food companies and chefs looking to offer clients tasty and sustainable meal options. Fiber Foods' young jackfruit is peeled, cut, and dehydrated immediately after harvesting in Uganda allowing it to maintain its natural neutral taste while reducing the transport footprint to Europe by almost 90%.
The whole process from tree to client is fully transparent and registered with a uniquely created traceability app. "Our dehydrated jackfruit is a game-changer in the food industry," said Fiber Foods' Ineke Aquarius.
"It offers chefs and food companies the opportunity to create delicious, sustainable plant-based alternatives to meat, and we are thrilled to be the first company in Africa bringing this innovative product to the European market." Fiber Foods' jackfruit is available in different varieties and sizes, including diced, chunks, shredded, fines, or powder, depending on the product that best fits your needs.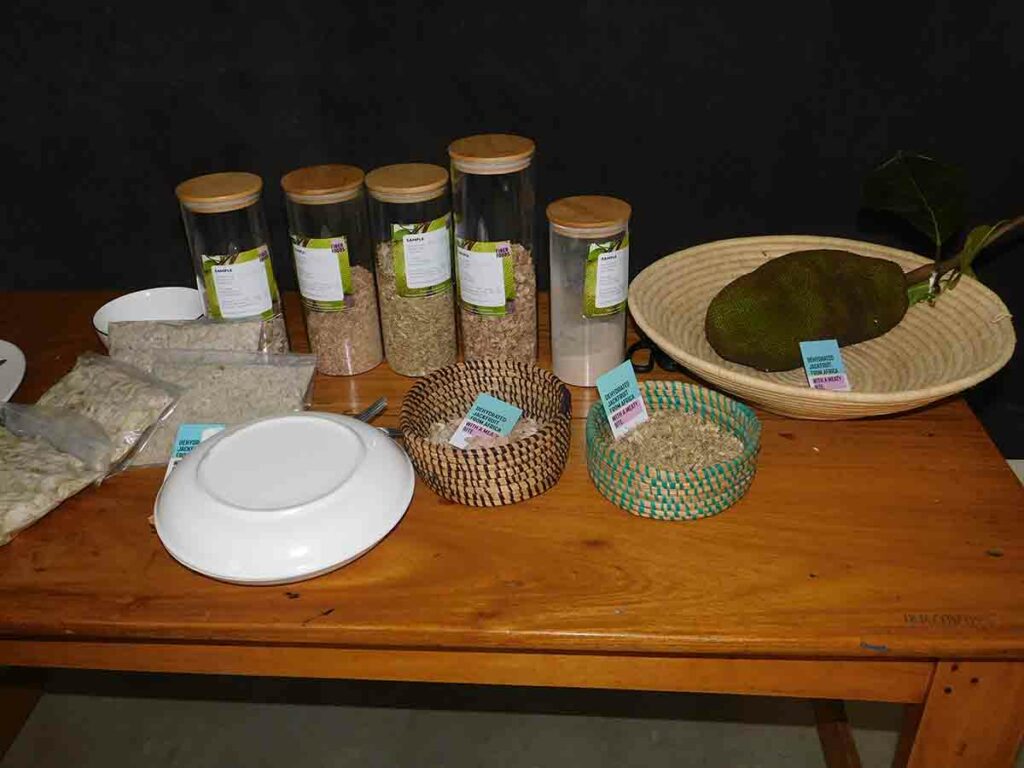 Fiber Foods is an off-spring of Business Lab Uganda, an accelerator program developed closely with the Netherlands Embassy in Kampala, Uganda, from 2019-2023. "We started in 2019, after a grant from the government of the Netherlands," Ineke says.
The launch of the dehydrated jackfruit value chain is a testament to Fiber Foods' commitment to creating positive social and economic change in Uganda and beyond. "We source our raw materials from small holder farmers around the country. We have so far identified at least 3,000 small holder farmers but we are buying fruits from 12 as of now," she says.
Ineke says that they buy a kilogram of the young fruit at sh1,500 and since we target 2kgs, it means that we pay sh3,000 for a two months old fruit," Ineke says. However, according to farmers, the average price of a mature medium size jackfruit, that has been kept on the trees for five months is sh2,000 on the farm. They are currently exporting 3tons a week.
"According to our research, Uganda produces about 9billion jackfruits each year," Ineke says. Her target is to export at least 9million kilograms fruits by 2025.